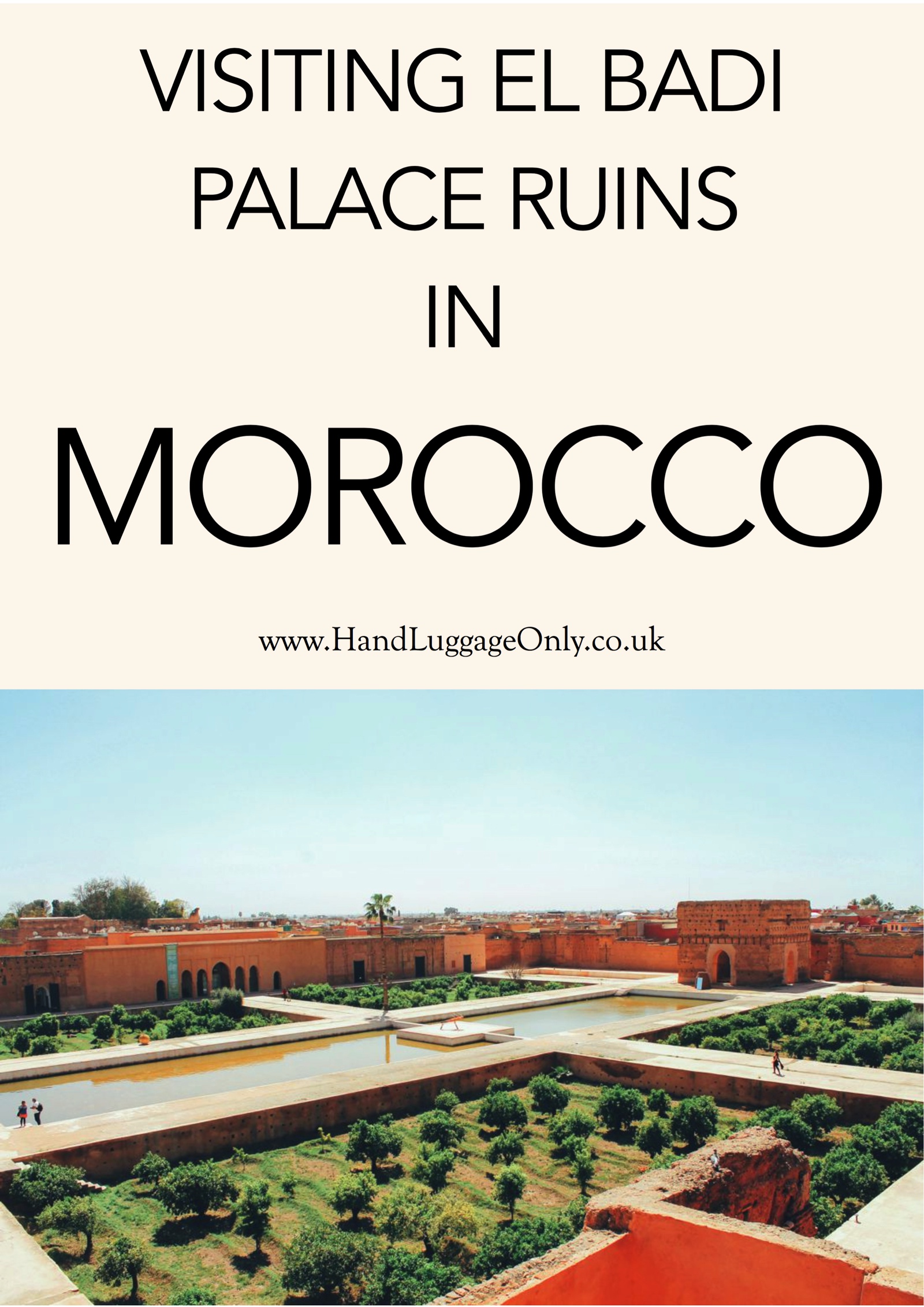 Morocco is one of the more memorable places I've had the pleasure of visiting and particularly so is the city of Marrakesh! I'm not entirely sure what it is about it that makes it so exciting – perhaps it's the raw unpretentiousness of it all, the Arabic heritage, the hustle and bustle of people going about their varied lives, the colourfulness of the city, the bargains to be had (if you're ready to haggle which is so different to the UK) or even the dramatic change in temperature from afternoon to night – whatever it is, it is truly one of those holidays that sticks in your memory.
One of the places I loved visiting while in Morocco was the El Badi Palace (Ruins). This rather grand Palace (whose name translates to The Incomparable Palace) is a such a symbol of what Marrakesh and indeed Morocco must have been like several decades ago It's huge impressive walls and views over the city offer a different insight into Moroccan life and even the storks which have decided to stake the claim at the top of the palace walls add to the charm and mystique of the palace. I won't bore you with the history of the Palace – when you visit you can find out all those details for yourself but here's a quick synopsis of my visit to the palace.
HOW TO GET THERE: Arrive at the main market square in Marrakesh and essential walk over to the Palace, this is more recommended than getting a taxi there as you get to explore a few other places on your walk in and potentially refuel and rehydrate yourself before you walk in. The entrance fee is fairly low too (I mean really low) so price isn't an obstacle.
TIPS:
1.) Take a bottle of water with you. There's not really much in terms of shade while you're there and so you might find that in a short while you'll be fairly thirsty and possibly half-tempted to just start drinking from the pool. There's no need to take a big bottle – a 50cl or 75cl bottle should do! In fact, don't take a big bottle – our hotels hand out free bottles of water but for still water, it was about 2 litres and I had to carry that in my already overweight camera bag which is not great at all – why can't I even pack a light bag???
2.) If you have a wide angle lens or a wide angle camera adapter, this will come in handy as the palace grounds span a large amount of space. Thankfully the wide-angle camera adapter are getting cheaper and cheaper so this is an easy accessory to get prior to your trip.
3.) As with any holiday which involves a lot of walking – take comfortable shoes. Due to the heat, if you can get shoes that let your feet 'breathe' as well, I'd highly recommend them!
4.) Also, as this doesn't apply to me directly I'm not sure what difference it makes but we were told at the hotel that women need to cover up their legs and arms (effectively dress rather conservatively) when heading out to public places like the Souks. I did see women (tourists only) out and about in strapless gowns and short skirts who attracted no negative attention whatsoever so make of that what you will. 🙂
5.) Practical advise which is not limited to just this holiday but before you go, download Opera Mini on your phone. The Opera browser reduces your pages by almost 90% which makes them load faster and not only saves you lots of roaming charges if you've got one of those travel internet bundles (which saves you money you can spend on more important holiday indulgences) but also means that when you're in the hotel lobby with free WiFi during peak hours, you can still research things to do on the internet fairly quickly and rapid-fire a few emails/messages on the go! 🙂
---
No images found!
Try some other hashtag or username
---
---