Australia is a big ol' country and filled to the brim with exciting experiences and beautiful landscapes that you'll want to discover and what better way to see them, than with your very own road-trip. From its ridiculously beautiful beaches and coral reef, the vineyards (yum!) to the incredibly vast National Park network, your road trip possibilities are nearly endless, which makes planning one a pretty epic travel challenge.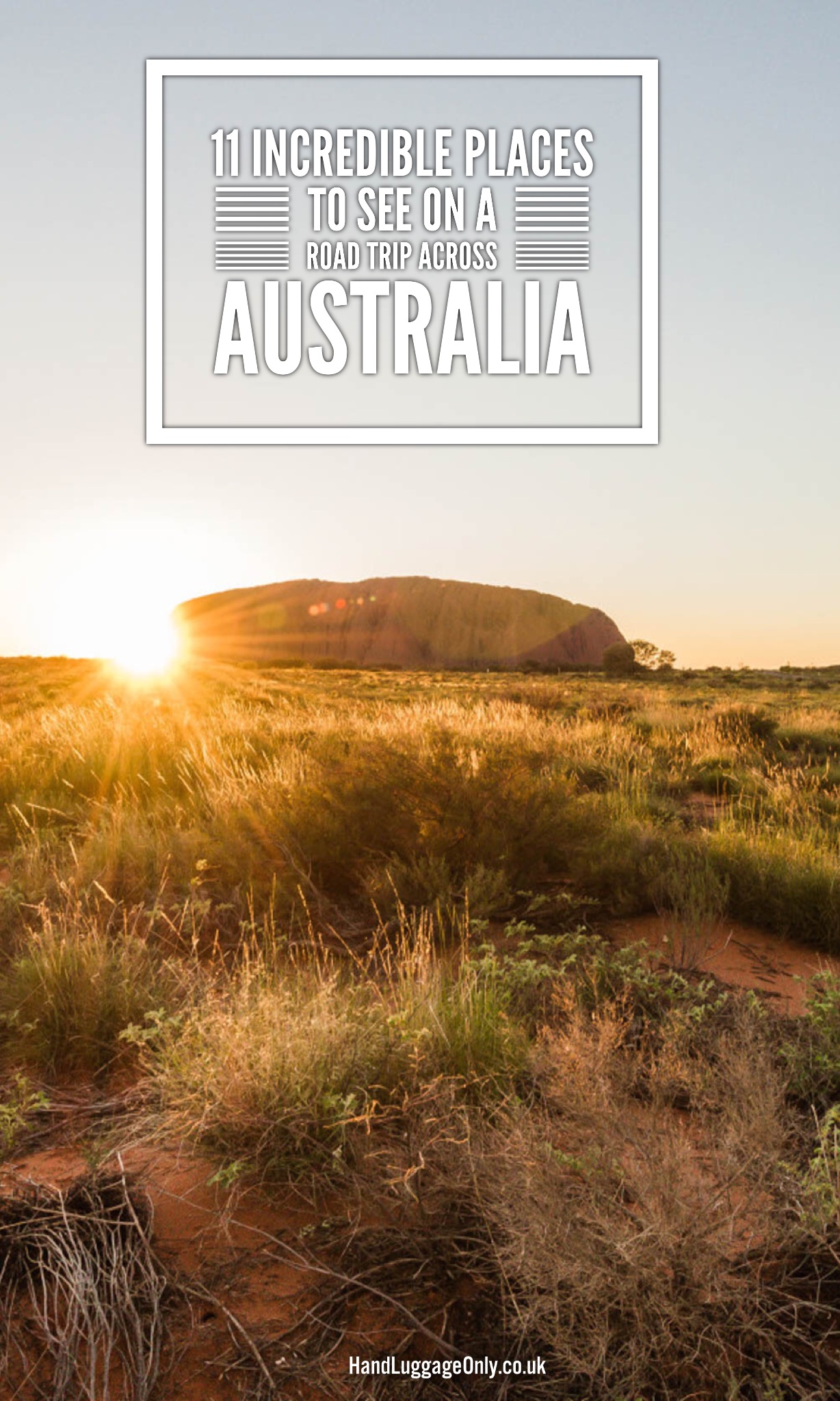 That being said, there are some exceptional things that you should definitely see when planning your trip. Here is a list of the greatest places you should on your road trip down under!
1.) Twelve Apostles: Great Ocean Road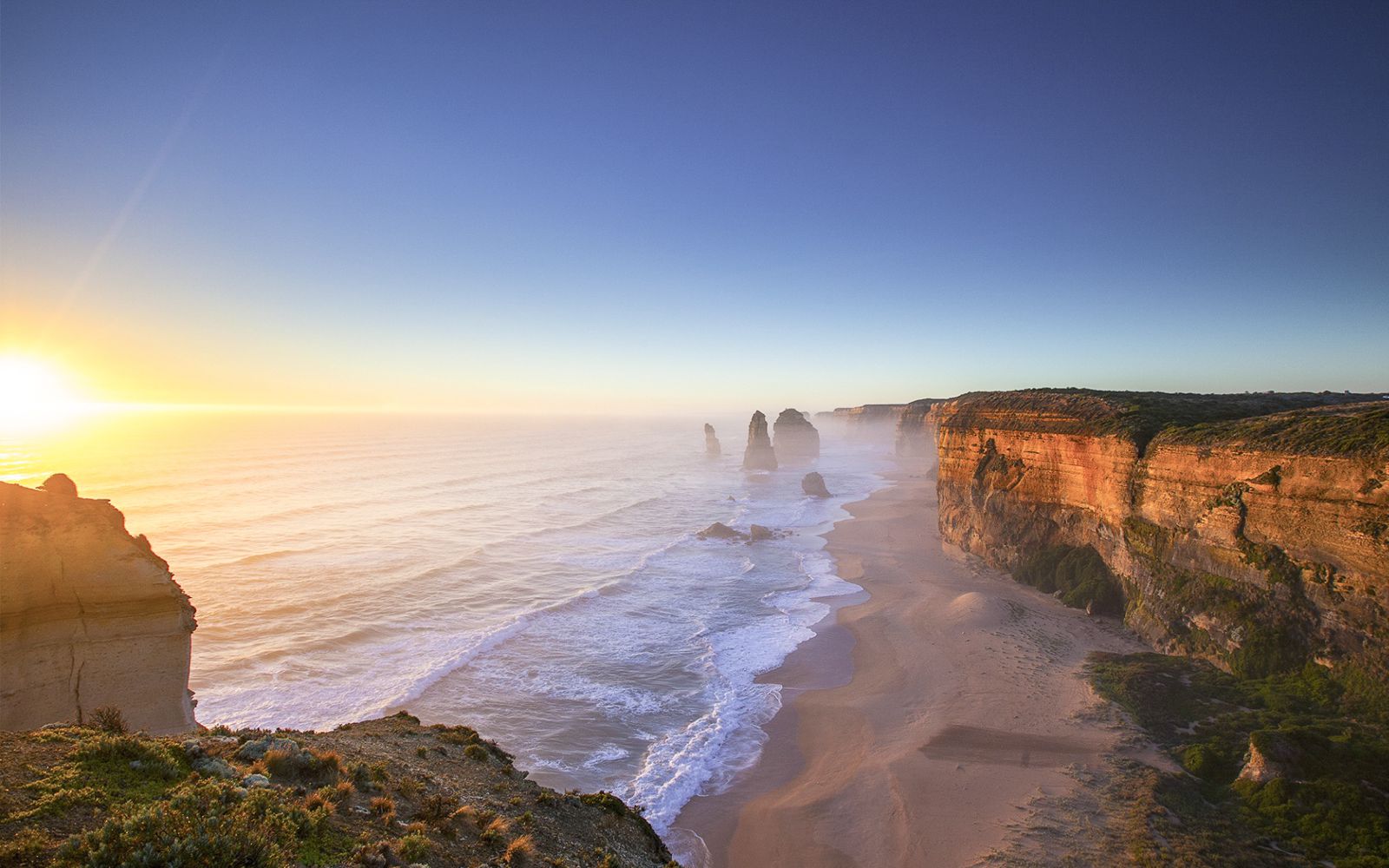 Road tripping along the Great Ocean Road in southeast Victoria, offers some spectacular viewpoints of its dramatic coast. One pretty famous spot is the Twelve Apostles: twelve massive rock stacks that rise out of the Southern Ocean.
Without getting all geography teacher-esque with you, the rocks used to belong to one monumental limestone cliff that the sea gradually broke away…
… and by gradually, I'm talking thousands of years! Luckily, it won't take you nearly half as long to reach them; from Melbourne, it is approximately a four-hour long drive (or 6 hours if you drive at my speed) 😉
Top tip: Make sure to plan a trip around sunrise or sunset for those beautiful orange hues and backdrop to the Twelve Apostles.
2.) Alpine National Park: The Great Alpine Road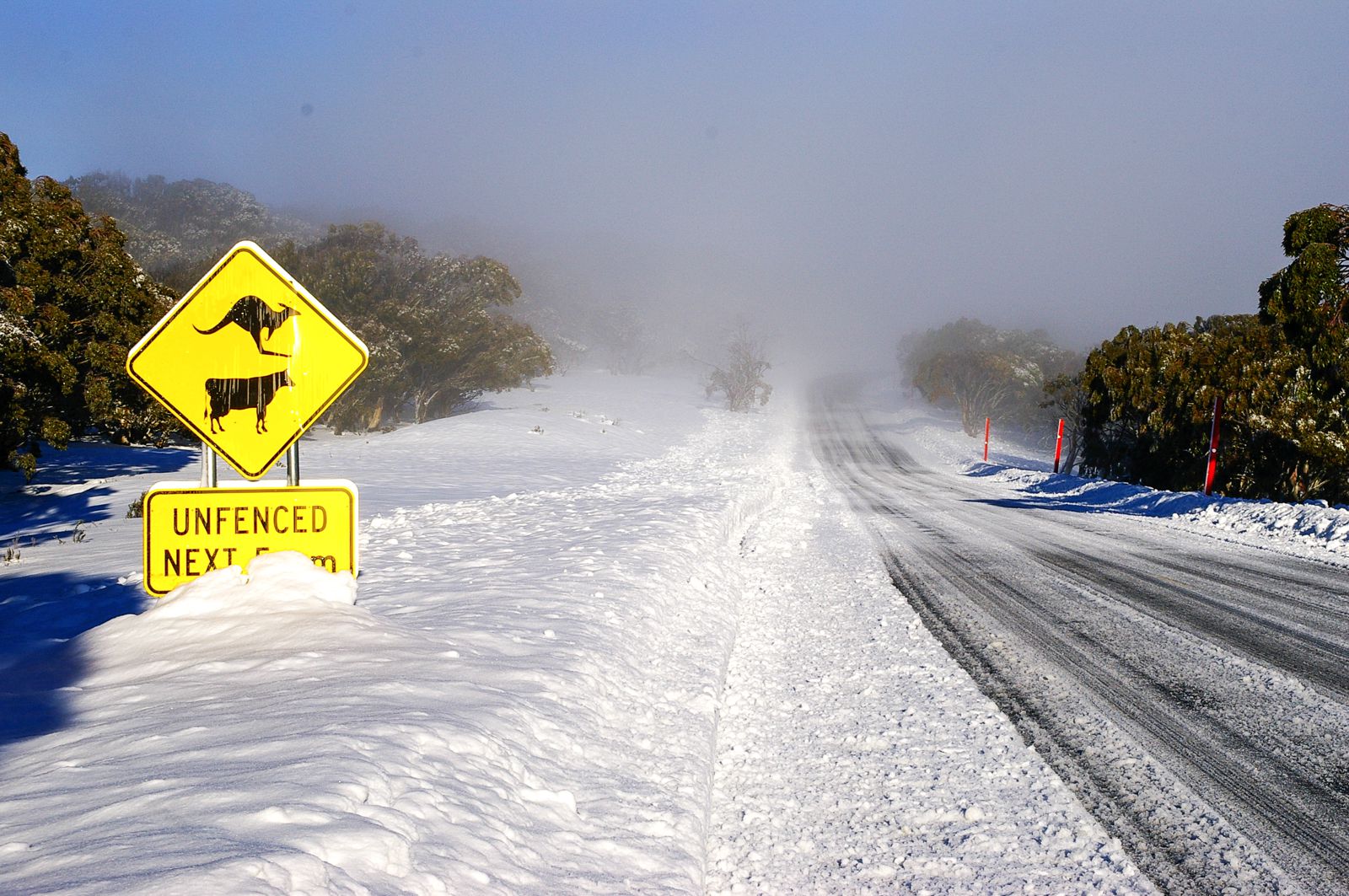 Also located in Victoria, the Great Alpine Road from Wangaratta to Metung is 211 miles (339km) long, and would normally take about 5 hours to complete in your car. Since this is your road trip and not a road race take a day and explore Alpine National Park, the largest national park without having rush to your next port-of-call.
Stunning mountain landscapes, winding rivers, forests and open grasslands are all just waiting to be explored, just keep one eye open for the occasional creepy-crawly.
Top tip: The park can best be explored by walking around on foot, with loads of trails to choose from. If you don't have time, simply driving through it on the Great Alpine Road offers exceptional views too – just watch out for snowy conditions!
3.) Painted Desert: Explorers Highway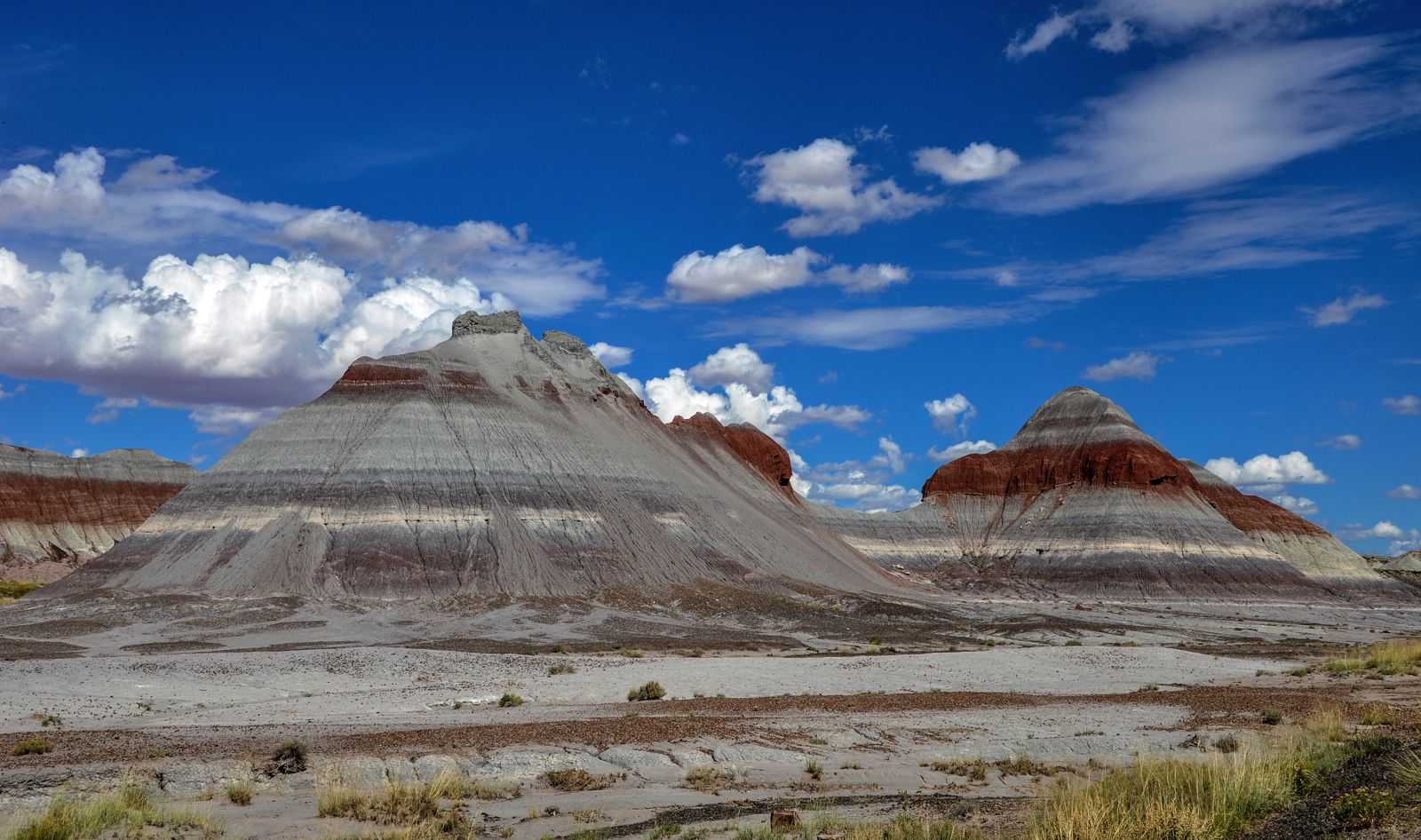 If you're considering a drive from Darwin in the north to Adelaide in the south along the (Explorers Highway route), be sure to stop at the Painted Desert.
These stunning hills and their colours are the result of 80 million years of erosion (see, I'm getting all up there with my geeky geography knowledge), which shaped them into their distinctive forms and brought the colours out.
The Painted Desert is an incredible outback spot, but be prepared: there is really nothing else out there for as far as the eye can see!
Top tip: Sunrise and sunset are the best times to be there, as the lighting dramatically improves the deep reds, browns, oranges, yellows, and whites that are found in the soil.
4.) Uluru: Red Centre Way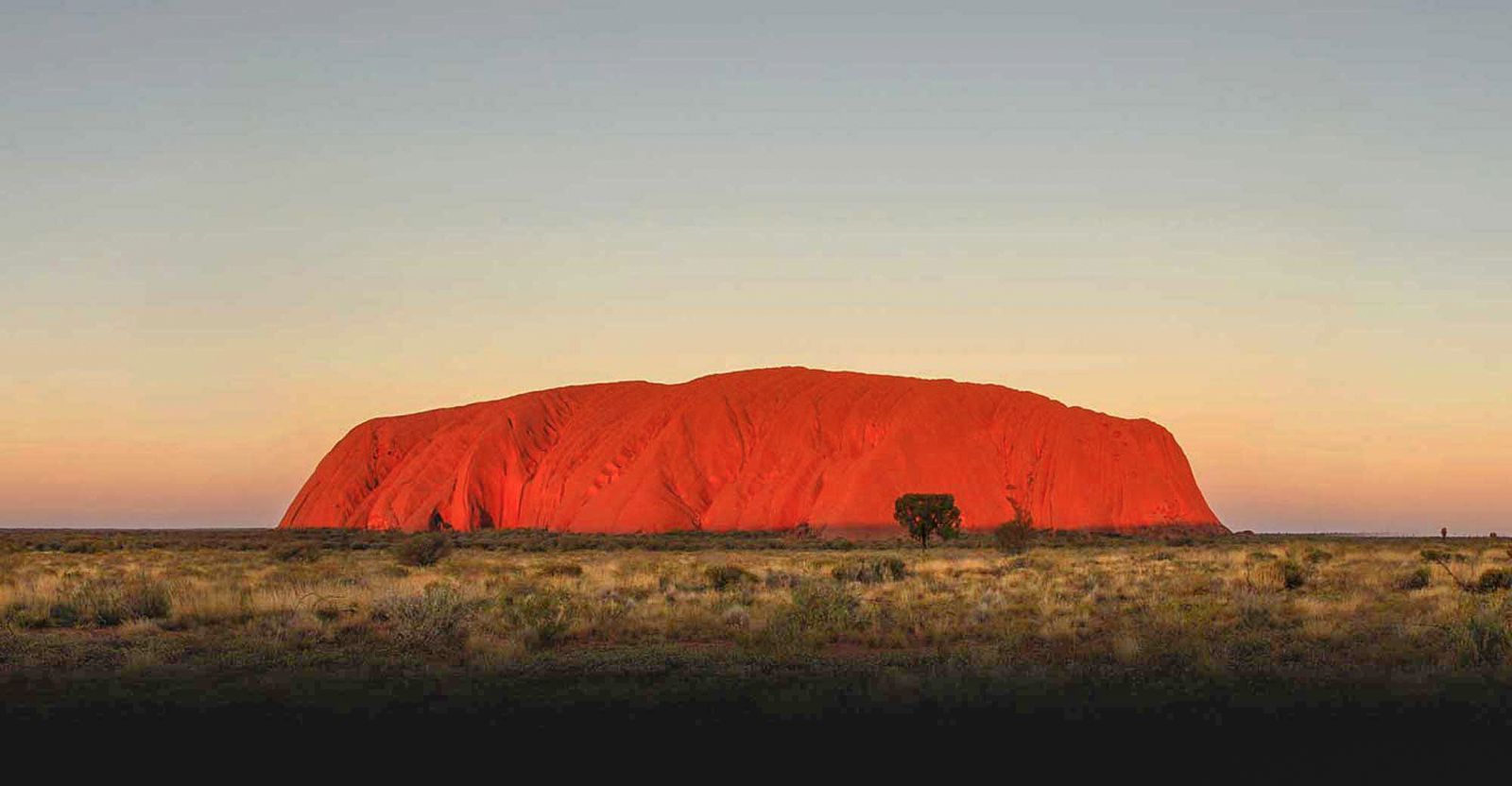 The Red Centre Way is a circular route that should not be missed if you're around Alice Springs. Along the route is one of Australia's most famous natural landmarks, Uluru, or commonly called Ayers Rock.
Uluru is a sandstone monolith in the Red Centre desert and located in the Northern Territory about 280 miles (450km) from Alice Springs. Uluru is significant to the indigenous people of Australia as it is a sacred part of their creation mythology and one that should be respected by all that visit. Whether you believe it is sacred or not, there is certainly something magical about Uluru that seems to captivate visitors from all across the globe!
Top tip: Each day, around 8am, from the Mala car park at the base of Uluru, is a free ranger tour that runs  for all of us to enjoy.
5.) Spot Dolphins in Monkey Mia: Indian Ocean Drive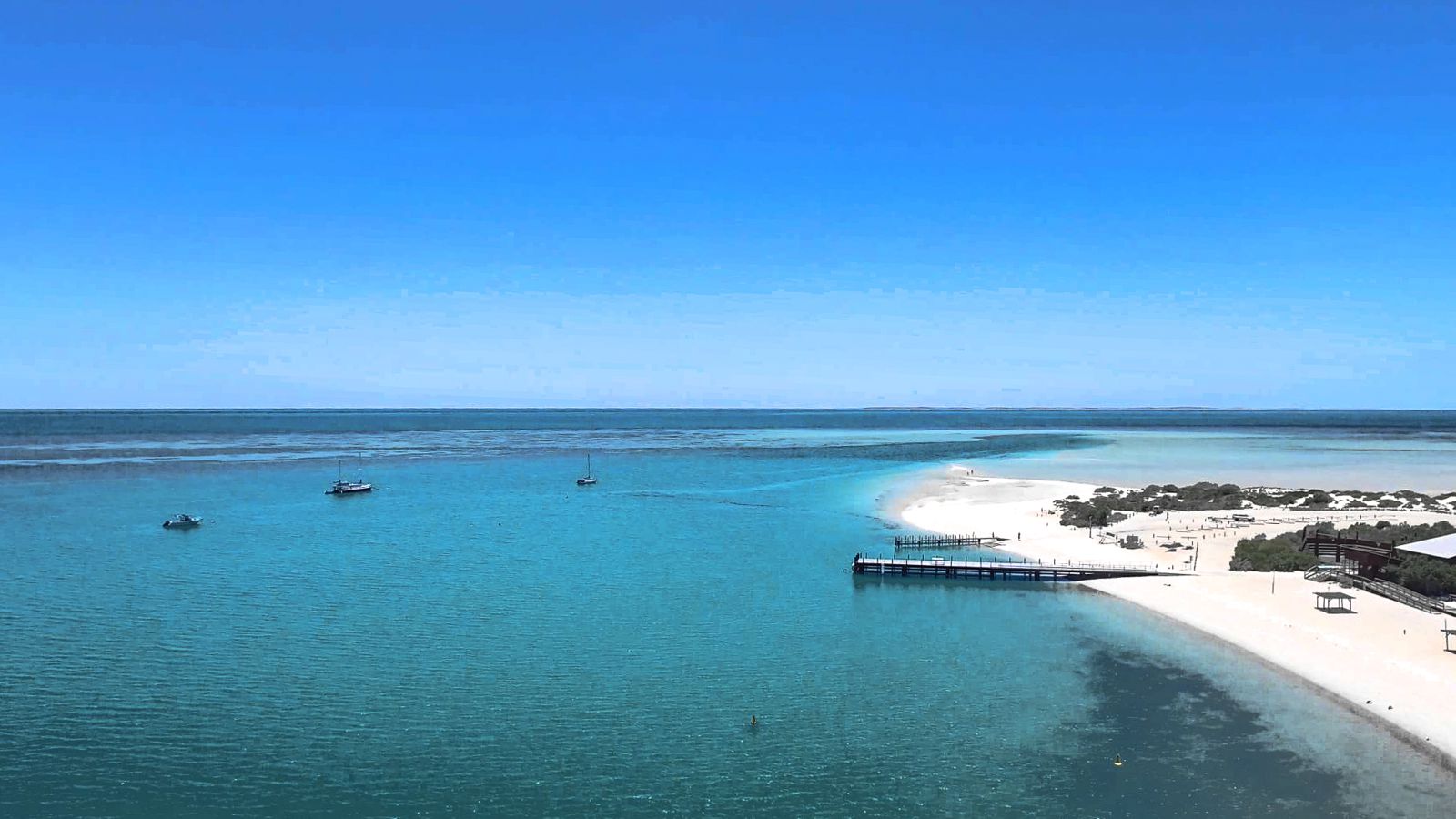 Located about 15 miles (25km) from Denham, and 560 miles (900km) north of Perth, Monkey Mia is a place where dolphins actually swim right up to the shore!
Top tip: Monkey Mia is also a great spot to see whales, manta rays, turtles, sharks, and plenty of beautiful fish. Snorkelling, scuba diving, and kayaking are also a great way to see get outta your car and into the ocean!
6.) Kakadu National Park: Nature's Way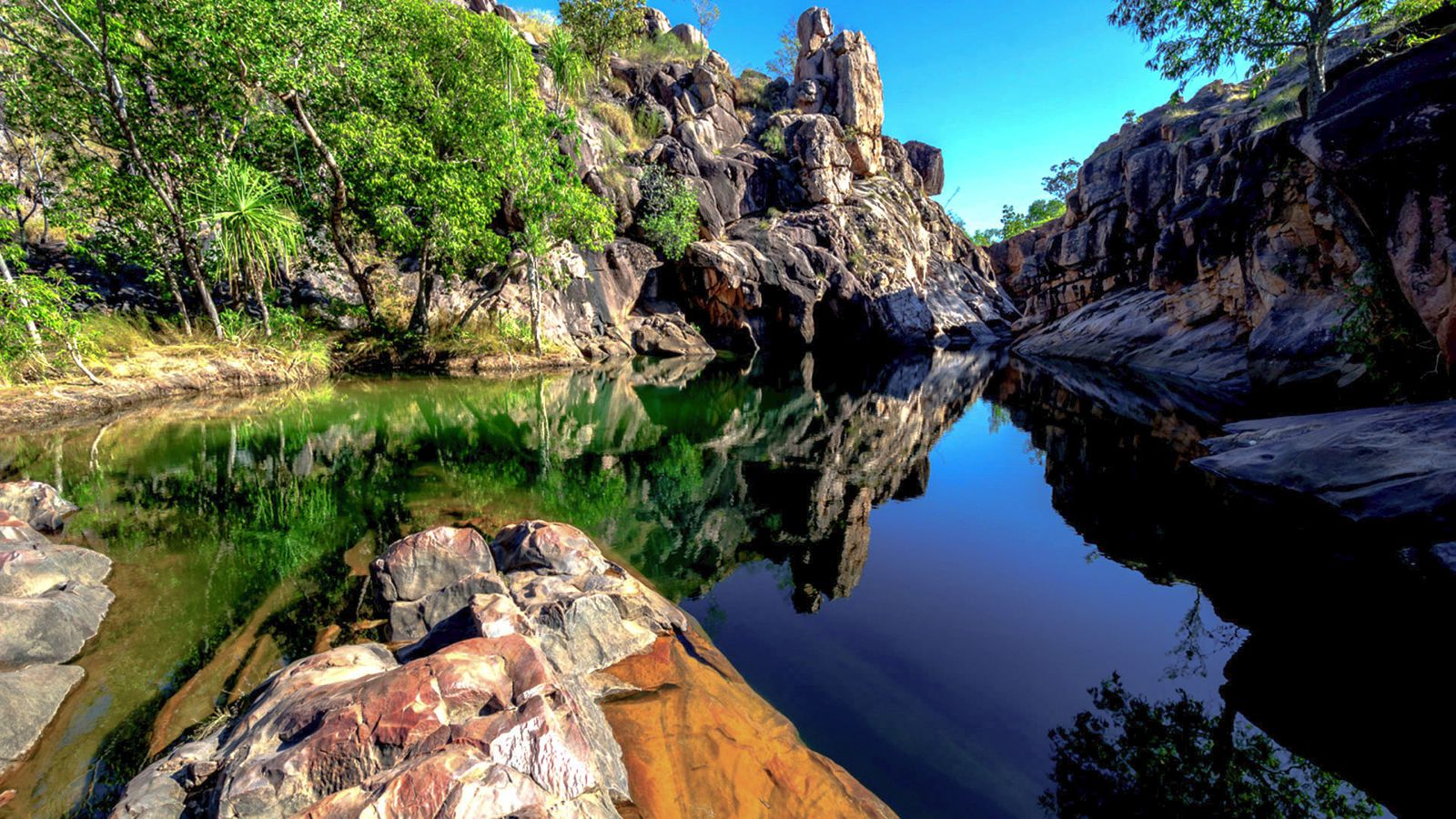 Nature's Way is a circular road trip that starts in Darwin and makes its way to Australia's largest national park: Kakadu.
Adventurers are welcome in Kakadu, as saltwater crocodiles are found in the wetlands and rivers, as well as over 2,000 species of plants and animals that'll make you snap happy…
… just be warned, the crocs can be snap happy too! *gulp*
Top tip: Keep an eye out for the prehistoric Aboriginal art found in various sites in the park.
7.) The Riesling Trail: South Australian Loop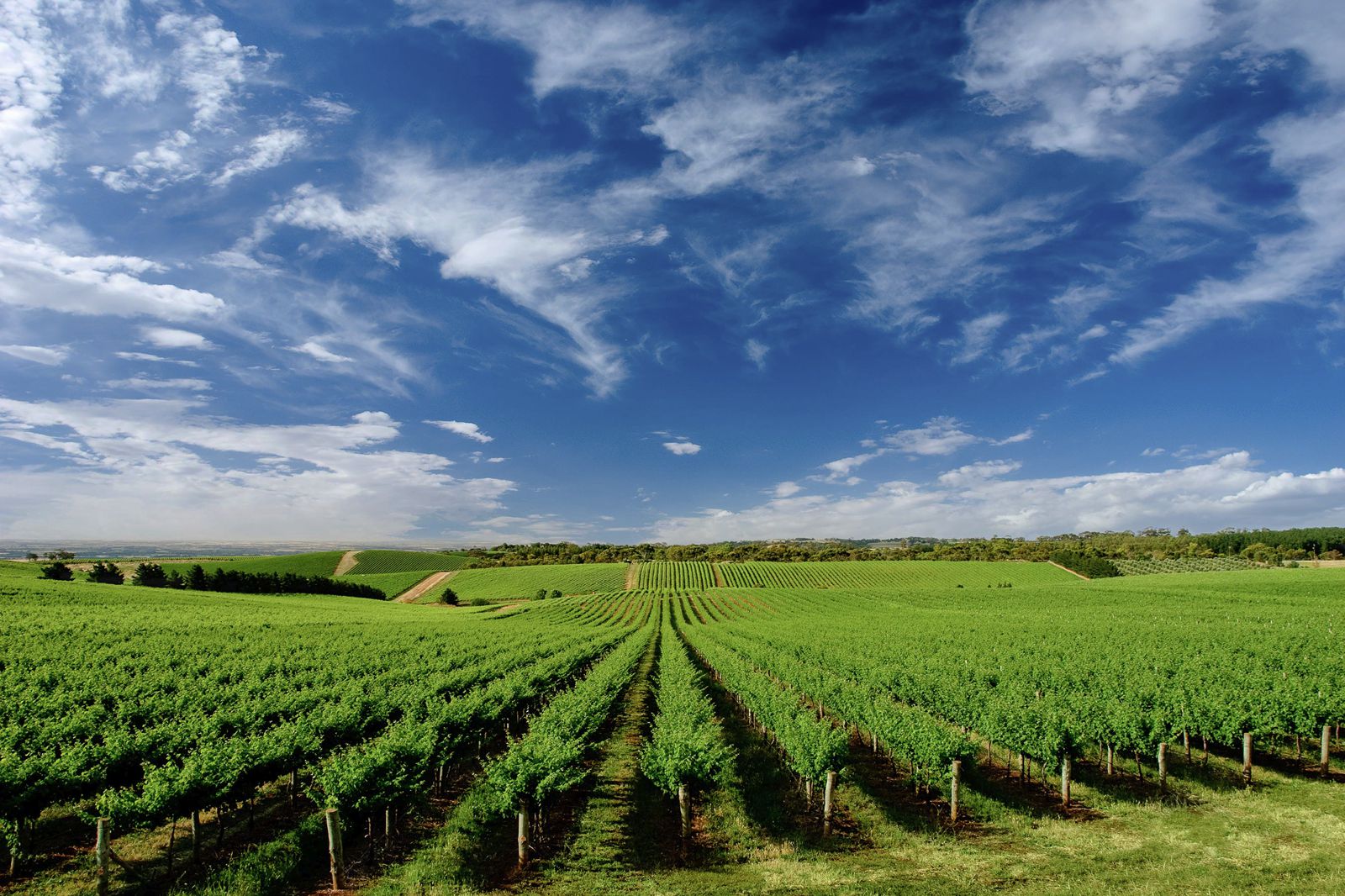 That food monster in us will most definitely crave a road trip through one of the best wine and food regions of Australia.
Give your car a little break and walk the beautiful Riesling Trail through the vineyards and farms of Clare Valley. The 15 mile (25km) long trail takes you past some of the oldest and most amazing wineries and restaurants between Auburn and Clare.
Top tip: Remember not to drive after drinking oodles of wine, grab yourself accommodation nearby and stay the night.
8.) Great Barrier Reef: Pacific Coast Touring Route, Queensland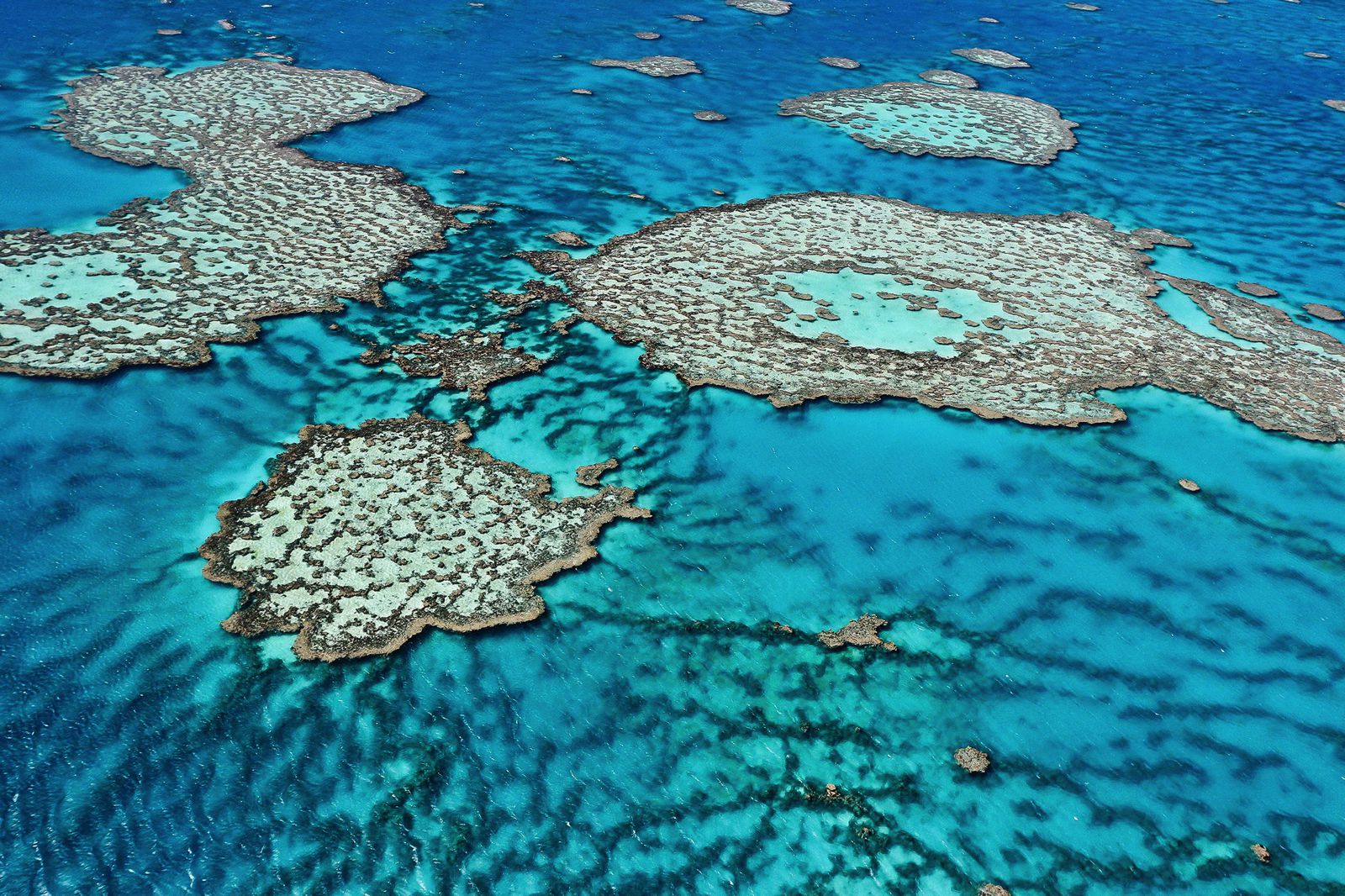 Technically, the Great Barrier Reef isn't accessible by car but that shouldn't be a reason to skip it!
One of the seven Wonders of the World, the Great Barrier Reef is the largest living organism on the planet and one that's really delicate right now. Stretching over 1,400 miles (2,300km) along the Queensland coast, the ecosystem is so big that it can be seen from space! For the easiest access to the reef, take a boat from Cairns, which will take between 45-90 minutes.
Top tip: Be mindful when exploring the reef, never touch, stand or pull any of the coral… it takes years and years to grow. Also, wear a swimming t-shirt instead of using sunscreen when exploring the reef as SPF lotion and the chemicals inside can also have a detrimental impact to the local ecosystem.
9.) Cradle Mountain: Circle Tasmania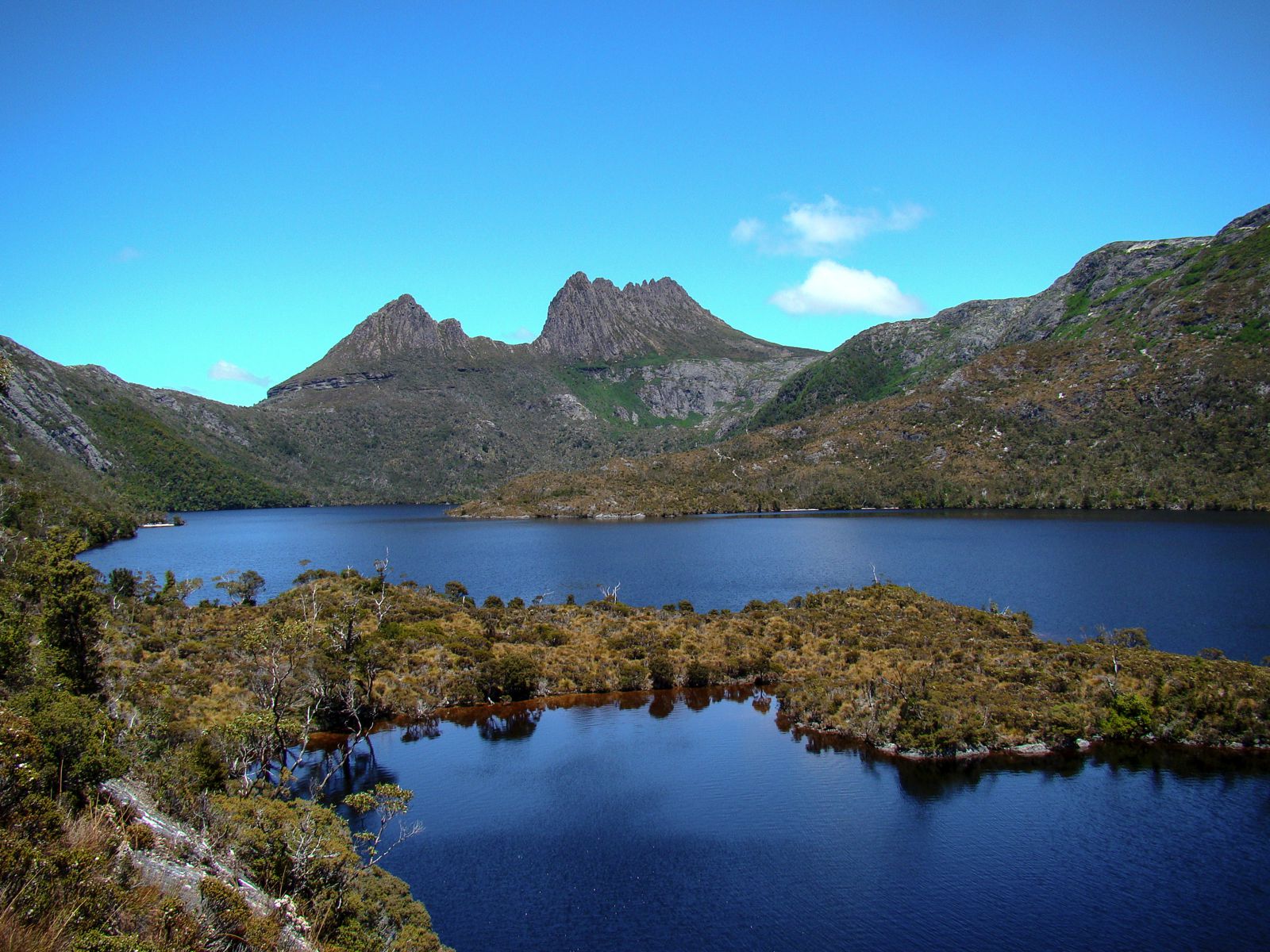 It seems that people often forget Tasmania when thinking of a road trip down under.
If you find yourself lucky enough to be road-tripping around the island, be sure to stop at Cradle Mountain. Located in the Central Highlands region of Tasmania in Cradle Mountain-Lake St. Clair National Park, the mountain is perfect for hiking, especially in the cooler evenings of summer.
Top tip: At the top, stunning views can be had of the rugged mountains and small lakes surrounding you. Enjoy the views and fresh air before you continue on the rest of the circular journey back to Hobart.
10.) Windjana Gorge and Tunnel Creek: Gibb River Road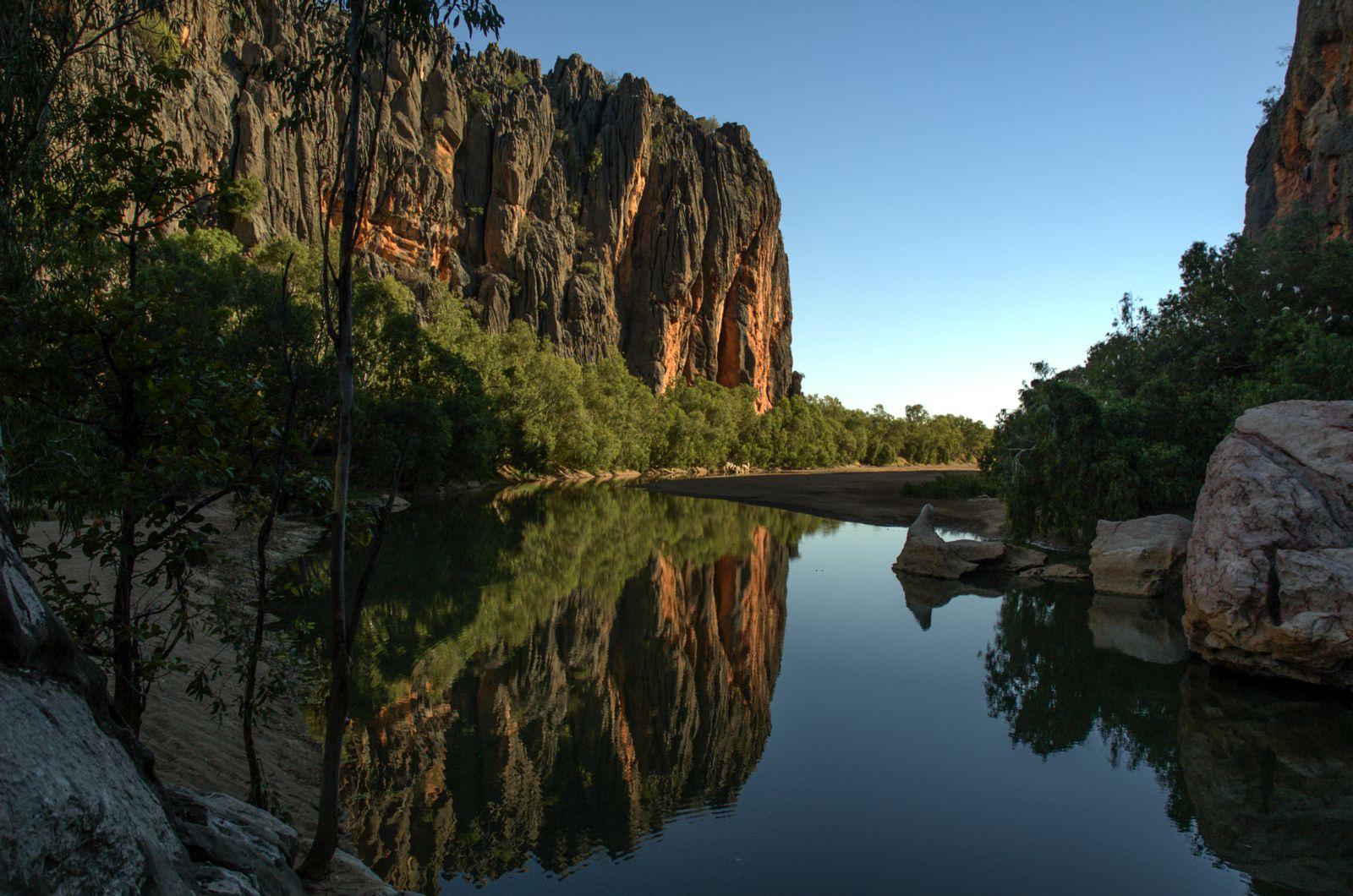 A road trip from Derby to Wyndham in Western Australia will take you through both Windjana Gorge and Tunnel Creek National Parks. Windjana Gorge is a large gorge in the Napier Range that was carved out by the Lennard River, giving host to lots of things to see and do when driving past.
The best part? Freshwater crocodiles, and lots of them! It adds to the adventure of the trip. Just make sure not to get in or near the water there.
Nearby is Tunnel Creek, which is part of the 350 million-year-old Devonian Reef system and has significance to aboriginal people in the region.
Top tip: You can walk through the tunnel, which has five different species of bats (which are surprisingly…or perhaps unsurprisingly,  smelly), but you'll have to bring a flashlight and be prepared to get wet.
11.) Explore a city! Sydney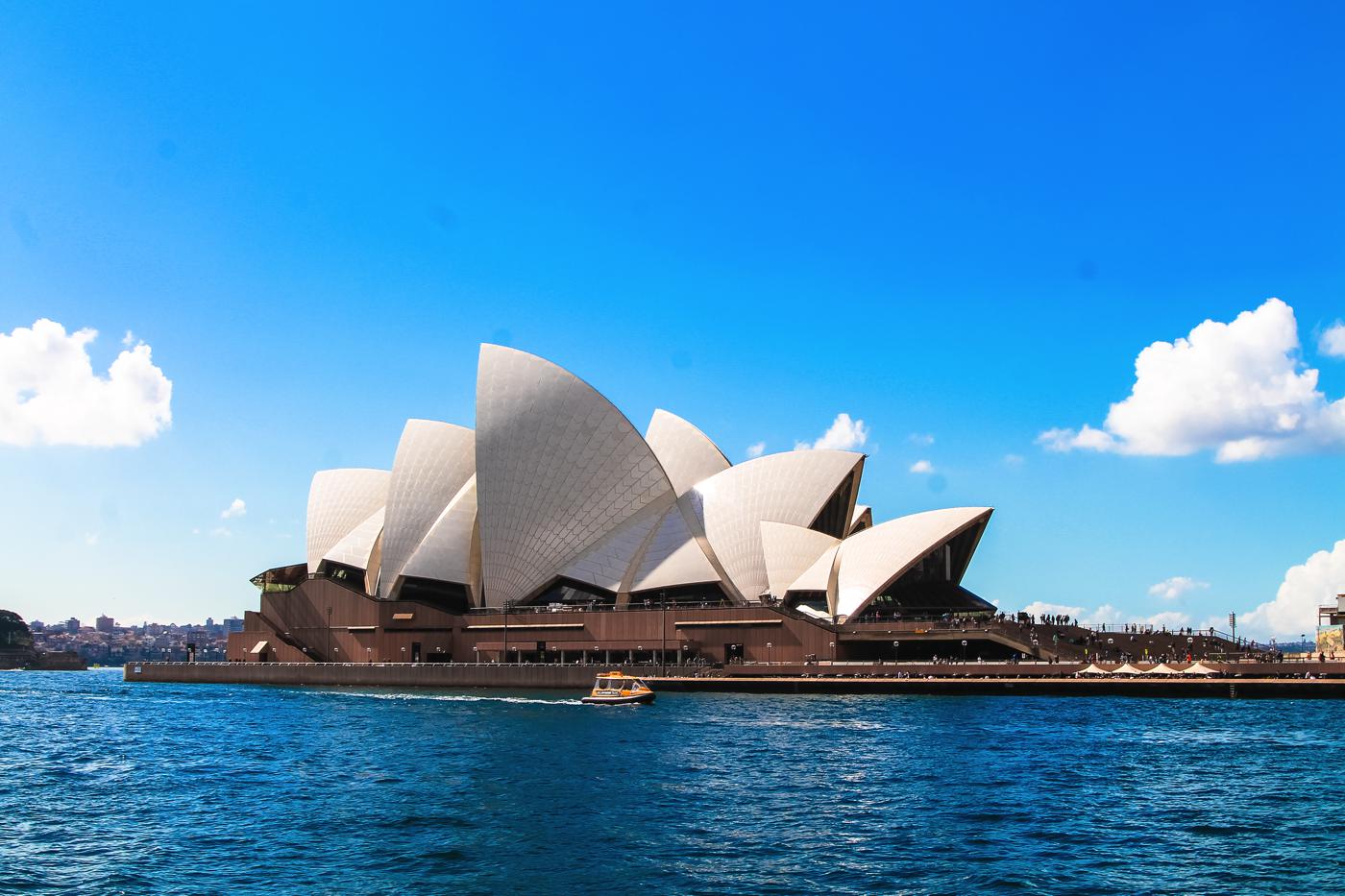 If you're all natured out (unlikely) 😉 make sure to make one or two stops at some of the best cities in Australia. Grab a show in the Sydney Opera House, take a ferry ride to Manly Bay and discover a Luna Park that's one of the oldest in the world!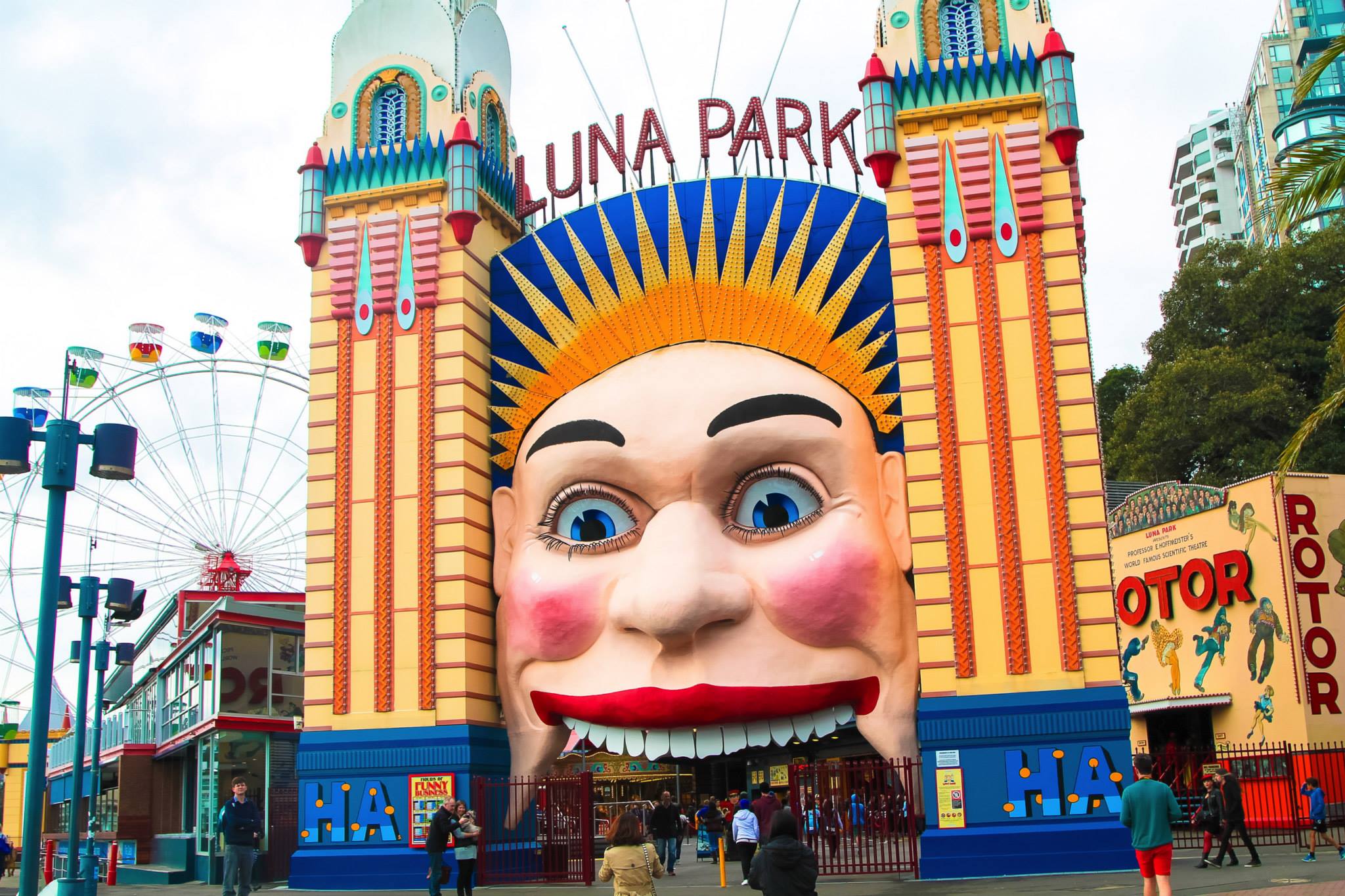 Top tip: Grab yourself a hotel or Air BnB that has parking, ditch the driving and explore the city by foot and public transport. See more on planning a trip to Sydney in our posts, here.
Thinking of a road trip but don't know where? Take a look at our complete road trip guide to California, England, and Italy. 
---
---