As you've probably guessed, I've quite a soft spot for a festive Christmas – it doesn't matter if it's a tropical Christmas in Bali, a snowy New York Christmas or a gorgeous Christmas in the UK, as long as there is lashings of mulled wine, binge-worthy TV and lots of family time I'm a happy bunny!
One thing I've noticed in recent years is how much excitement I have for the lead up to Christmas Day. The preparing, the festive food, the gift giving and of course, the Christmas Markets – Which I treat as an obligation that cannot be missed! 🤣
As the festive season quickly approaches, those lovely Christmas markets will begin to open. Take a look at some of the UK's best Christmas Markets You should visit this year.
Oh… and don't forget to check out our post on the best European Christmas markets you have to visit.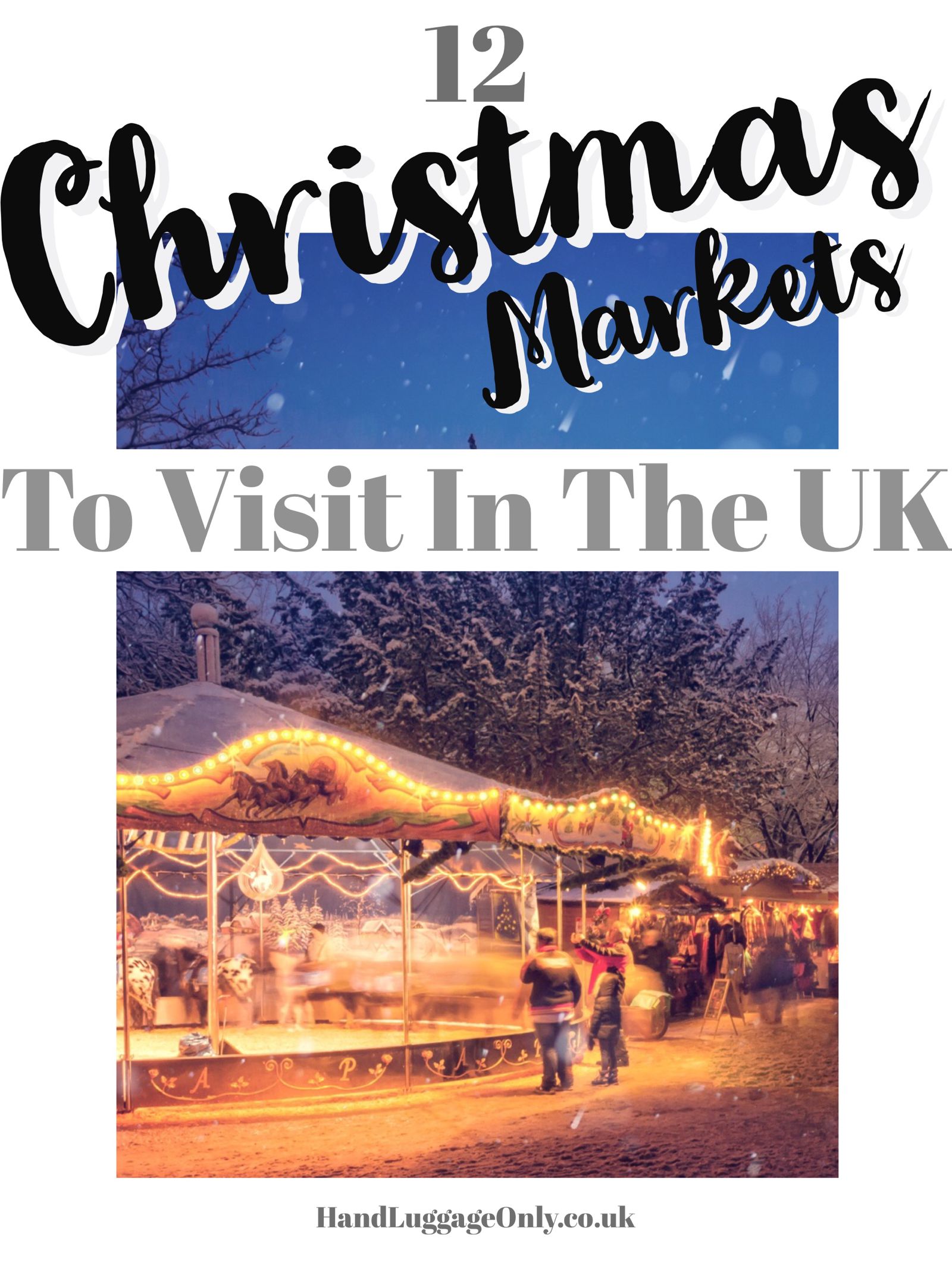 1.) Edinburgh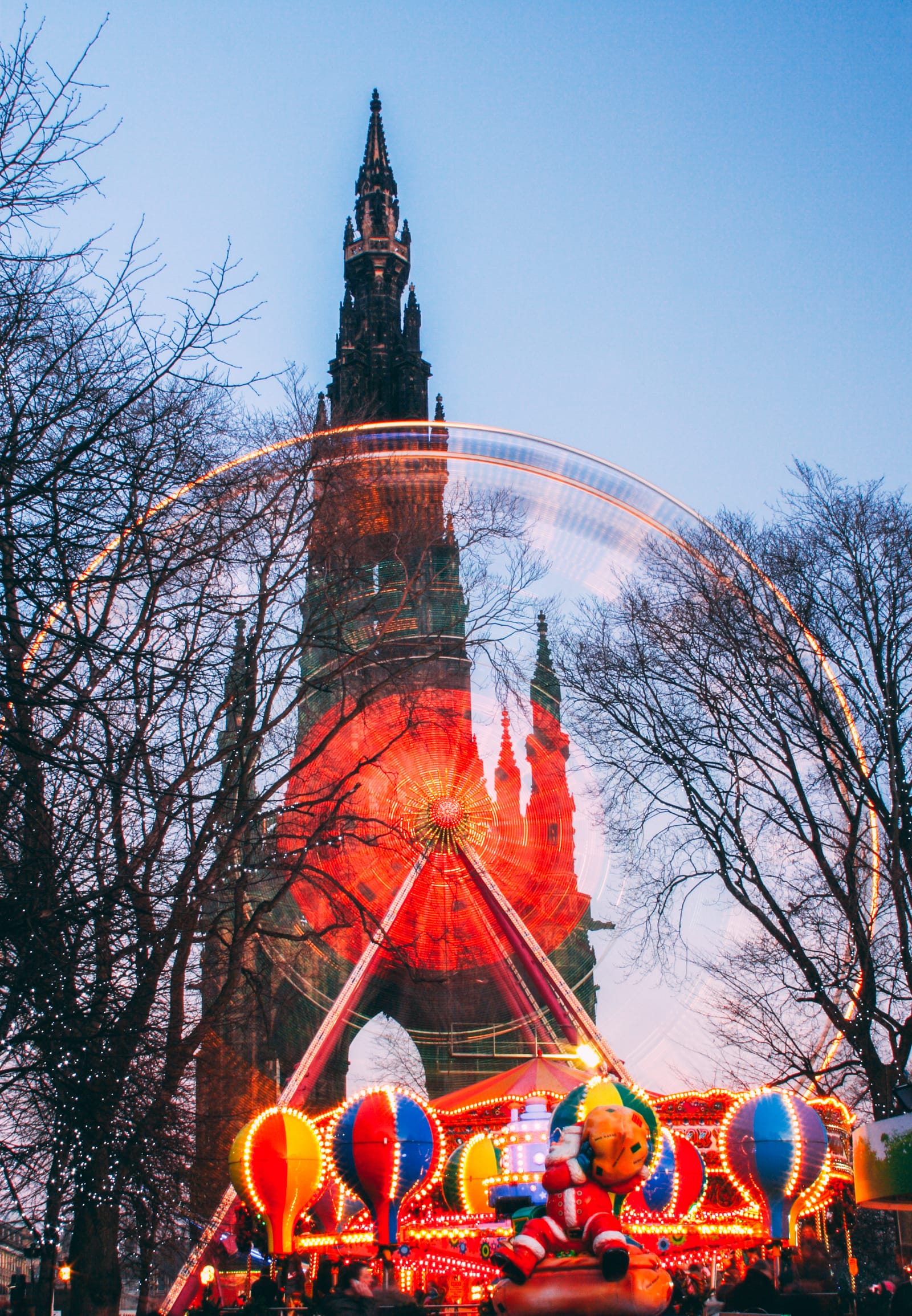 Edinburgh is one of my favourite cities in the UK (and yes, I'm biased after living in the city for a few years). One of the things I loved most about the city is the atmosphere that consumes the city over Christmas and Hogmanay.  Edinburgh has two amazing Christmas markets, one is just off Princes Street and the other, a few minutes walk to George Street. Both are really great fun and a perfect place to sip on some mulled wine and hot cider before heading into some of the city's best bars.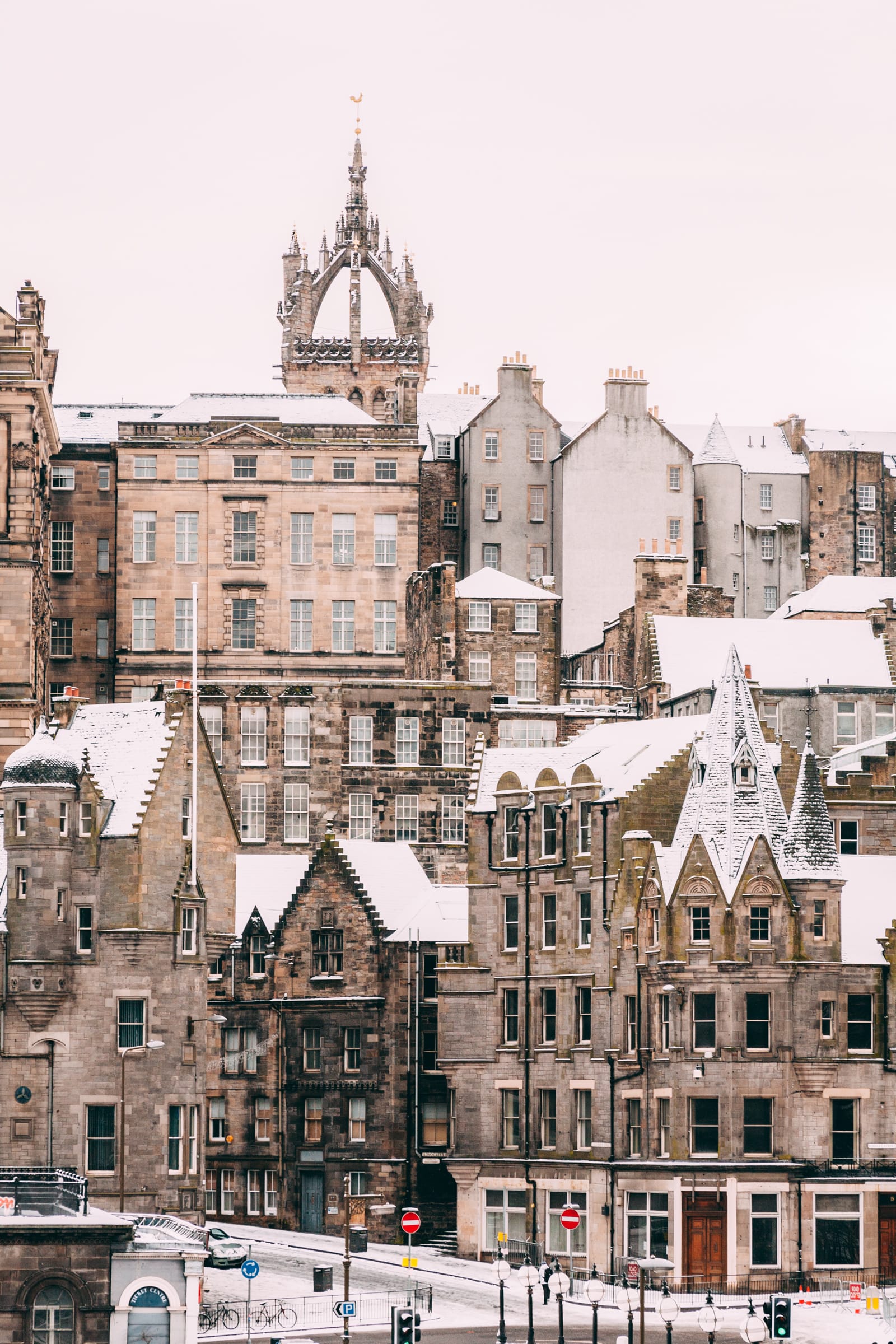 Princess Street opens (with all the fanfare of rides, carousel and ice rink) on 18th November until the 6th January whilst George Street market opens a day earlier on the 17th November until the 24th December.
Visiting Edinburgh? Check out some of the secret spots you have to visit here
2.) Manchester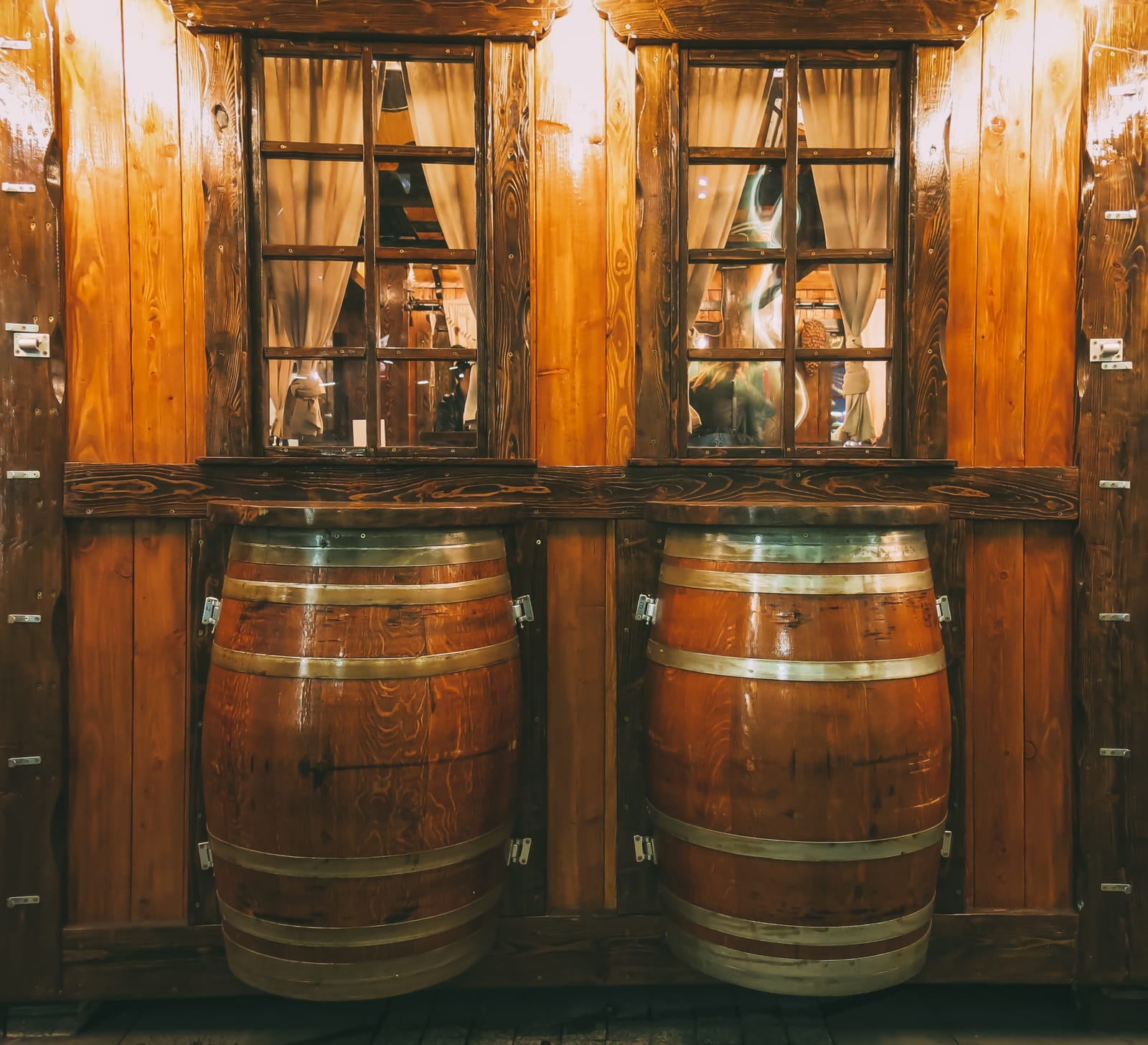 The buzzing vibe of Manchester is only amplified during the Christmas period. Don't expect the city to slow down, in fact, expect the opposite. Manchester has a whopping 10 Christmas Markets that are dotted around the city.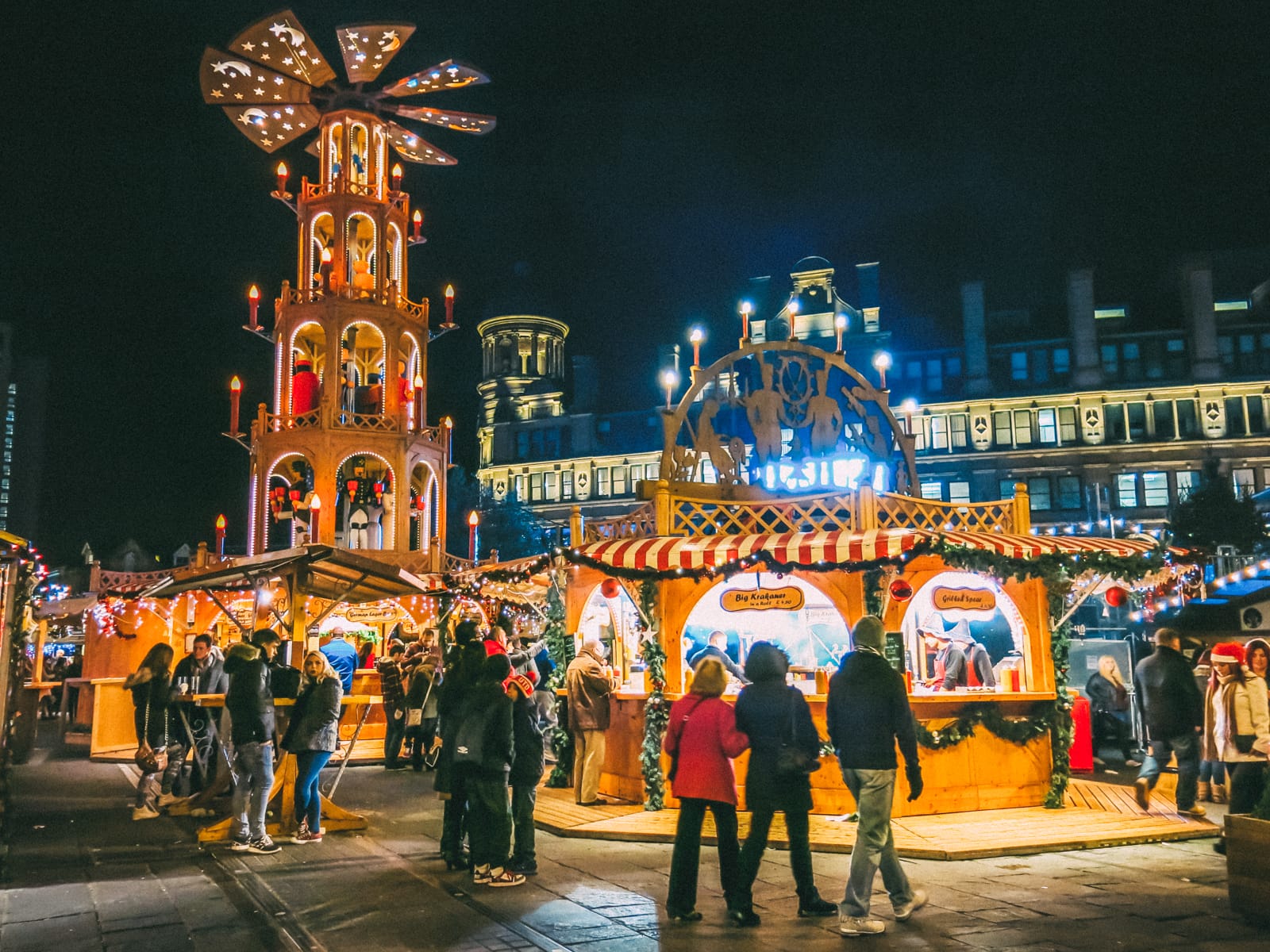 Albert Square Market is one of the biggest markets, with St Ann's Square having a German flare. If you're looking for a French market, you'll probably want to head to King Street Market or some of the other markets on New Cathedral Street, Market Street, Cathedral Gardens, The Corn Exchange, Exchange Square, Brazennose Street and Exchange Street.
With soooooo many to visit, it's probably best to plan ahead! See the map of some of the best Manchester Markets around the city which open on the 11th November.
Visiting Manchester? Make sure to see these amazing places
3.) London
Okay, so London is brimming with so many Christmas Markets, some intimate and small, whilst others are a colossal market filled with thousands of people.
With so many to choose from, it can be hard to decide which place to visit. If you like the hustle and bustle, fairground and plenty of entertainment, head over to the Winter Wonderland (opens 17th November until 1st January). Without sounding like a Bah Humbug, it's personally not my favourite due to how busy it gets (plus it can be pretty expensive if you're staying for a good few hours).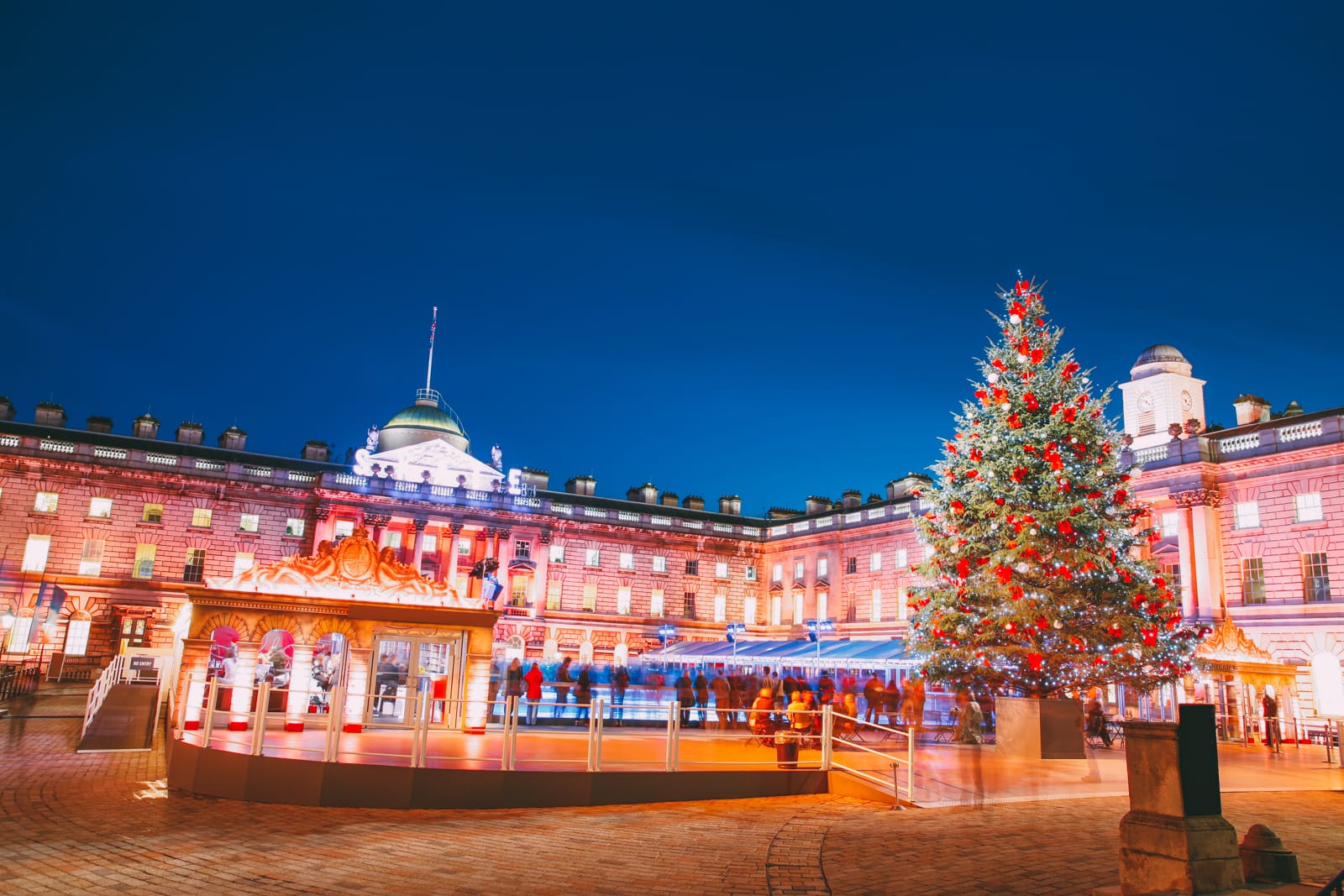 For a slightly quieter affair (though expect plenty of people), head over to the more intimate Christmas Market in between London Bridge and Tower Bridge (on the south side of the Thames). There are around 60 stalls here and it's a great place to enjoy a mulled wine with views over to the City of London.
A little further from the centre are Christmas Markets like Greenwich which is housed within and next to the traditional market hall (they even have a Santa's Grotto). 🎅🏼
If you're looking for a market further south, head to Kingston-Upon-Thames, where they have their own alpine village and snow-covered trees.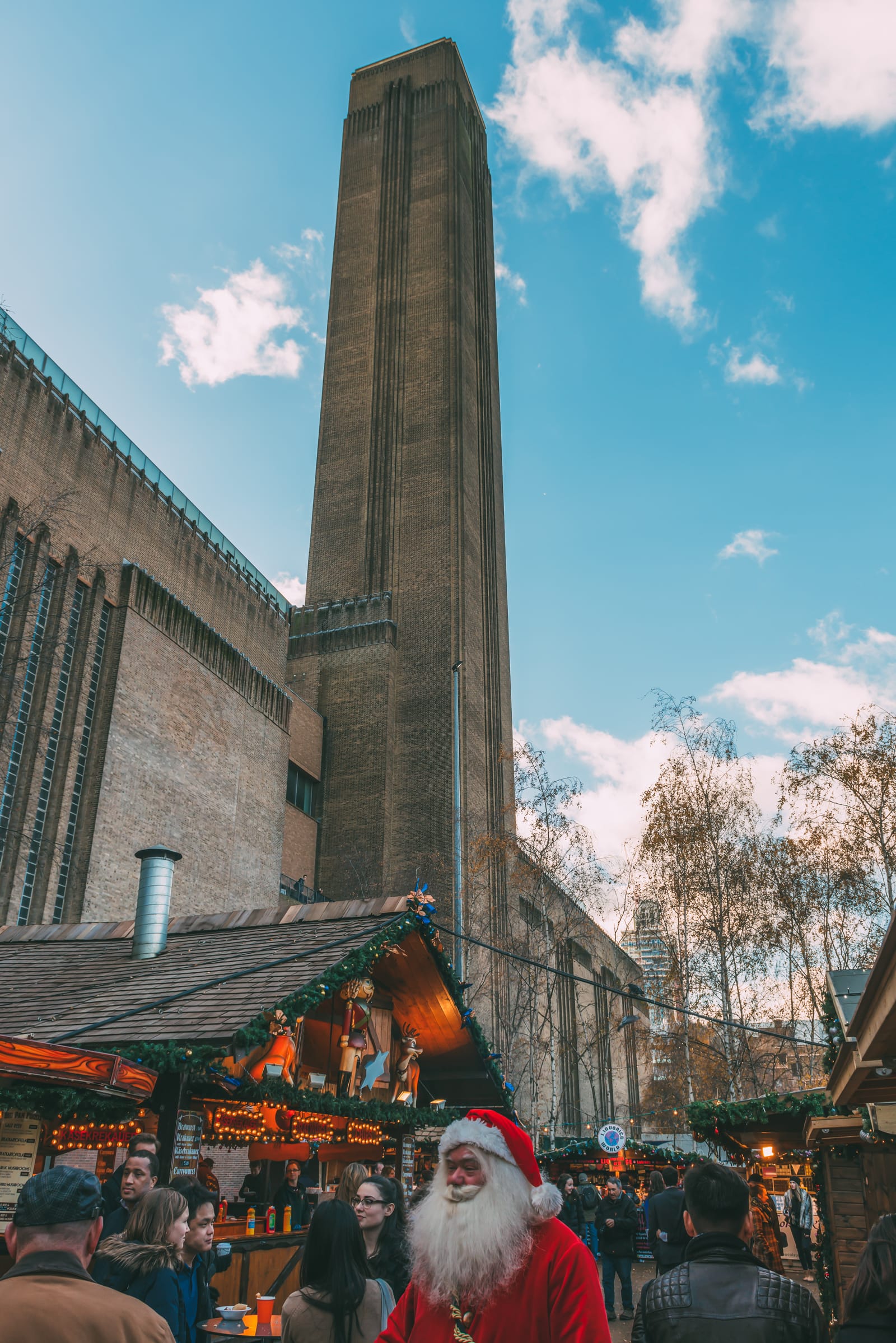 Still, one of my favourite past times since moving to London has to be strolling the Thames from the London Eye towards Tower Bridge. Here you'll stumble upon Southbank Christmas Market (open from the 10th November) before making your way to London Bridge Market (opens 30th November). It's the perfect walk on a crisp winter evening.
Visiting London? Make sure to visit these secret spots 
3.) Bath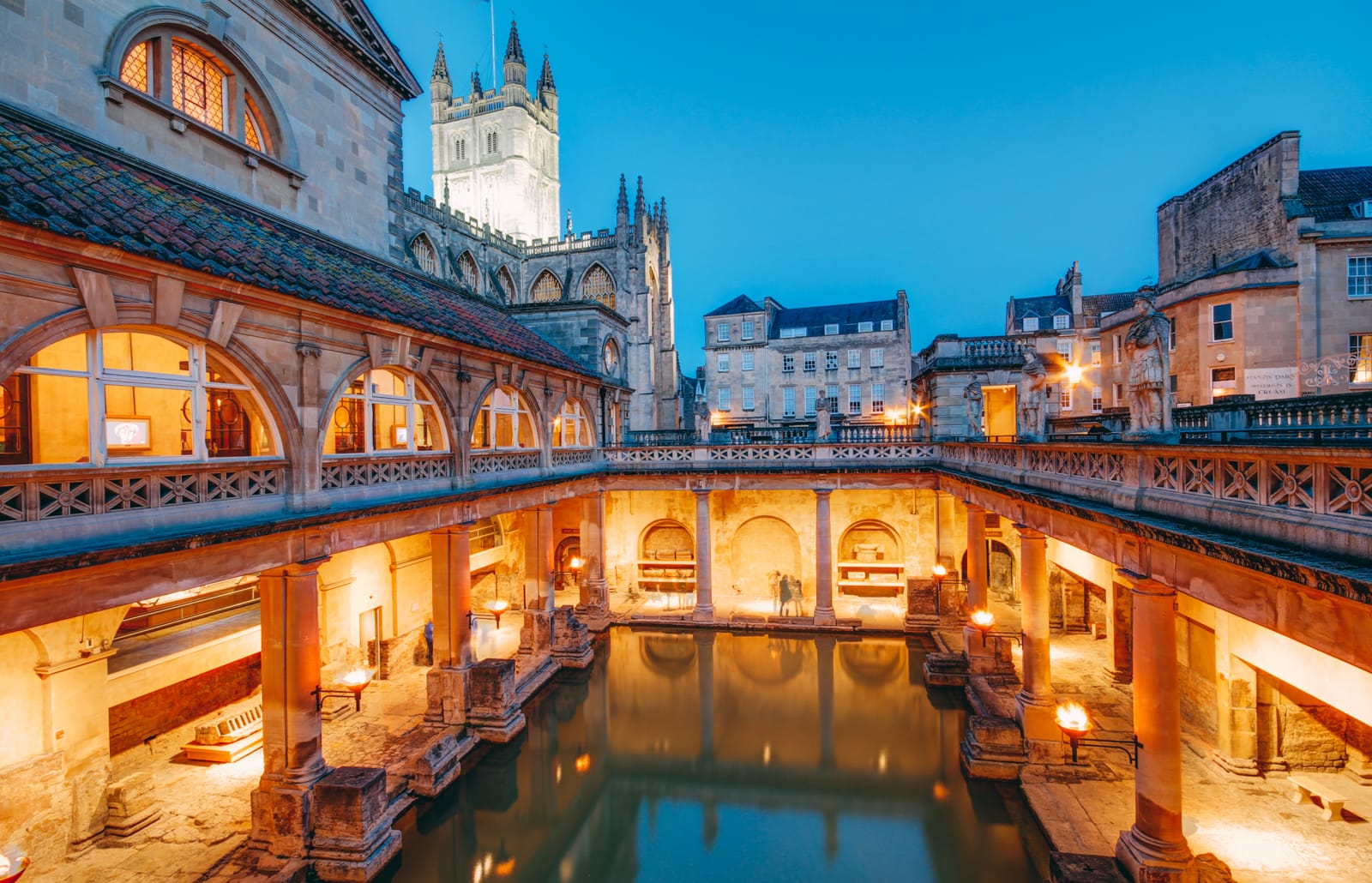 The historic, Roman city of Bath feels even more special at Christmas. With plenty of festive goings-on, the city is such a great place to explore for a day trip (or a little longer). Bath's Christmas markets open from the 23rd November and close a little earlier than other cities on the 10th December. There are a whopping 200, or so, wooden cabins that have everything from handmade goodies, roasted chestnuts and piping-hot mulled wine.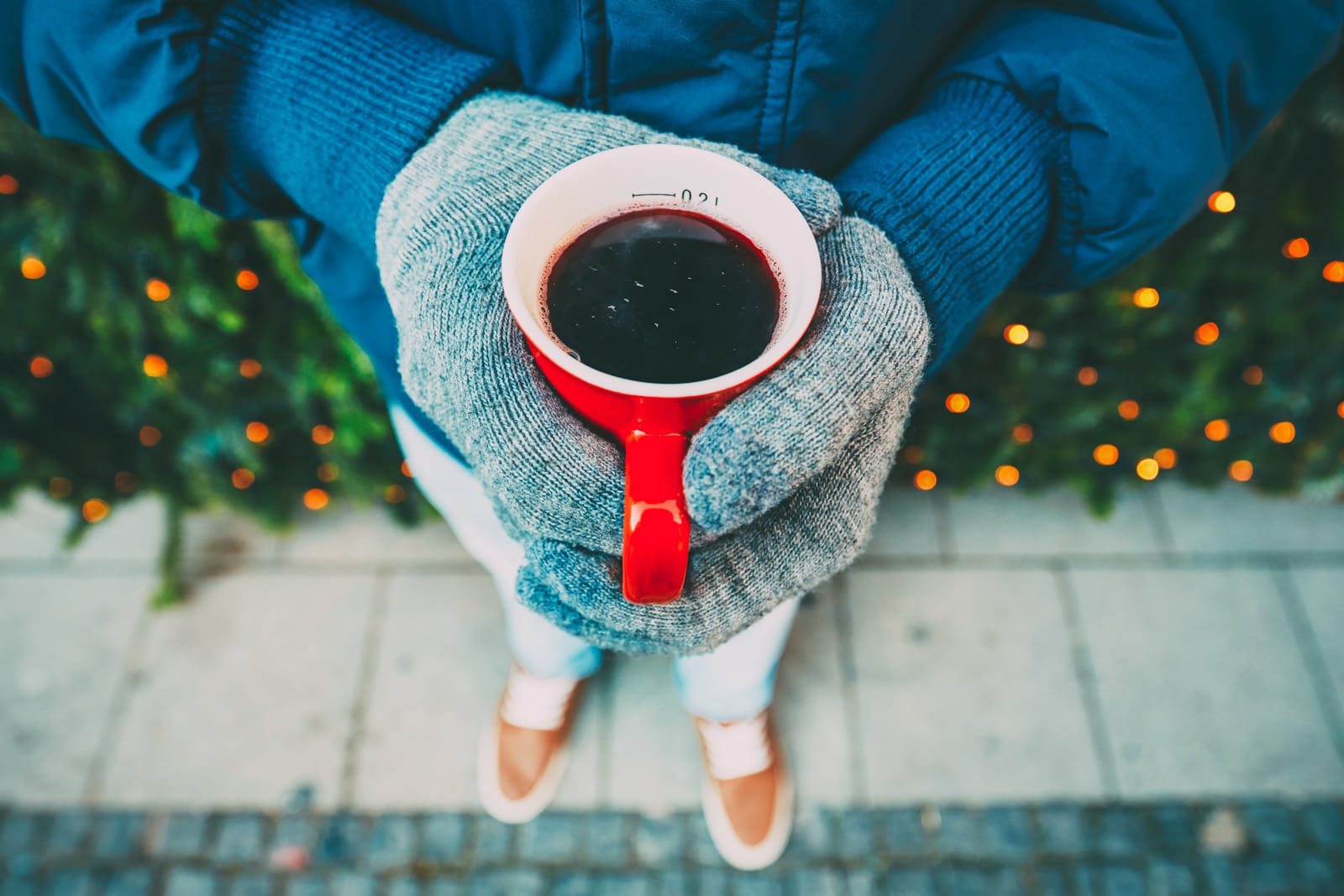 Most of the stalls centre around the Roman Baths, the Pump Room and the Abbey, with Bath Street having its fair share to explore.
Visiting Bath? Check out our blog post on visiting, right here
4.) Liverpool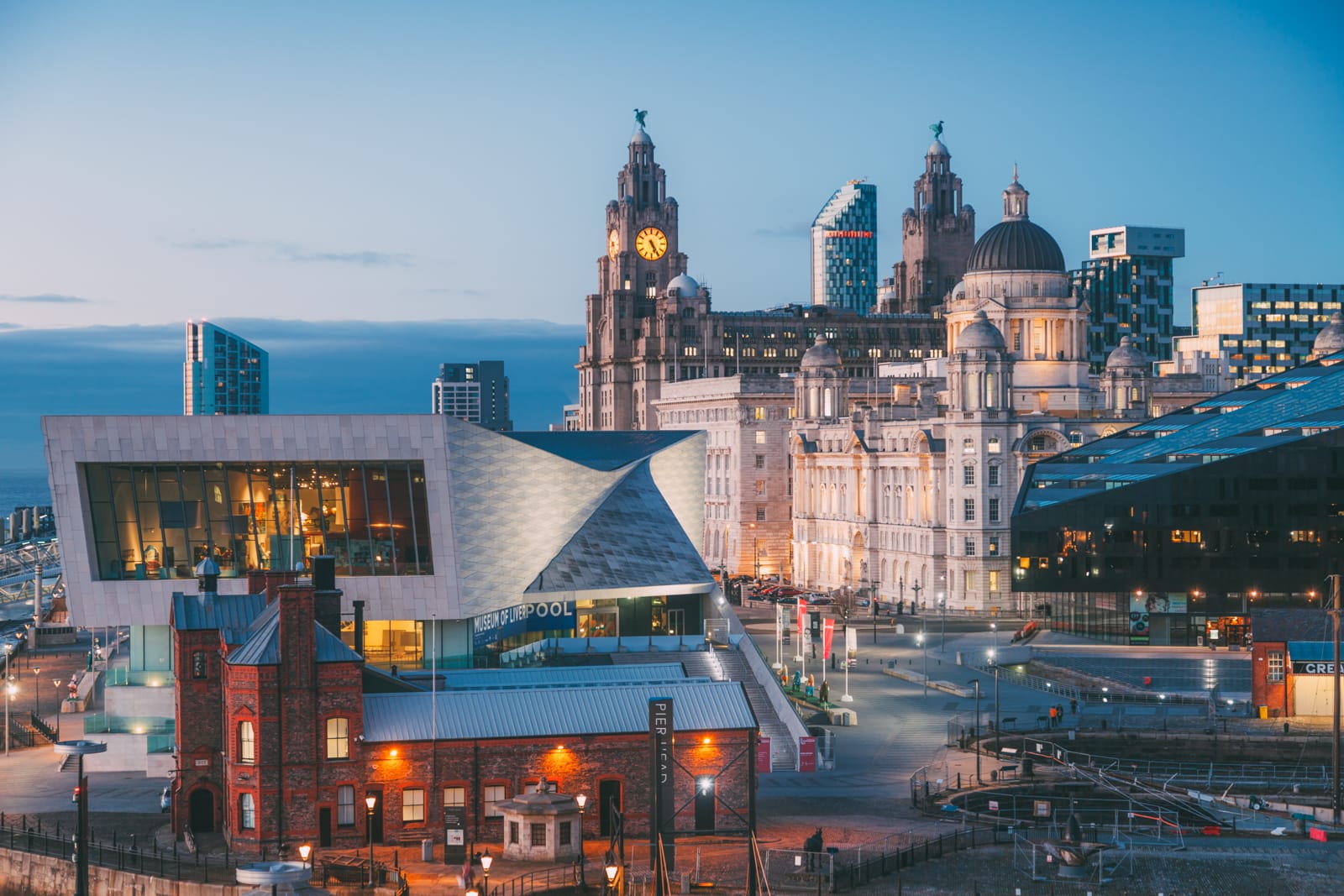 Perched right in the city centre, next to St George's Plateau outside St George's Hall on Lime Street. Liverpool's Christmas market is one lovely place to explore. Make sure to visit the windmill bar for a hot toddy or mulled wine. Oh, don't forget to gorge on all the German bratwursts too!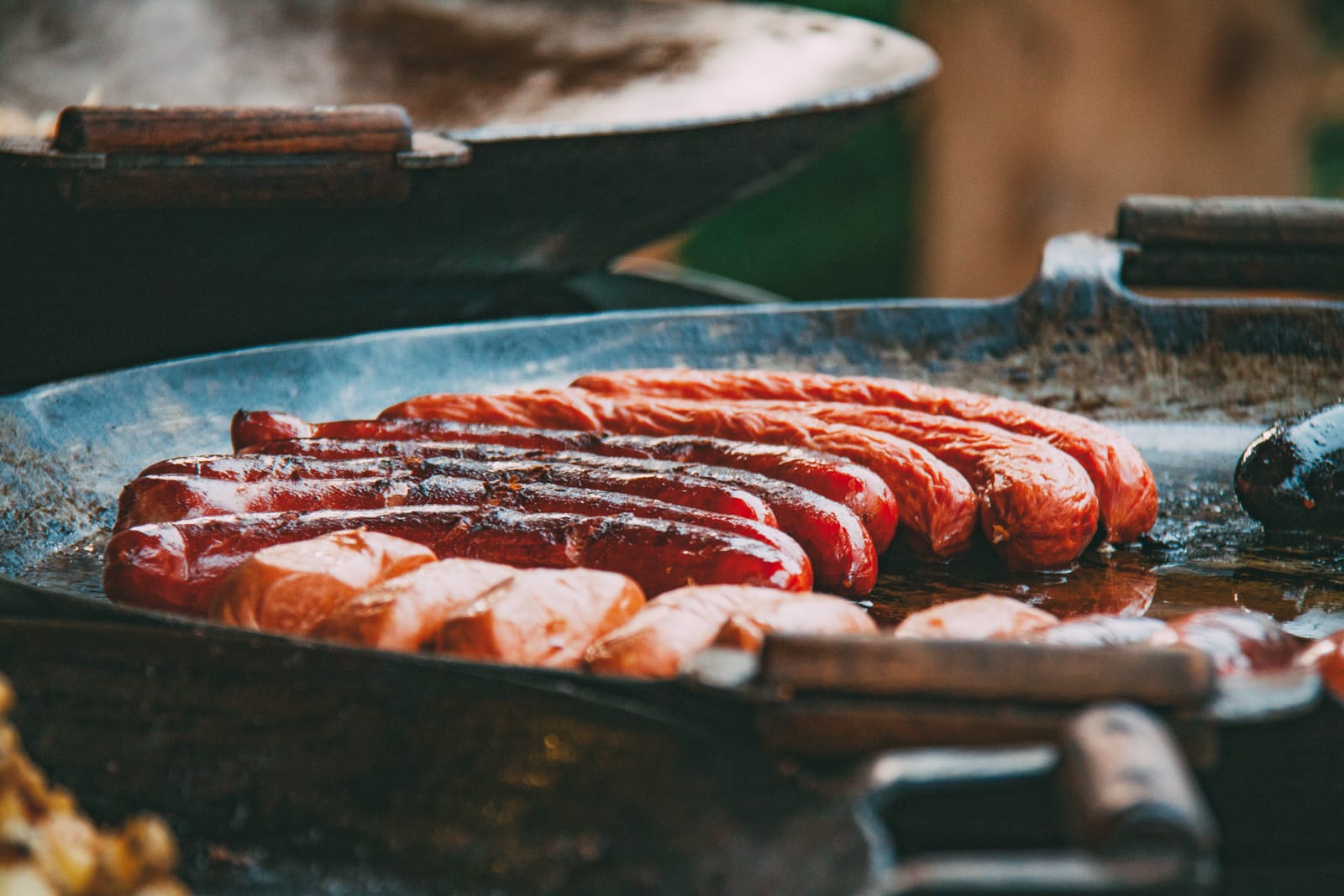 The market opens on the 17th November and closes on the 22nd December.
5.) Nottingham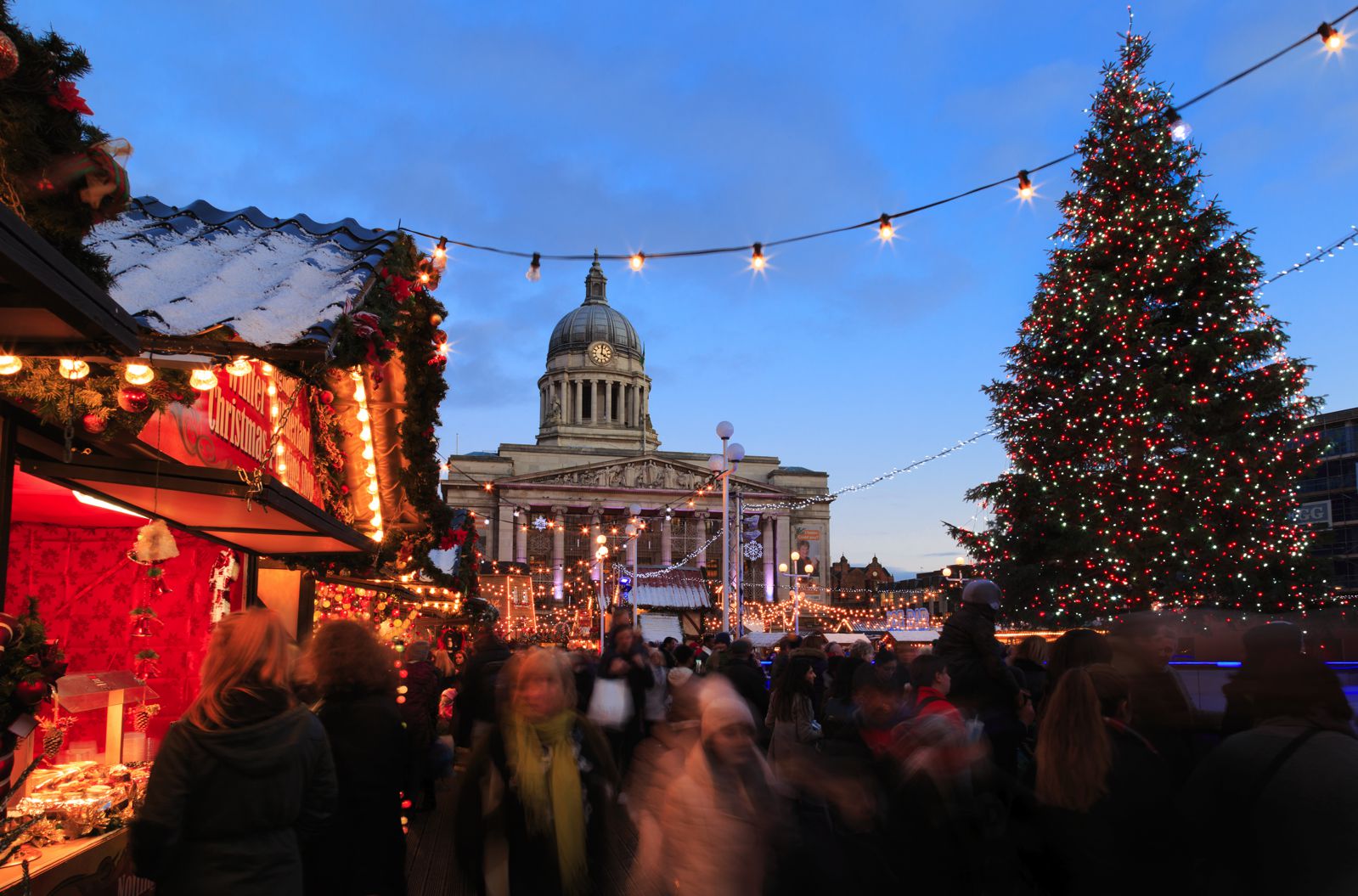 With its very own Helter Skelter, ice bar and plenty of Victorian-style wooden cabins, Nottingham comes alive with lashings of festive cheer during the winter months.
Based in Market Square and Long Row. the two Christmas Markets are perfect for a day out. Make sure to head onto the ice-rink too, it's the largest in the region. The markets open from 17th November until the 31st December.
6.) Plymouth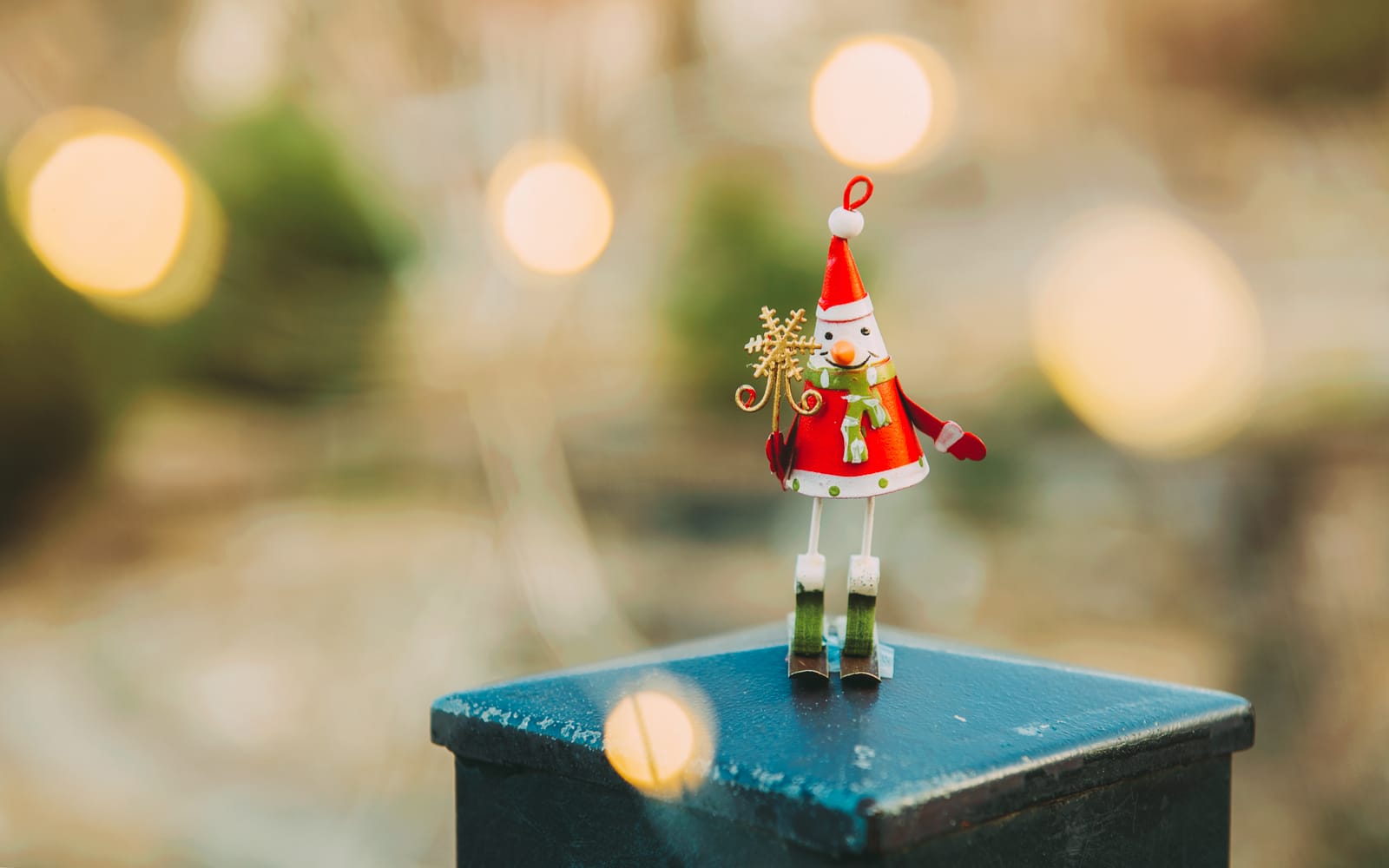 The city centre of Plymouth is transformed into a Christmas wonderland of stalls, entertainment and plenty of fun from the 30th November until the 21st December. Make sure to visit the Bavarian Bar with toasty heated seats and explore over 50 of the log cabins just off Royal Parade.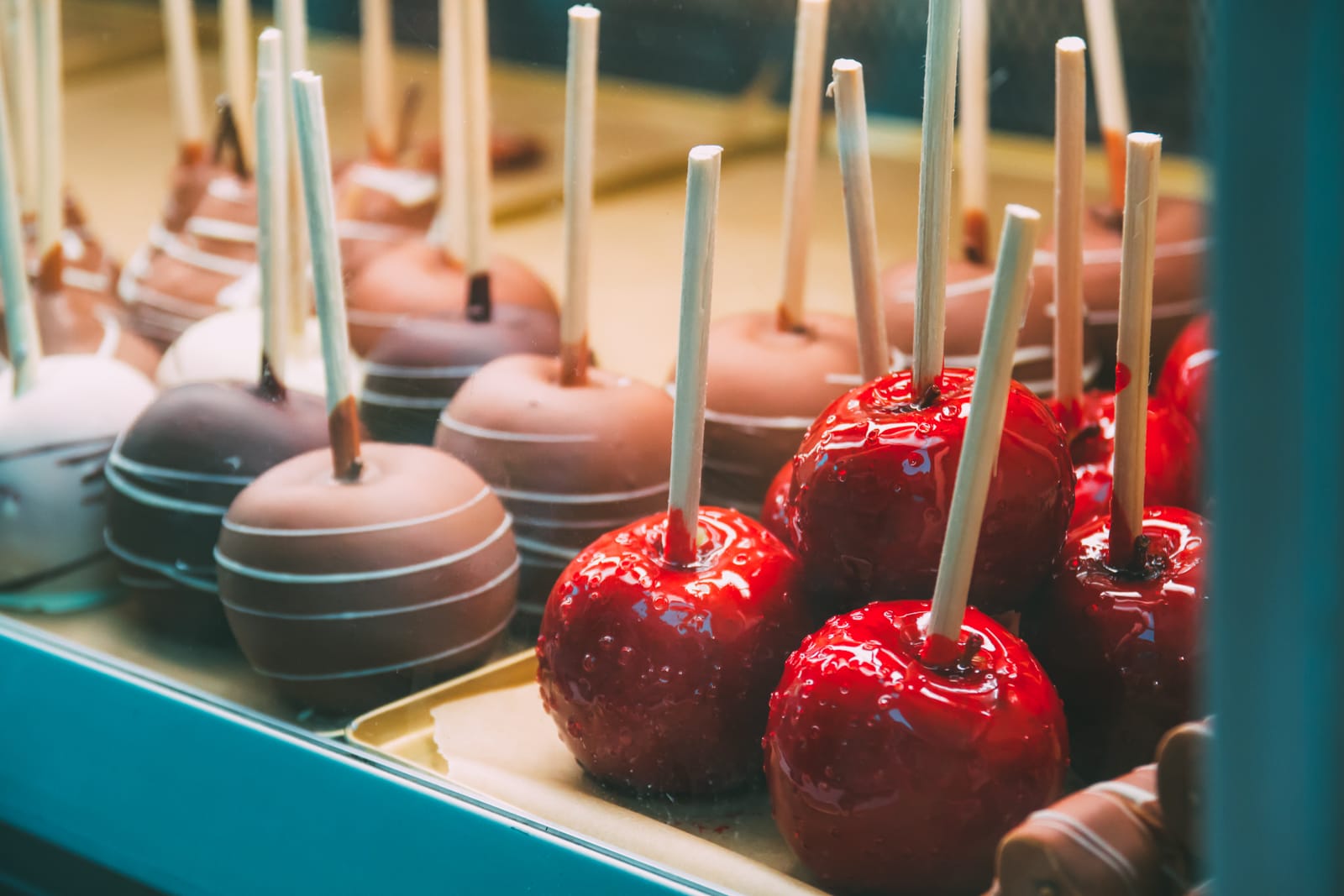 Make sure to stop off at the Loco About Cocoa and Hunters Brewery cabin for a cheeky tipple.
7.) Leeds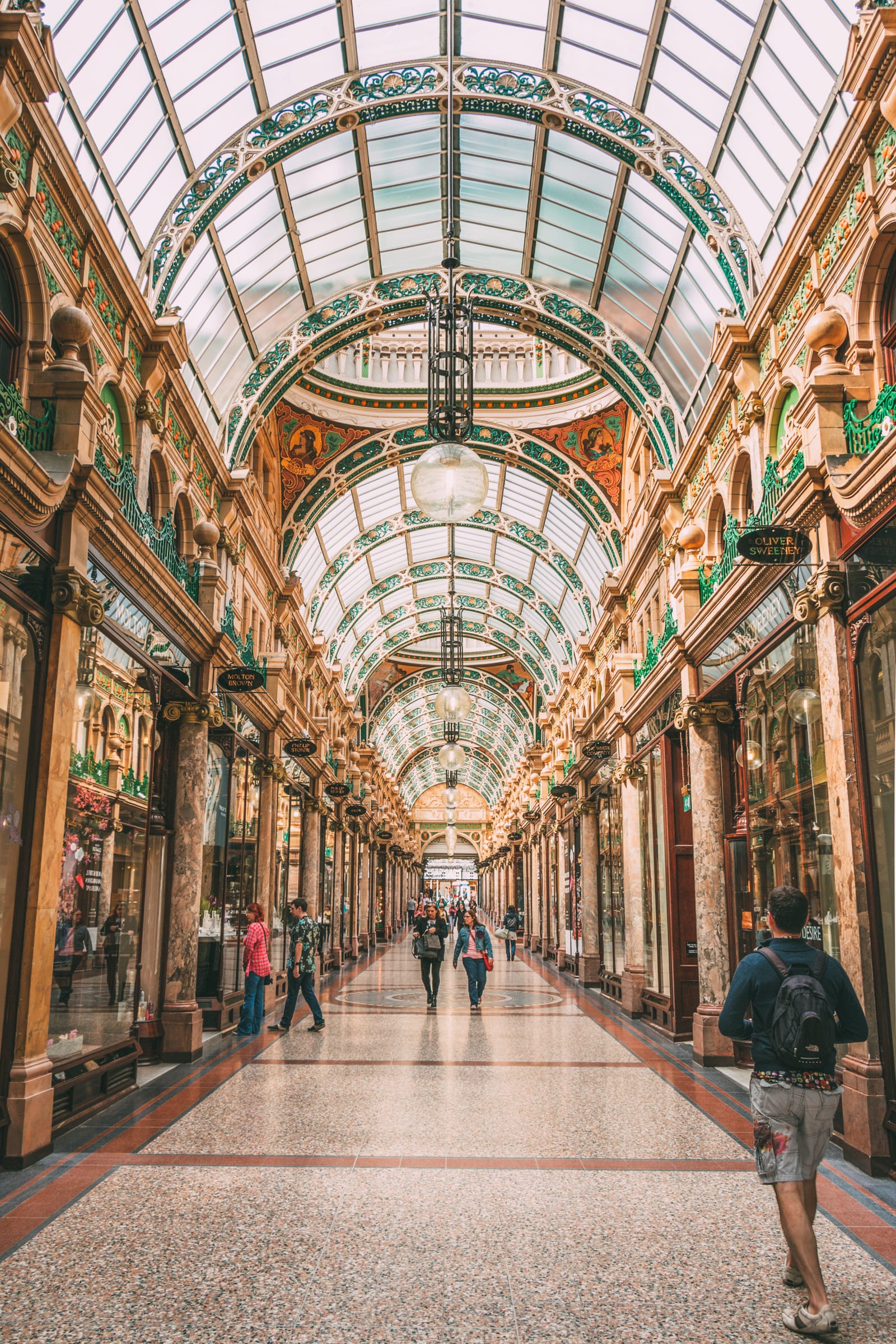 Christkindelmarkt is Leeds is possibly one of England's most established Christmas Markets which has oodles of log cabins, pop-up bars and entertainment that's great to experience when in the city centre. Make sure to head across to Millennium Square and take a ride of the Christmas carousel.
Leeds Christkindelmarkt opens on the 10th November.
8.) York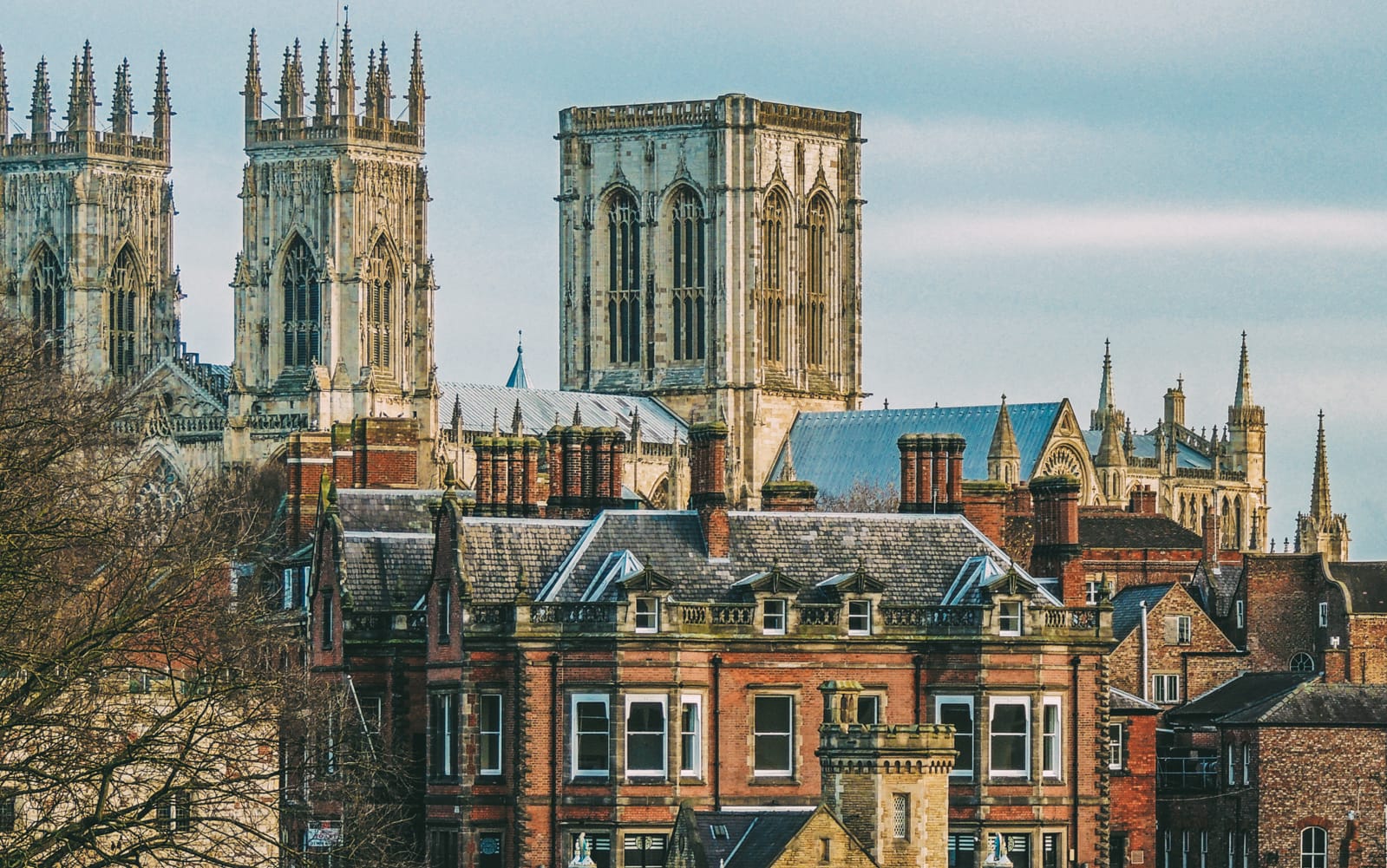 St Nicholas Fair in York is one fun place to visit during Christmas in this historic city. Open from the 16ht November until the 22nd December, it's a great place to indulge in lots of Christmas cheer, you'll also be able to gorge on the best local grub and Yorkshire's best beers.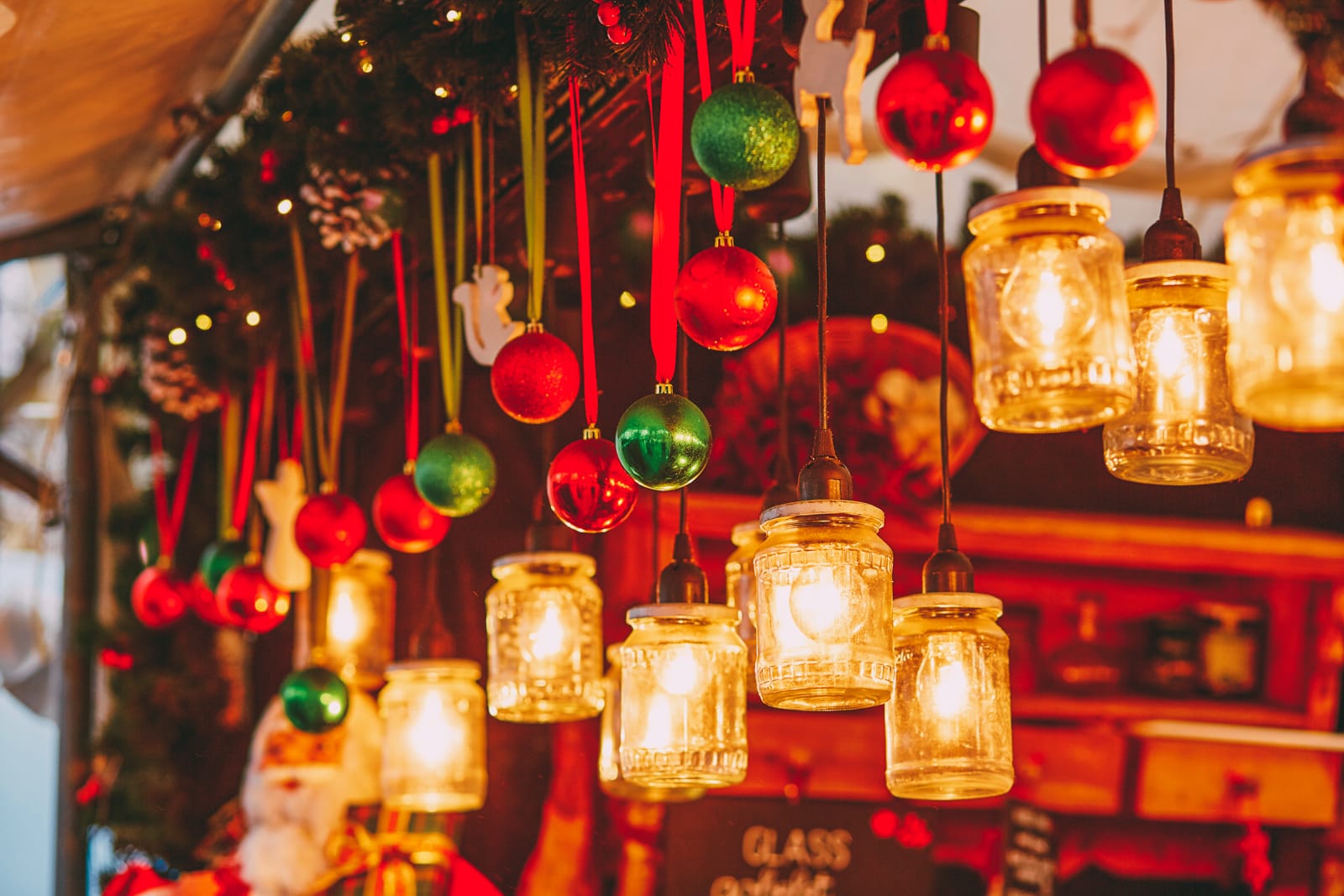 The fair takes place between Parliament Street, St Sampson's Square and The Judge's Lodging. Don't forget to visit the Made in Yorkshire Yuletide Village too.
9.) Chester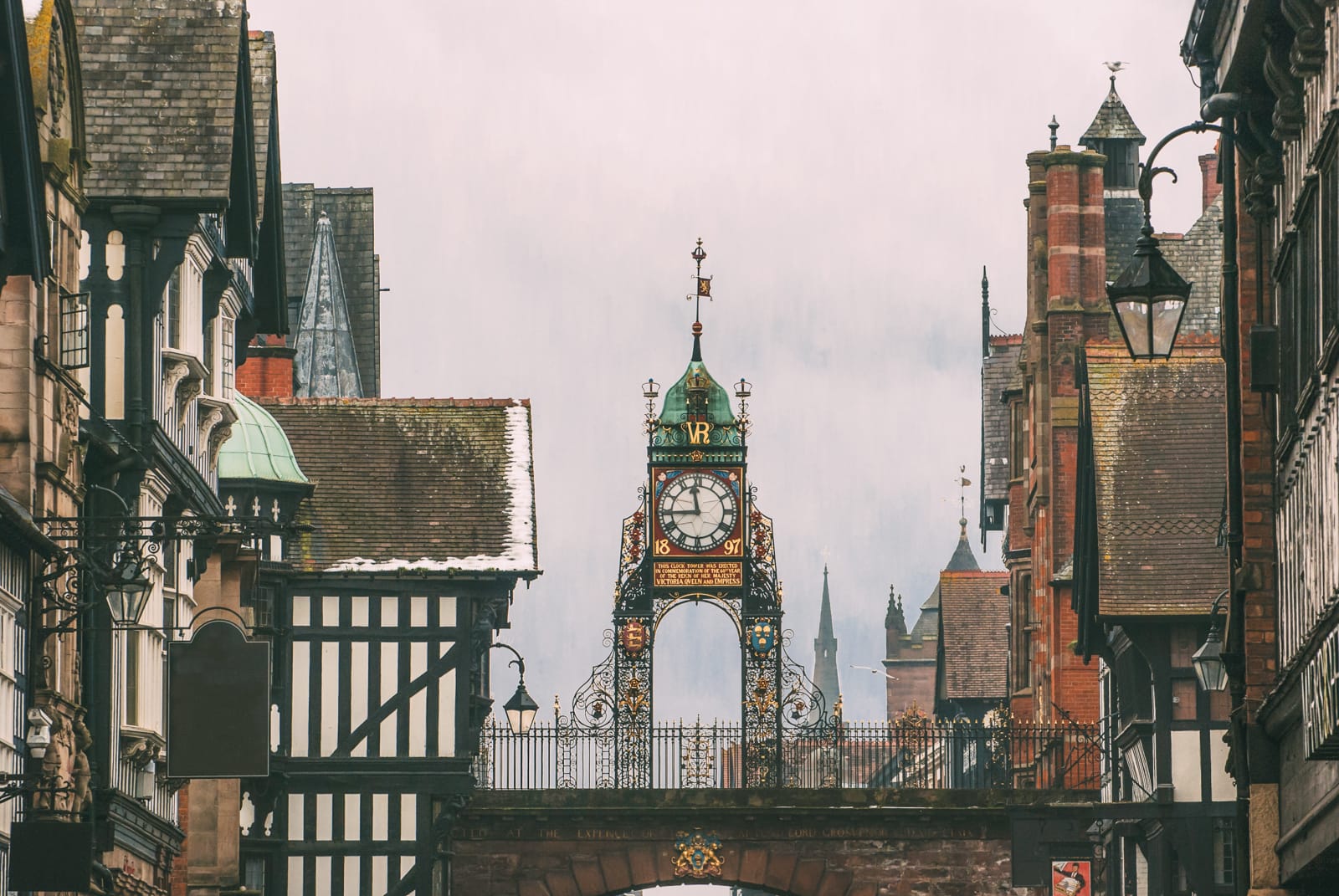 Chester's Christmas market commences on the 16th November, until the 20th December and is one of the regions best to visit. With well over 70 log cabin stalls and bars and a festive parade on the 16th November, Chester really is a great place to experience an epic Chrismas Market.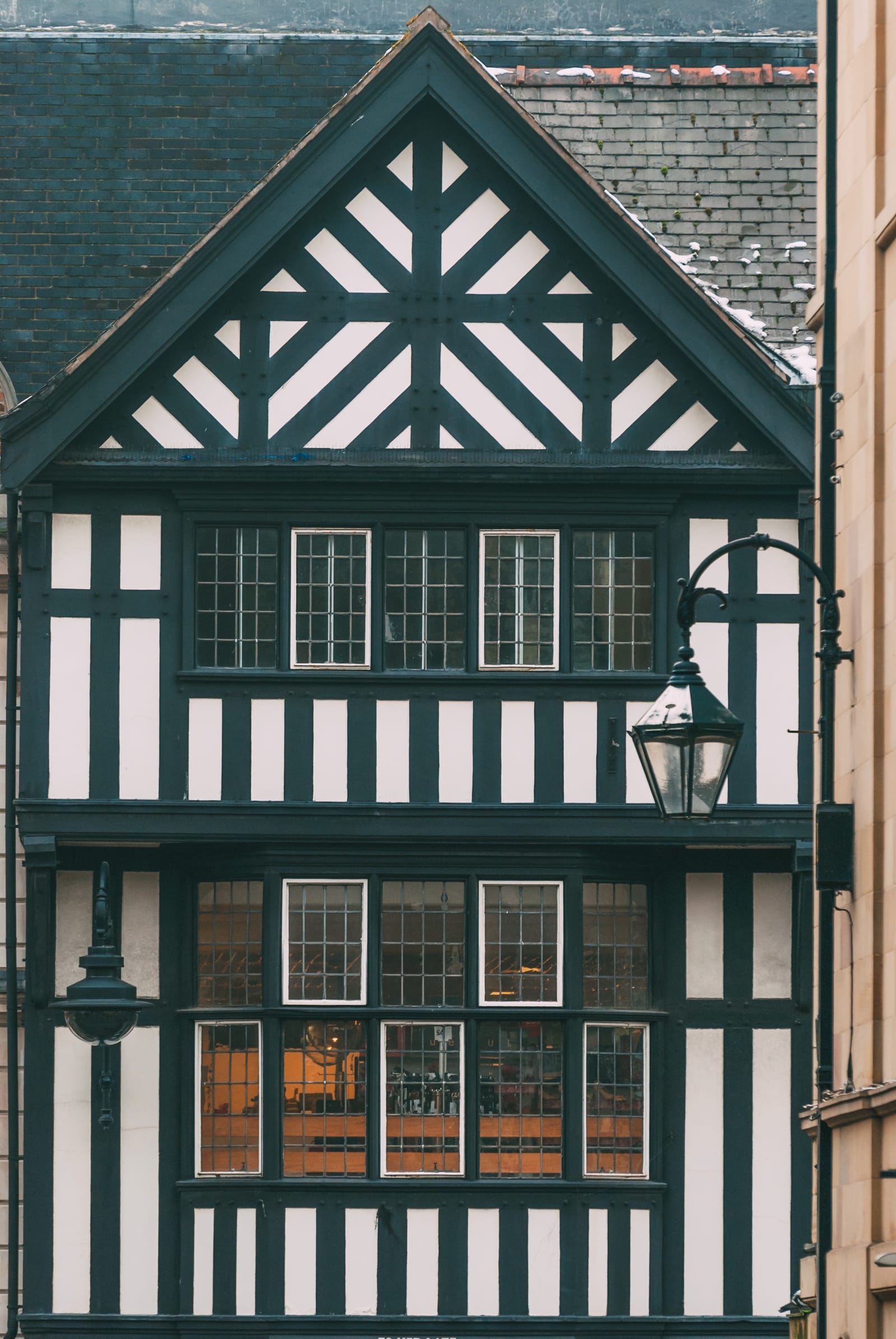 The market takes place in and around Town Hall Square.
10.) Cardiff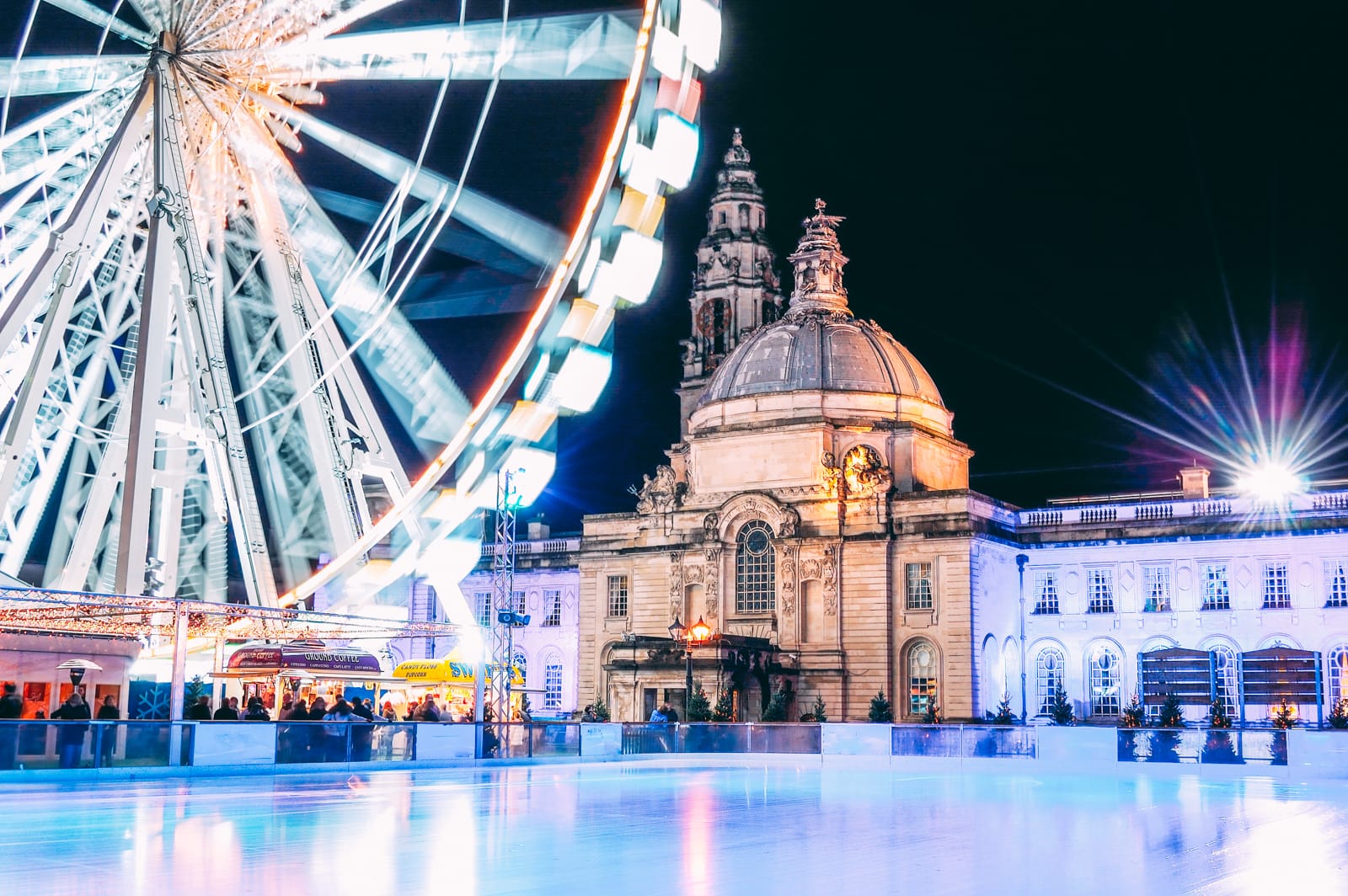 For an epic (and distinctly Welsh) Christmas Market, head over to Cardiff which starts its festivities from the 9th November until the 23rd December. The market takes place in a few spots around Cardiff City Centre (in St John Street, Working Street, Hills Street, Trinity Street and the Hayes) which is all easy to explore.
Make sure to visit the cabins of  Hollybush Crafts,  Wild Sage & Co and gorge on all the cheese at Snowdonia Cheese Company's cabin! Don't forget, for a Welsh brew, head over to Crafty Devil Brewing Cabin.
11.) Oxford 
Oxford Christmas market is only open for a short period from the 7th until the 17th December, but don't let that put you off. Head to the city centre (Broad Street) and explore the log cabins of The Charcuterie Board, Demijohn and Winter Warmers that serve one of the best Glühweins around.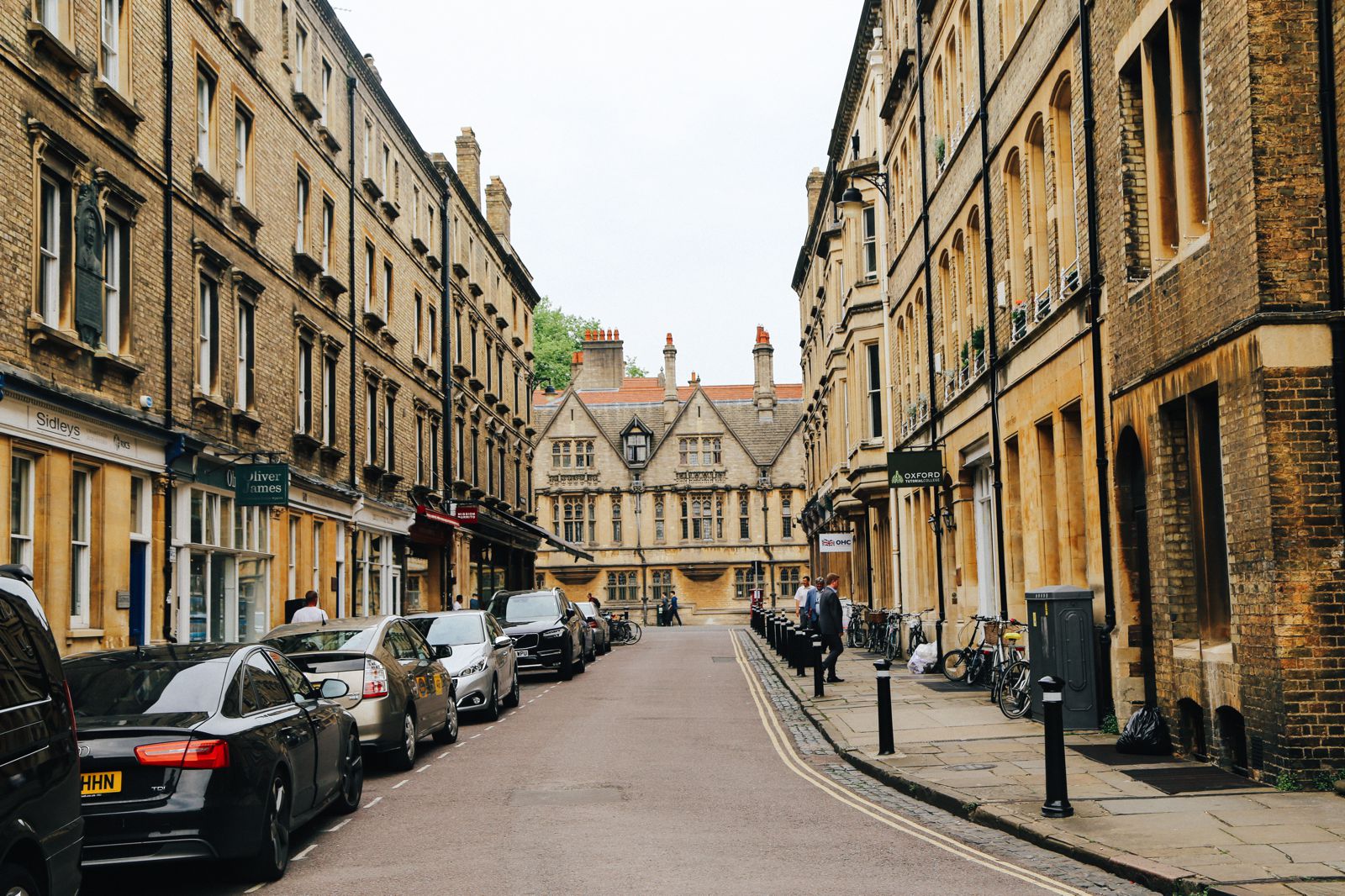 Visiting Oxford? Take a look at some of the picturesque sites you need to see
12.) Glasgow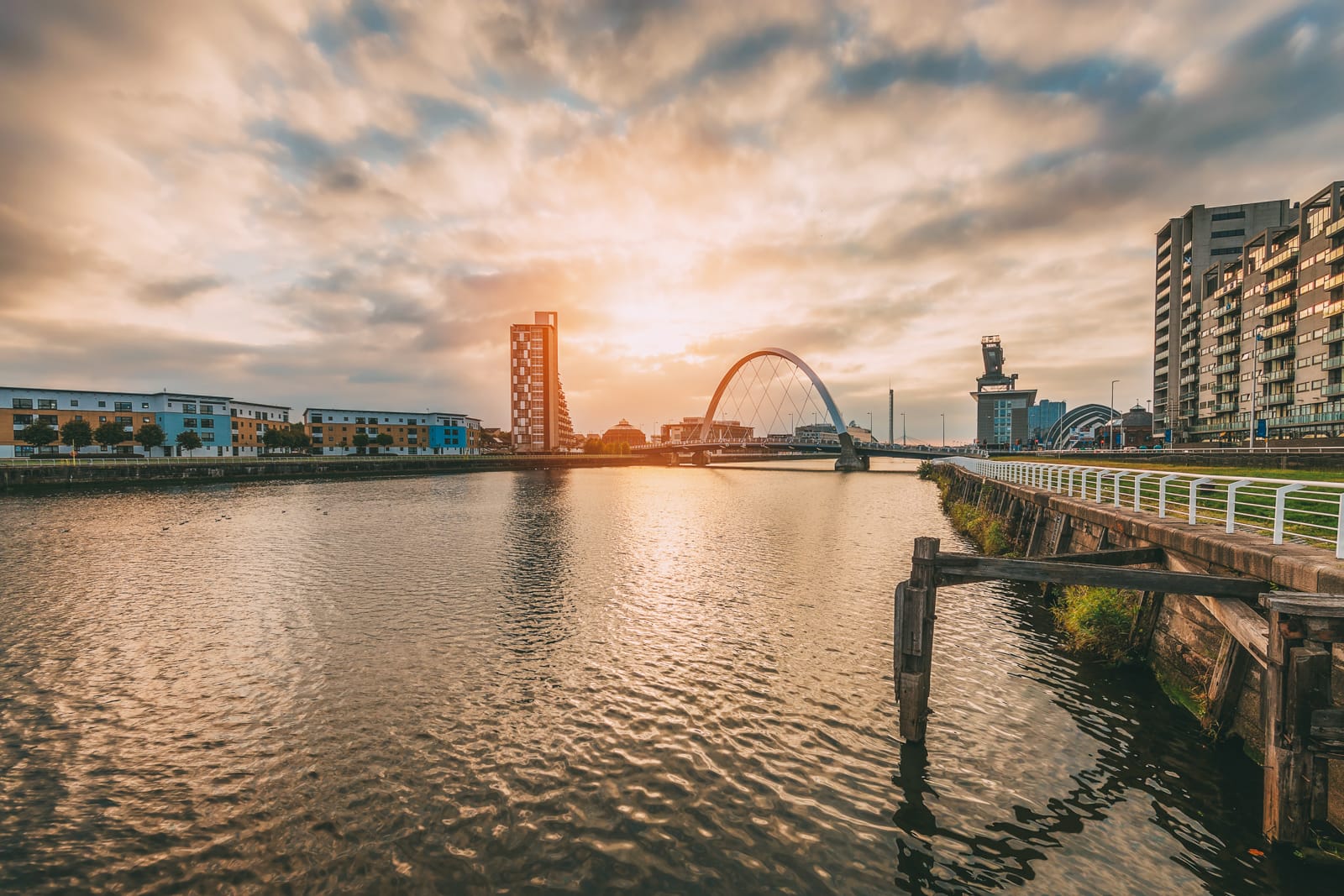 Glasgow is Scotland's largest city, which has not one but two Christmas Markets for us to enjoy. Both markets are perched on George Square and St Enoch Square that's right in the heart of the city.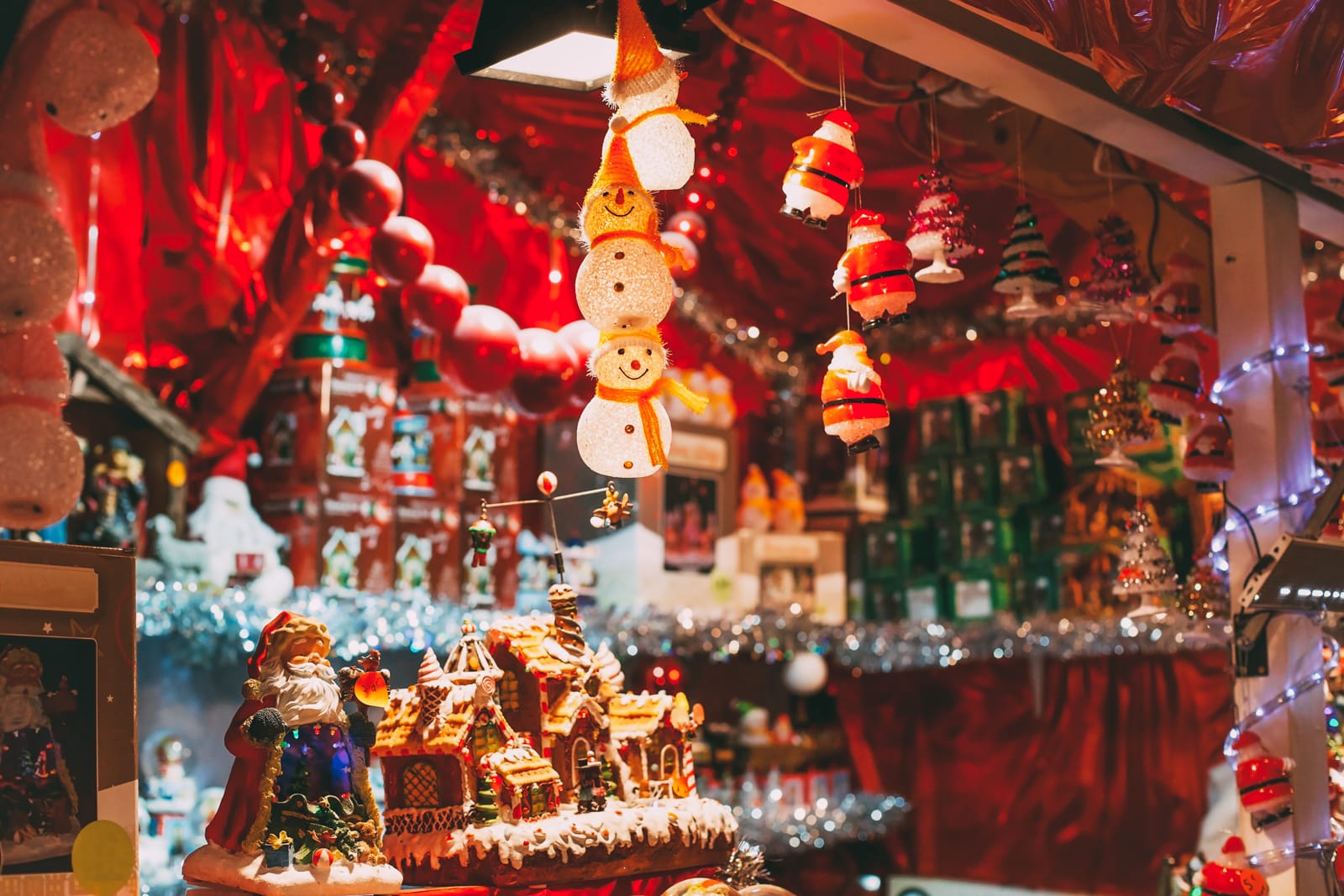 George Square Christmas market opens from the 25th November until 29th December, whilst St Enoch Christmas Market opens from the 9th November until the 22nd December.
Don't forget to partake in the Santa Dash too! It's a 5k run through the city (dressed as Santa) that's all for charity. With thousands of people running, you'll need to apply here before choosing to dash over. Date: Sunday 10 December 2017 | Time: 09.30 for 10.00 am start | Location: George Square
Visiting Glasgow, Make sure to visit these gorgeous places
…And last, but not least, Belfast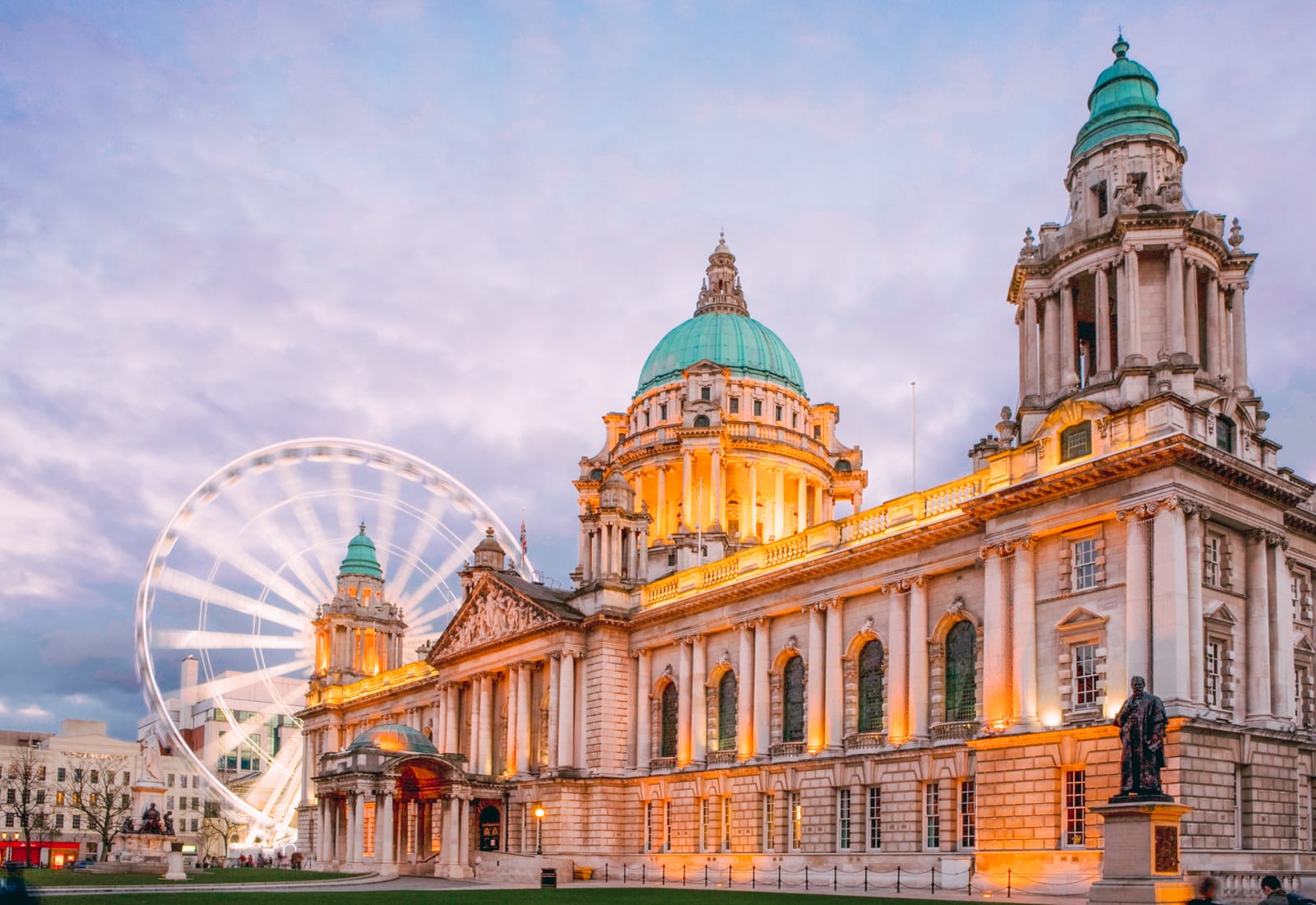 Belfast's Christmas Market opens from 18th November until the 23rd December and is nestled within  Belfast City Hall grounds and Donegall Square North. With over 20 wooden chalets, it's an intimate Christmas Market to enjoy when visiting the city centre.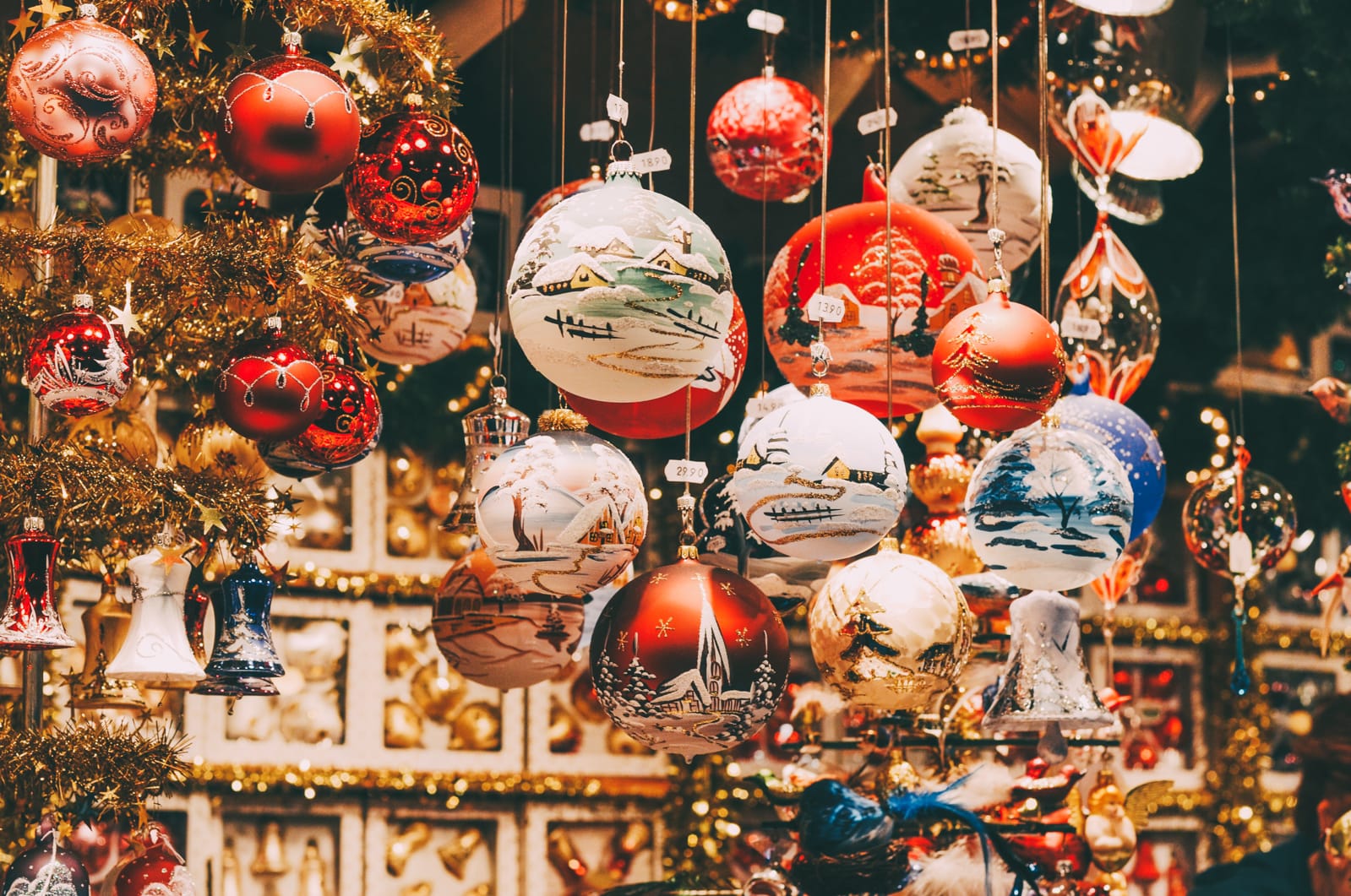 If you're travelling with children, make sure to post a letter in Santa's post box (in the grounds of the Belfast Christmas Market) by Tuesday 19 December – he will then write back just in time for Christmas Day! 🎄
---
---