It probably goes without saying that Europe is home to some of the most incredible castles in the world and not many places more so than Germany. There are LOADS of fairytale castles in Germany and we're talking about castles that have actually inspired real fairytales, loved by billions across the world.
Some of these castles are iconic – you may not know the name (or you might and, like me, might struggle to pronounce it 😄) and some others are fairly 'off-the-beaten' track but all of them are absolutely spectacular feats of German architecture.
By the way, there are some palaces thrown in here for good measure. Palaces are technically different from Castles – Palaces tended to be more of a home for the Royal families, people of nobility or generally people in power, whereas Castles also home for the same kind of people, were more built as defensive structures with battles in mind – Castles were architecturally built for wars.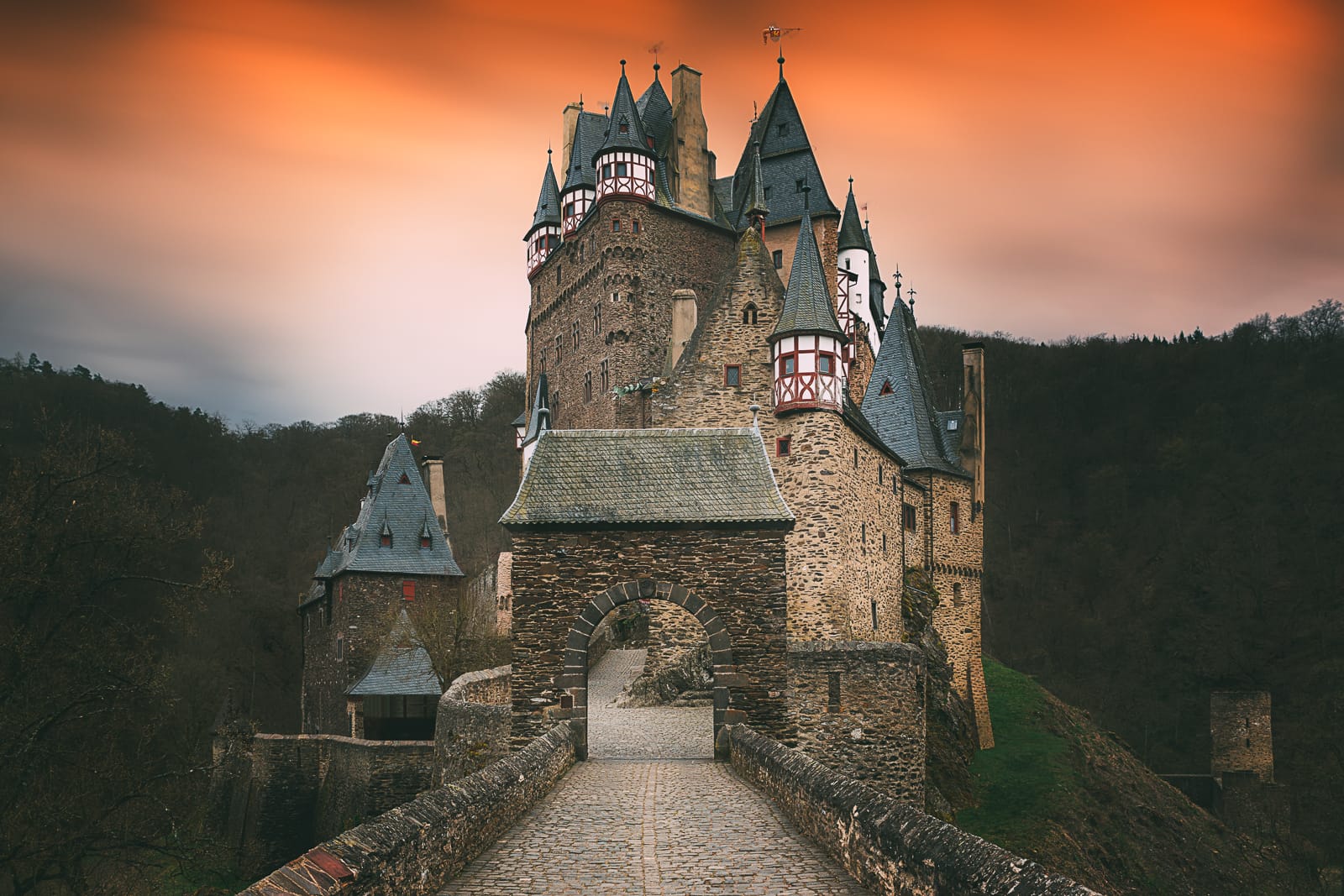 The history of Europe (i.e. lots of fighting to reign as supreme, before diplomacy eventually became an alternative, better way of ruling) is why Castles tend to be much older than Palaces. If Castles are thousands of years old, Palaces tend to be more hundreds of years old.
In any case, enough waffling from me, here are the 19 fairytale castles in Germany that are absolutely worth visiting!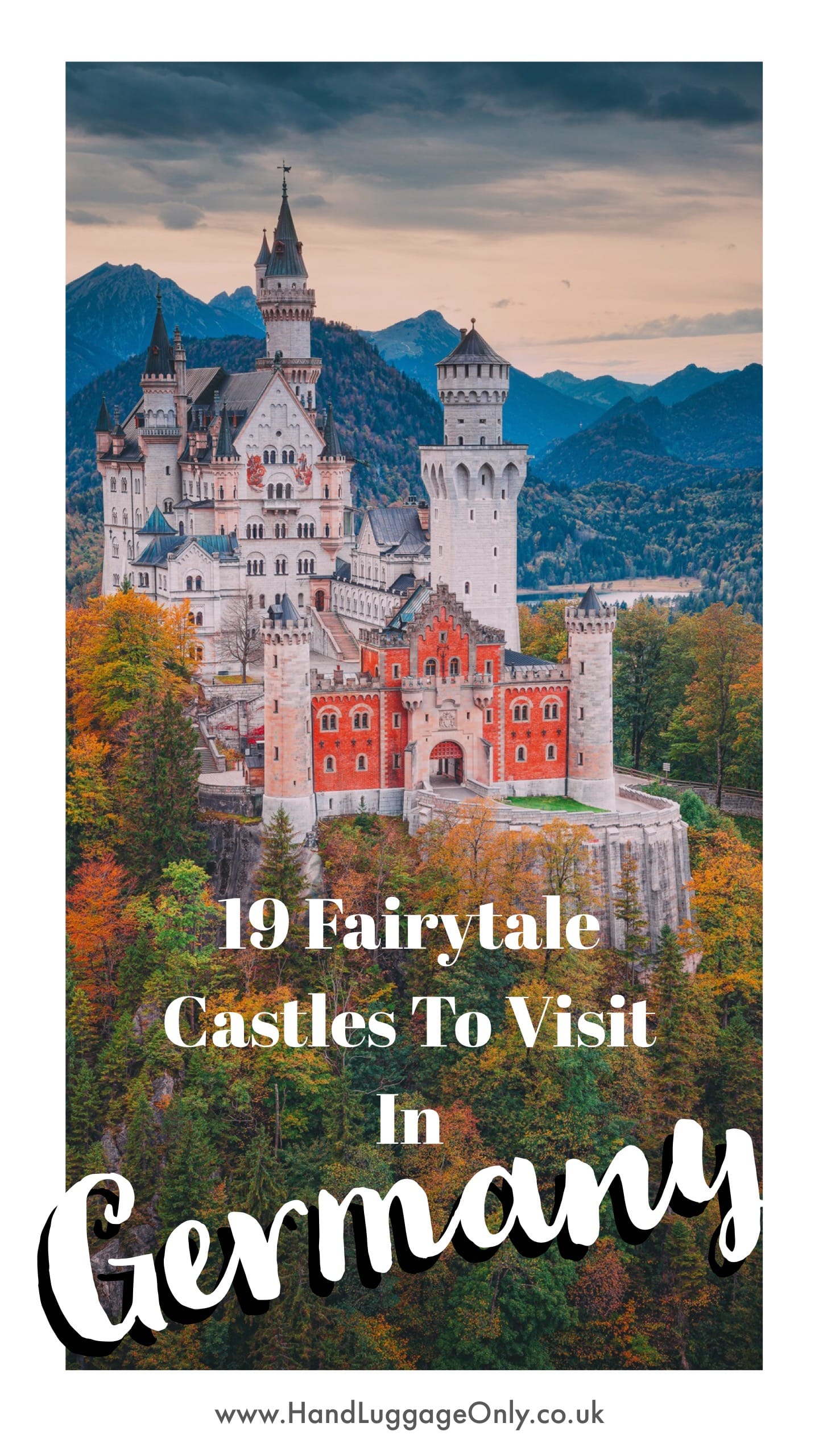 1.) Neuschwanstein Castle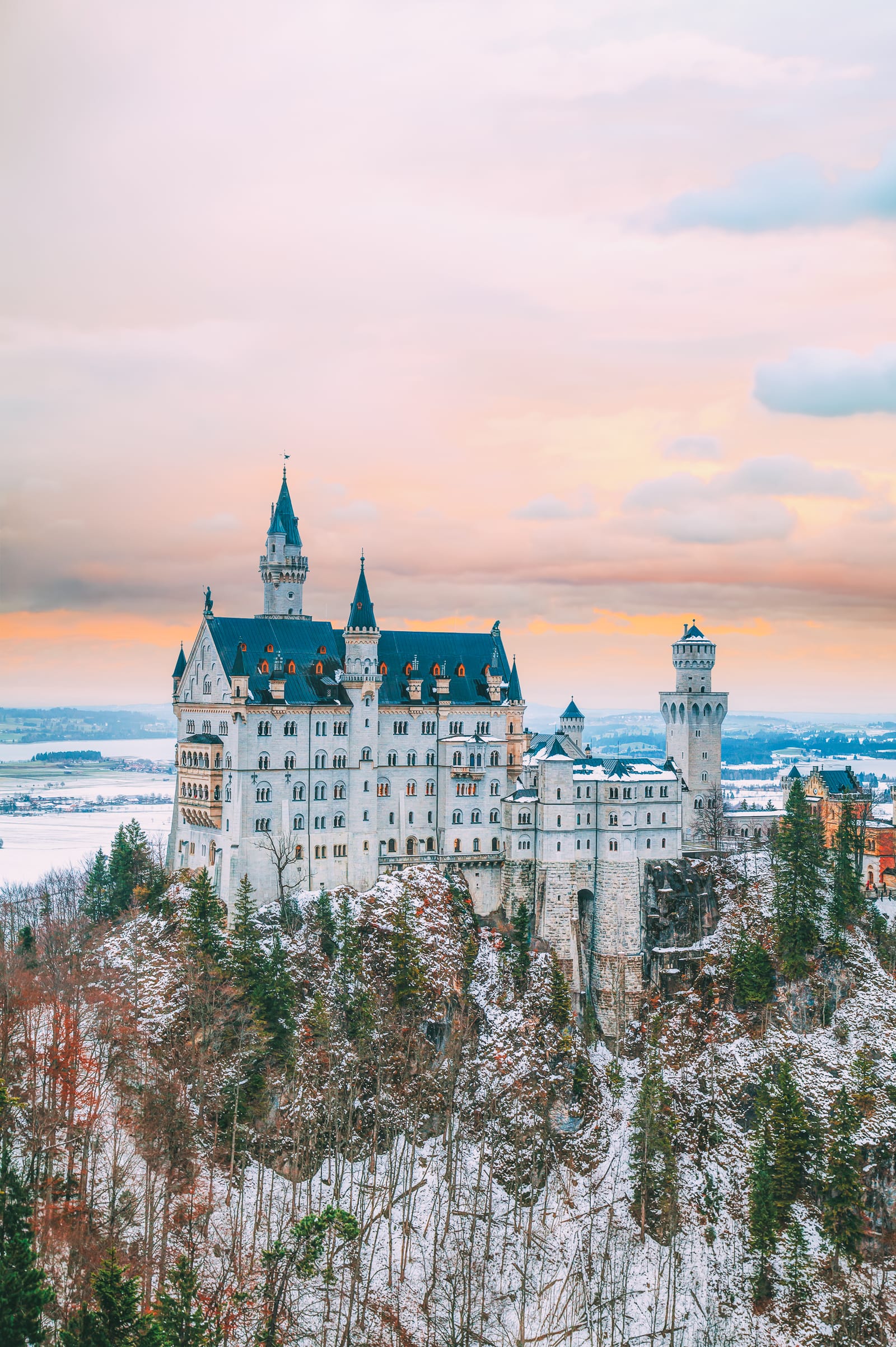 I've just gotta start with this one! This castle is easily one of the most recognisable of castles in Germany and definitely one of the most impressive. This Bavarian Castle is the stuff of fairytales and it doesn't even matter what time of the year you decide to visit – it always looks great, seasons regardless. It's just under 2 hours drive from Munich and so makes for the perfect day trip from the city.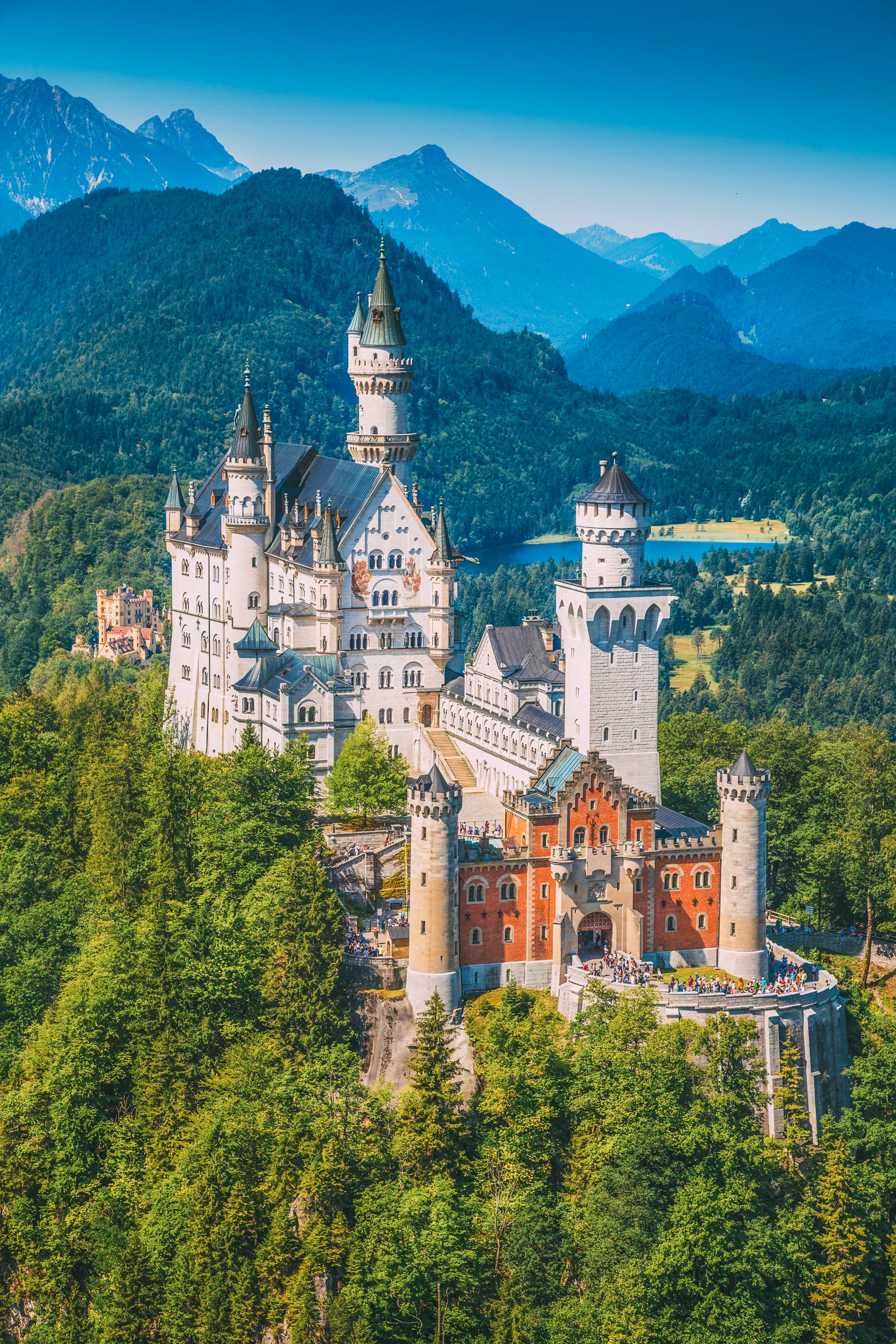 One thing though, understandably, this castle is very popular amongst fellow travellers so tickets to enter sell out very fast! To avoid disappointment when you visit, arrive early in the day or just book your tickets well in advance of getting here.
Oh, and I know this might sound obvious but it's still worth noting – the best photos of the castle aren't from the castle itself. It's from the forest area around the castle and there's a bridge next to it with some pretty spectacular views. 🙂
2.) Schwerin Palace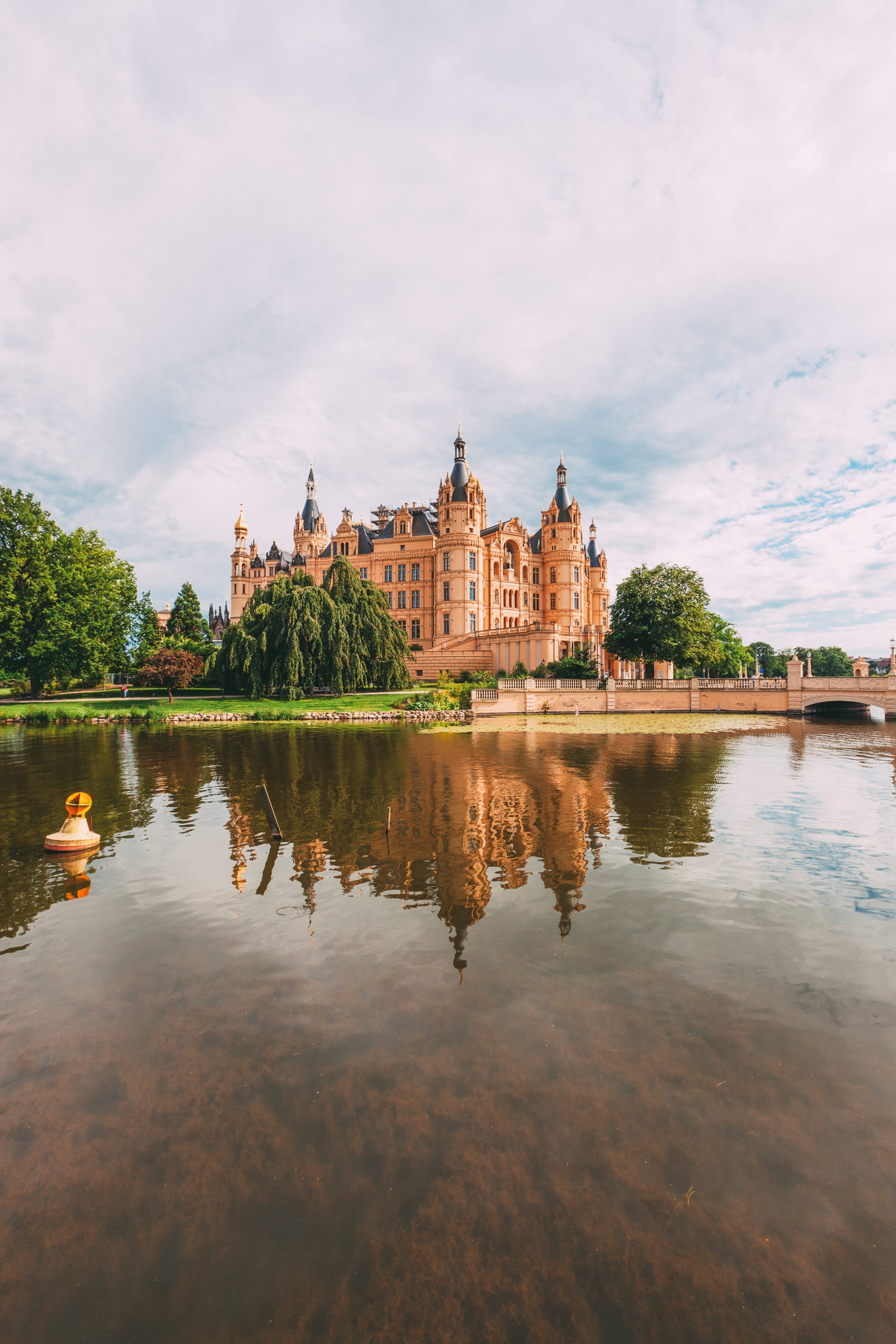 Schwerin Palace is one of those German Palaces that started off as a castle (back in 973) and over time was modified and re-modified until it eventually became a palace in the 16th century (scroll down to Number 15 i.e. Nordkirchen Castle to see why some palaces and impressive mansions are still technically referred to as castles).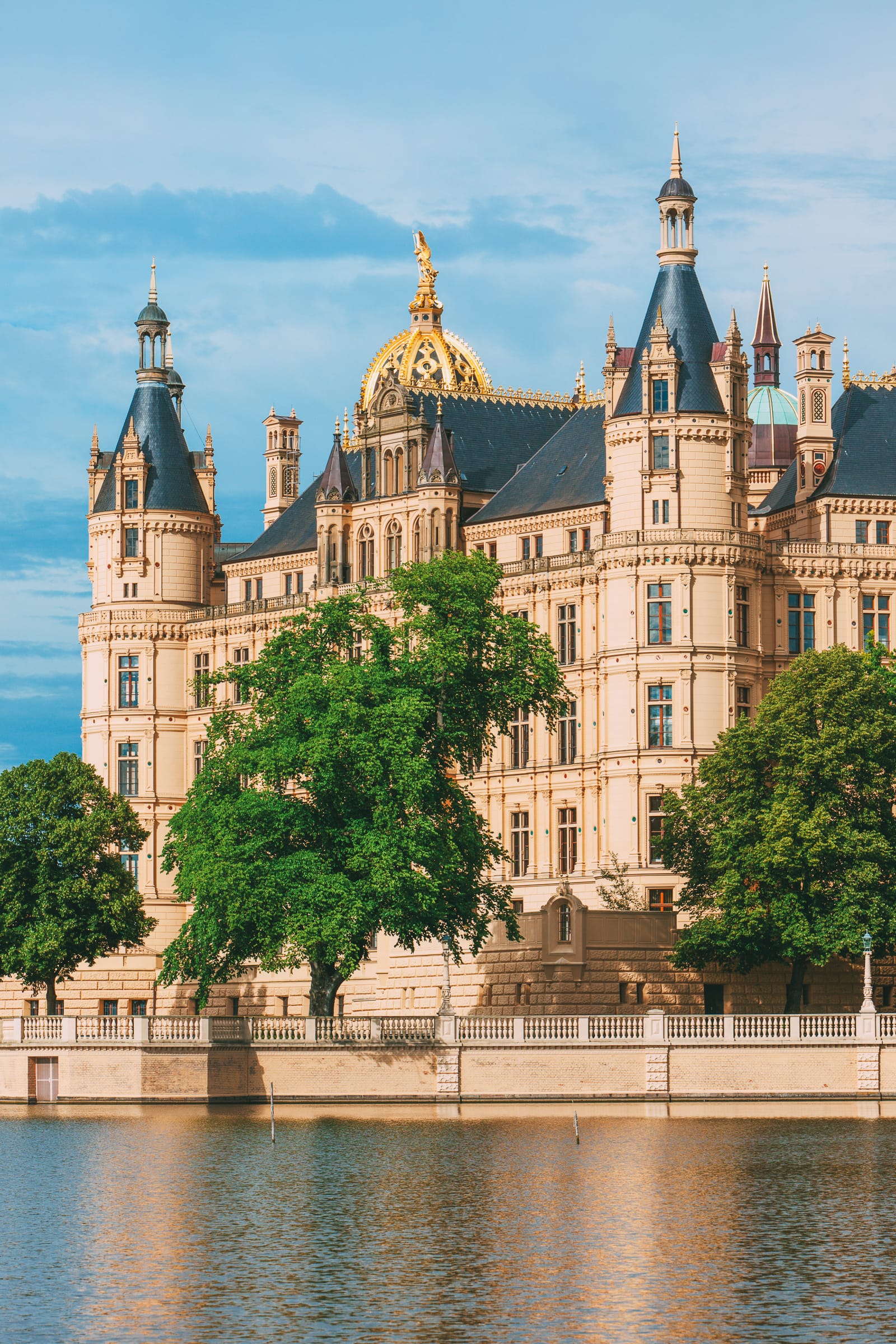 Technicality aside, Schwerin Palace is one absolutely stunning sight to see and definitely one of the castles in Germanyworth setting aside a bit of extra to explore not only the Palace itself but also the rather impressive palace grounds.
3.) Heidelberg Castle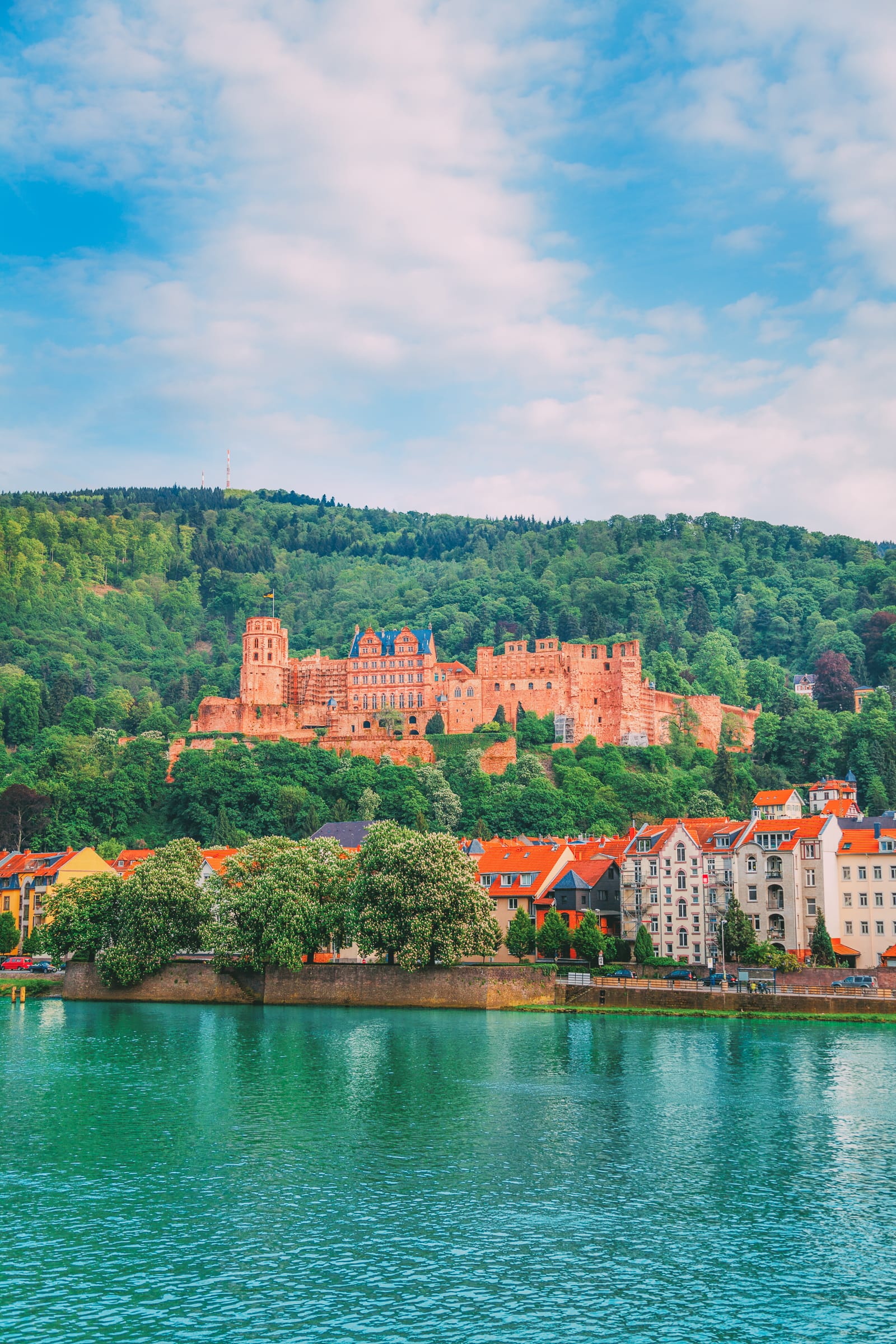 This castle is one of the most impressive castle ruins in all of Germany! Standing atop a hill overlooking Heidelberg (of which, some stones from the castle were actually used to build the castle), this Renaissance castle is grand and impressive, even from afar.
Constructed in Renaissance style, this almost 1,000 year old castle has actually been destroyed several times, including once by lightening (although that affected mostly the upper part of the castle). It's been rebuilt over the centuries leaving behind a grand structure and one that you'll find you need to set aside a few hours to explore properly!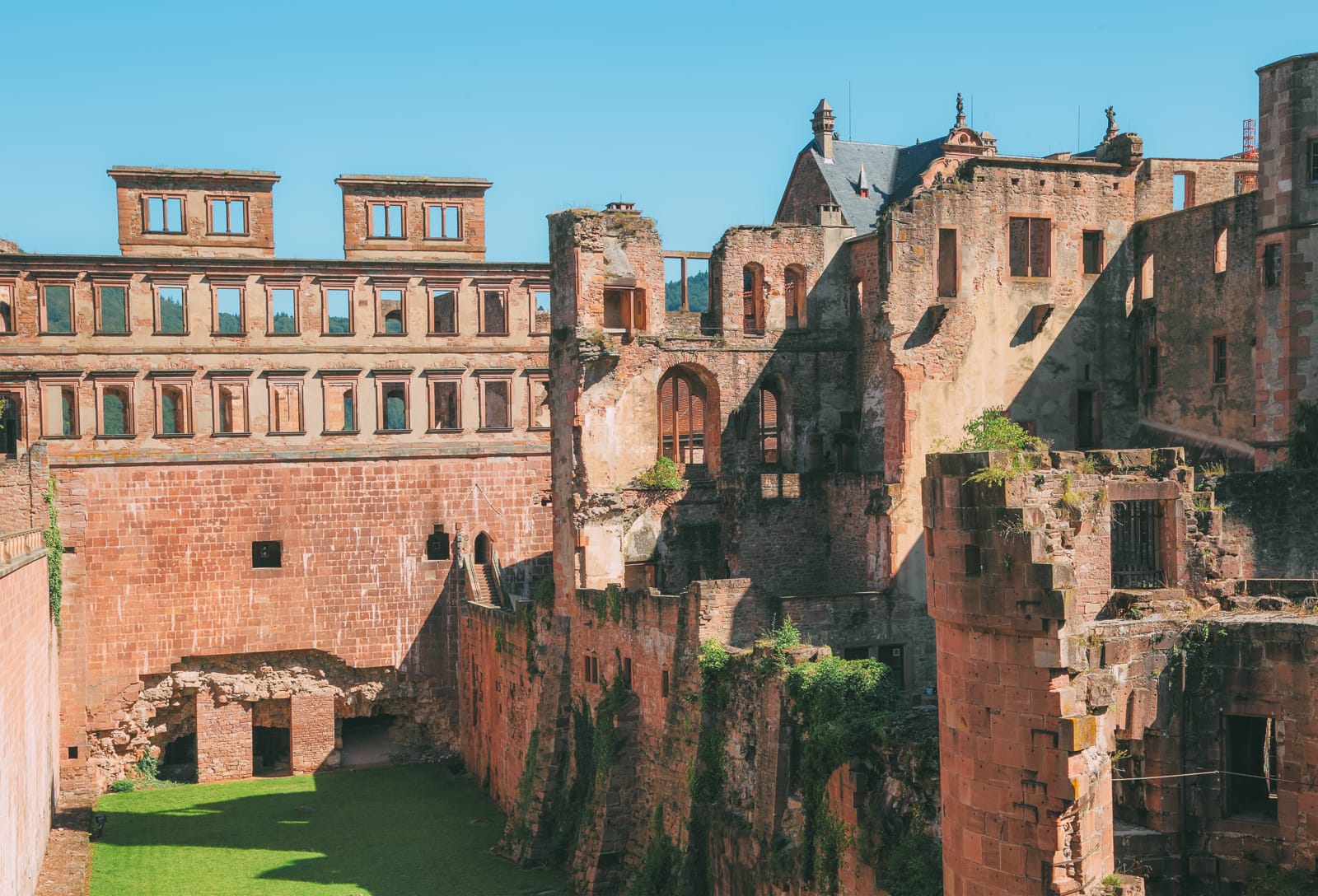 Oh, and by the way, Heidelberg is also a University town which of course means if you're up for a fun weekend in Germany (with a castle thrown in for good measure), this is where you need to be! 😁
4.) Hohenzollern Castle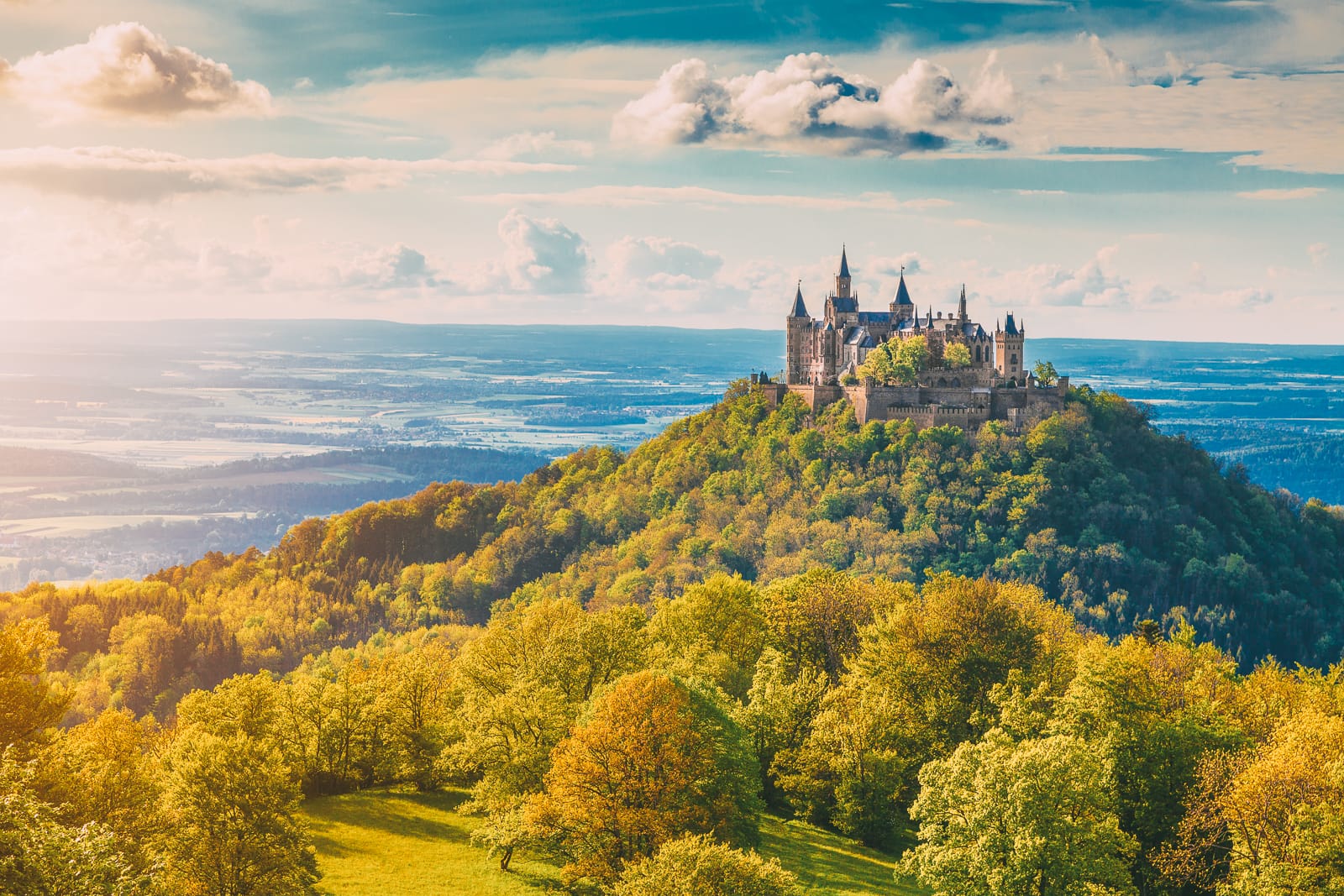 This is another castle in Germany that you'll recognise straight away, even if only from images.
One of the best parts about the castles is that it's a great view from wherever you are here. Looking at the castle – you have, well – that incredible view of the castle. When you're in the castle itself, you're right atop a Mount Hohenzollern with amazing views of the Swabian Alps.
Hohenzollern Castle is just over 1 hour away from Stuttgart so is perfectly paired with a visit to that city. Oh, and the museum here is actually pretty incredible so even if museums aren't really your thing, this is one worth making an exception for.
5.) Cochem Imperial Castle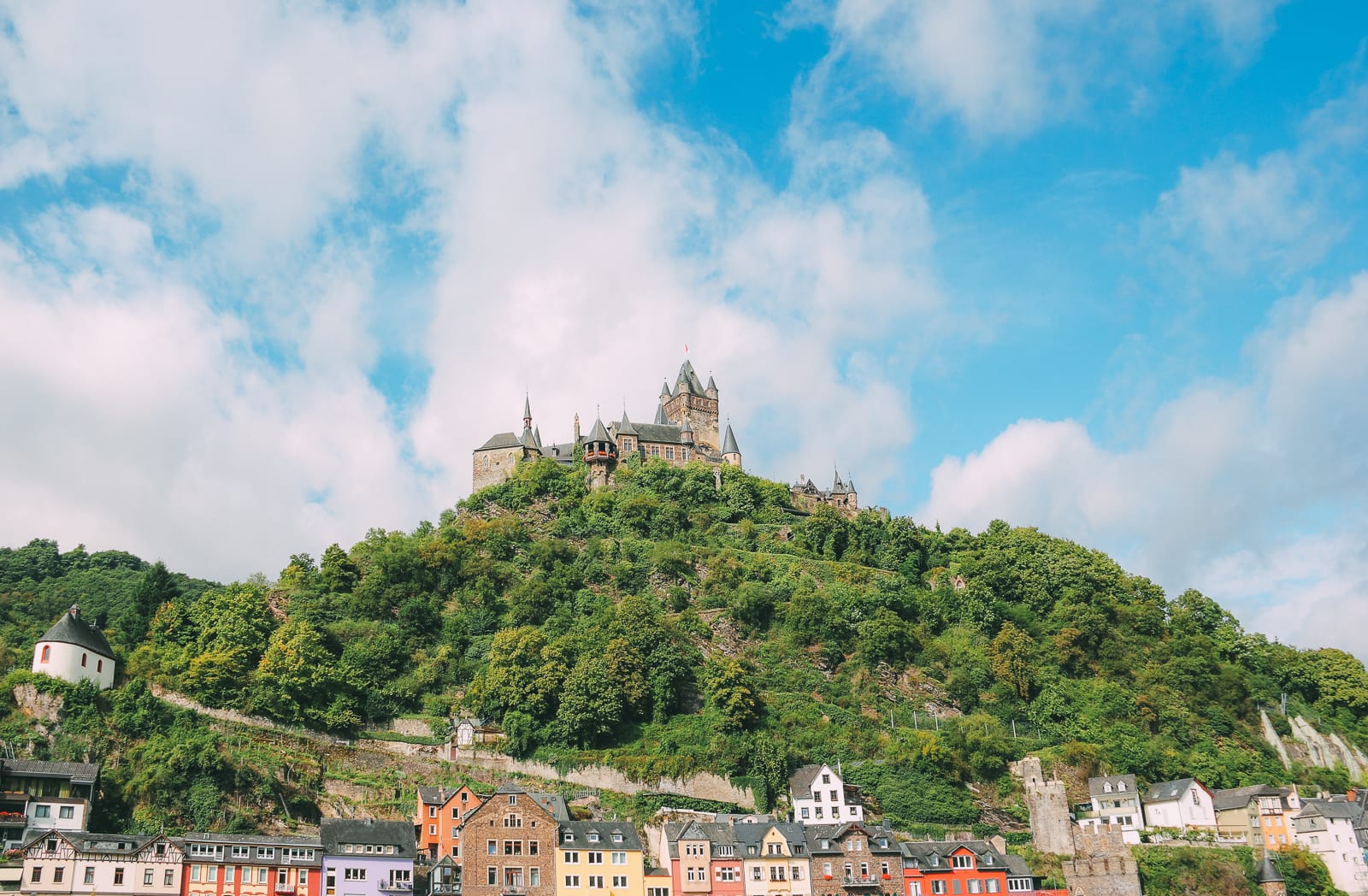 This impressive castle has been built, destroyed and then rebuilt over almost a thousand years and has been home to many fascinating people over it's history and so is a perfect little spot to gain some insight into German history.
Cochem Imperial Castle also sits atop the beautiful, colourful town of Cochem which is reason in itself to come visit!
6.) Lichtenstein Castle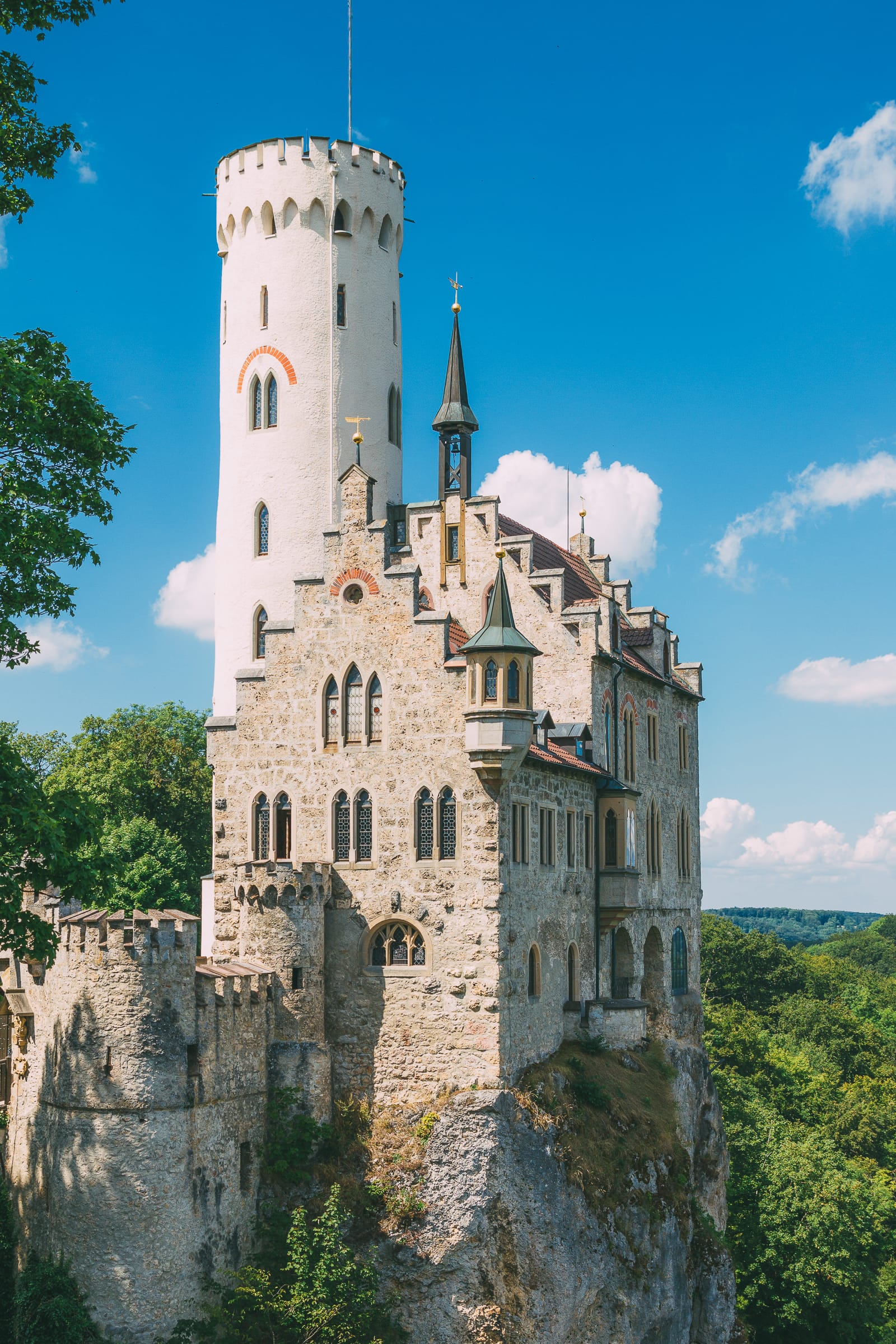 This is another one of those castle we all tend to know thanks to instagram! In a lot of ways, it feels reminiscent of Neuschwanstein Castle but couldn't be more different from it. For starters, it's a lot smaller and a lot newer – it was only built in 1842 (which is still old but an infant compared to some of the other castles in Germany).
Lichtenstein Castle is located about 40 minutes away from Hohenzollern Castle and so a visit to one is worth tying in with a visit to the other.
7.) Wartburg Castle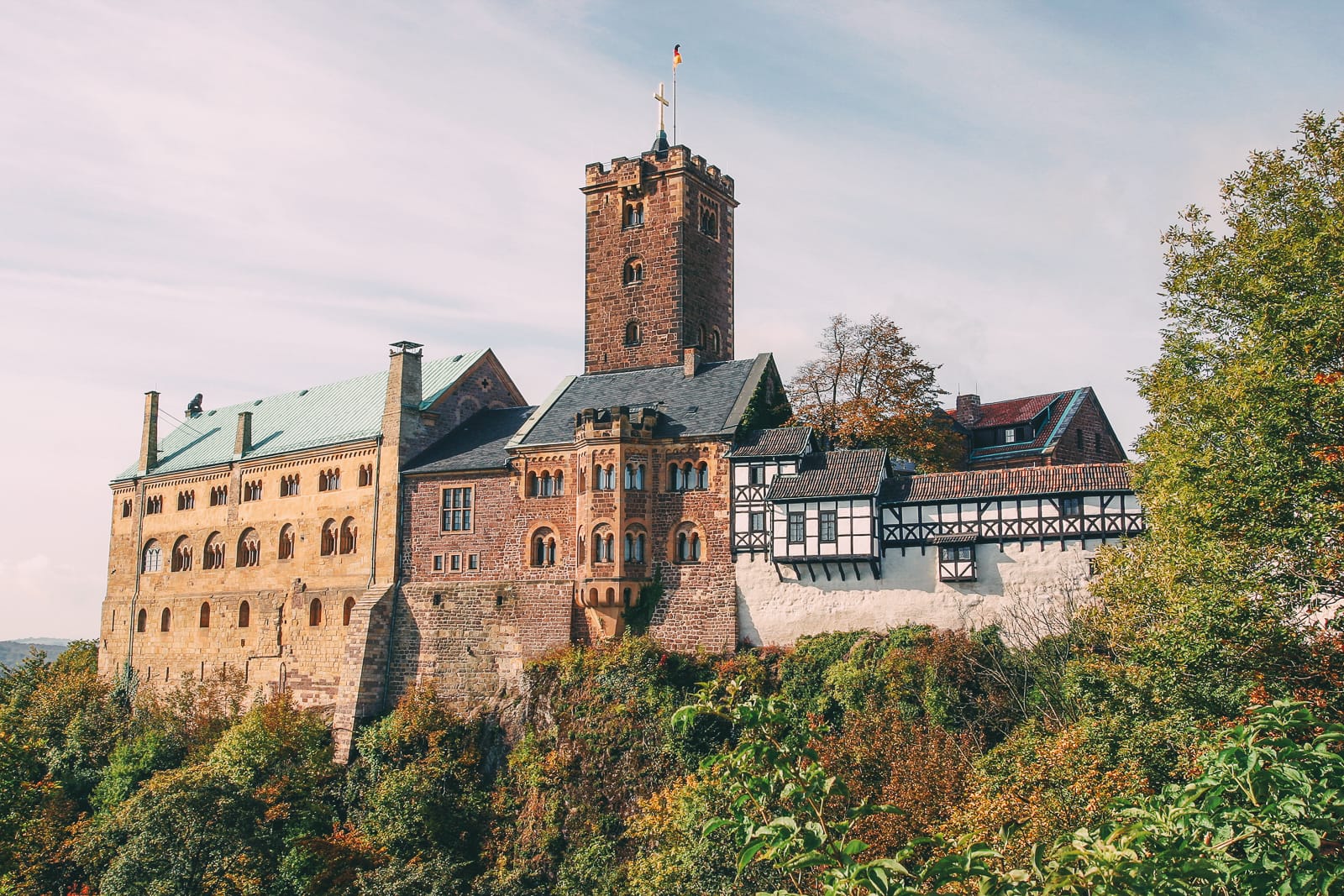 This castle was built in the middle ages and is one that's so impressive, it's now official one of Germany's UNESCO World Heritage sites. It is also famed as being the home of Martin Luther while he translated the New Testament of the bible from Greek to German.
From afar, the castle almost looks like several independently constructed building stuck together which is strange as it feels nothing like that once you're inside. Oh, and when you visit, look out for the amazing Frescos here.
8.) Eltz Castle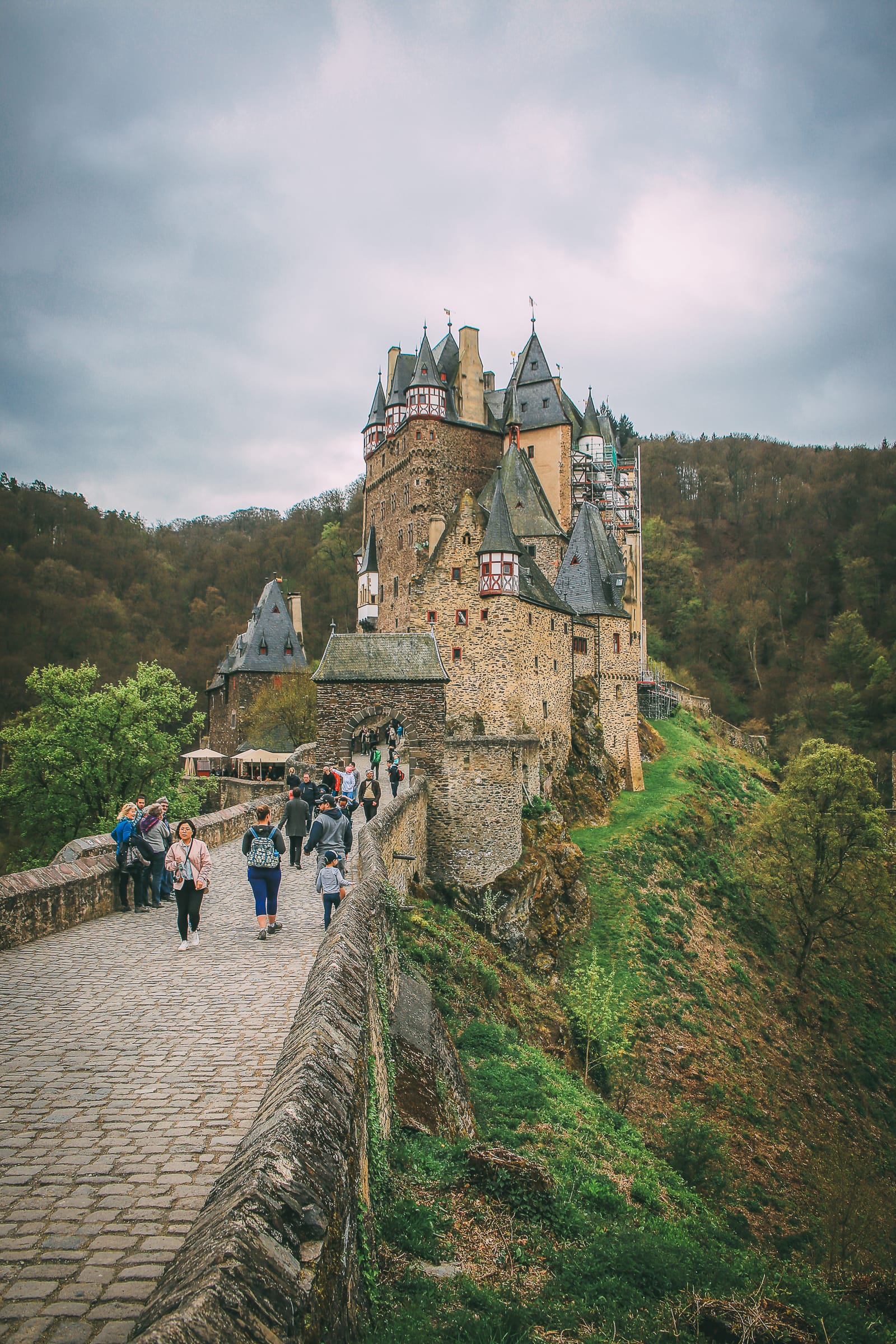 This Medieval castle is another one of those standout castles in Germany. Sitting grandly atop a hill surrounded by verdant trees and forests on all sides, Eltz castle is one of the only castles that is still owned by the original Eltz family that have owned it for almost a thousand years (it's been owned by over 33 generations of the family)
Despite the family owning the castle, part of the castle are actually opened to the public to visit – those parts belong to 2 sections of the family with a 3rd section belonging to the Kempenich side of the family being kept as private residence for the family.
Eltz castle is only about 30 minutes away fro the beautiful, ancient city of Koblenz so be sure to pop by Koblenz if at Eltz castle or vice versa.
9.) Braunfels Castle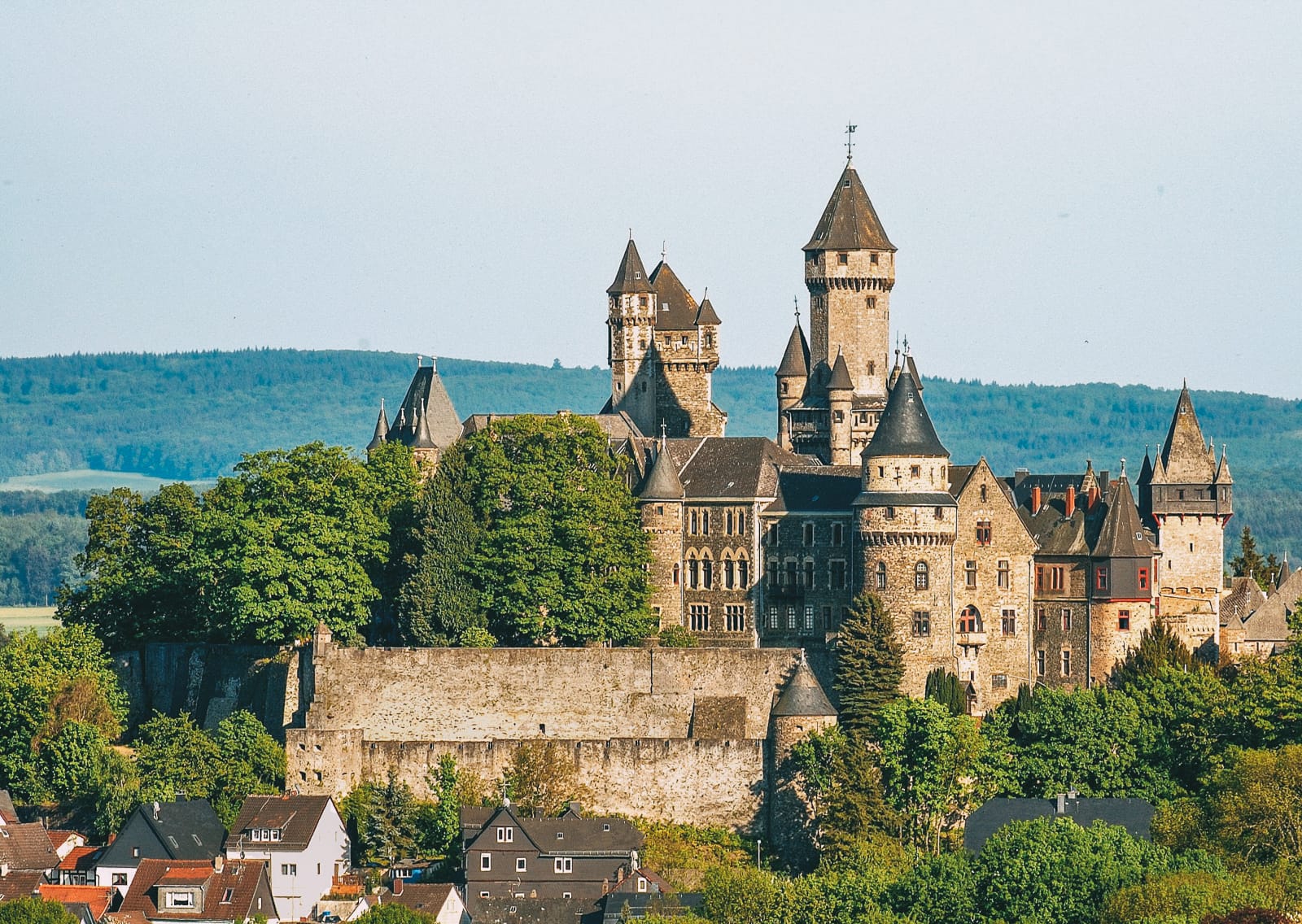 This impressive castle is another one worth tying in with a visit to Frankfurt (it's about an hour away). The town of Braunfels is also one of the best places to visit in German for its beautiful and colourful traditional German timber houses.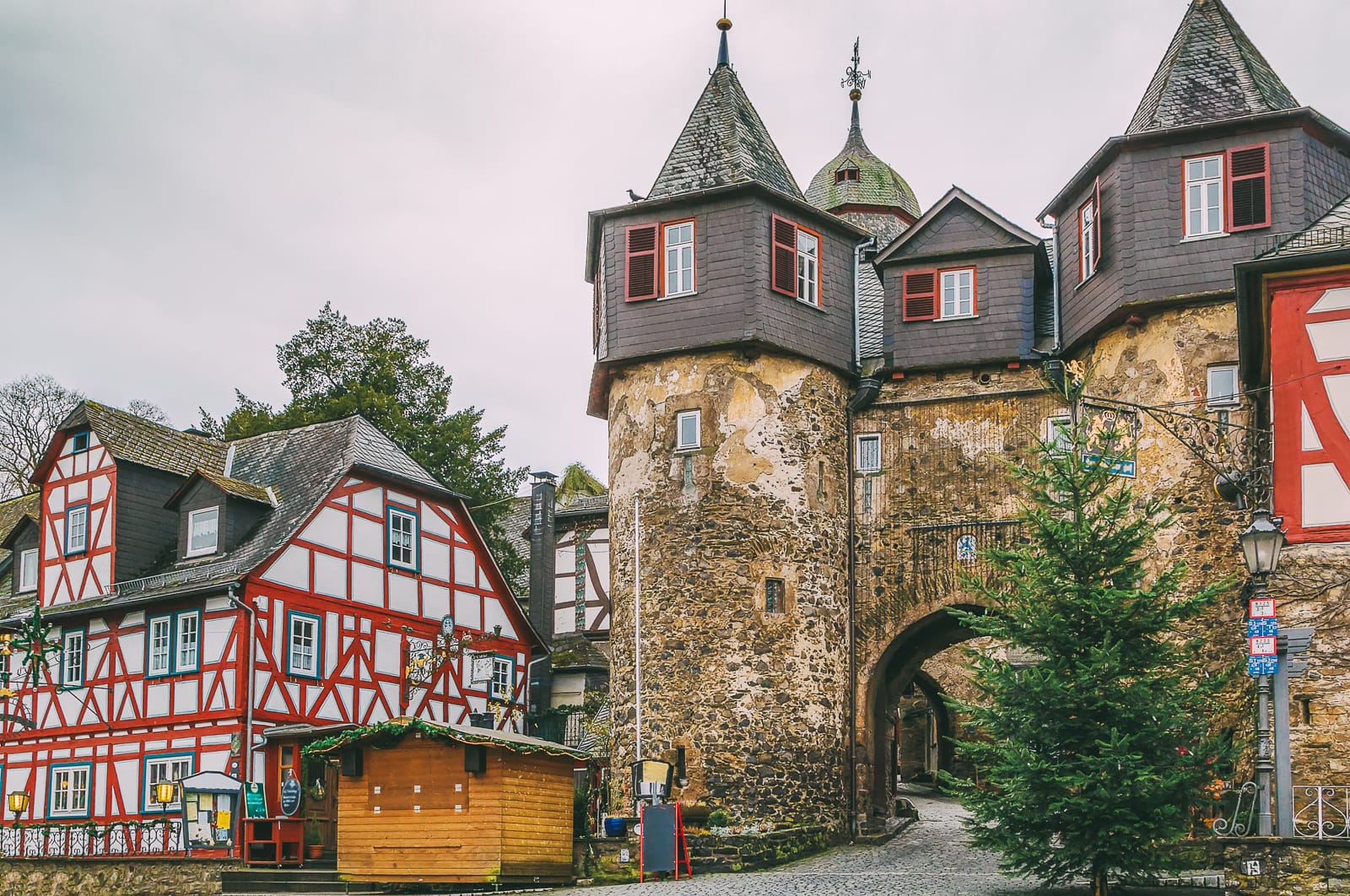 The Castle itself is almost 1,000 years old and has changes architectural styles over the centuries as it's been rebuilt over and over again, following period of ruin. Now an integral part of the city, Braunfels as a whole, along with the castle, is one place you have to visit in Germany.
10.) Glücksburg Castle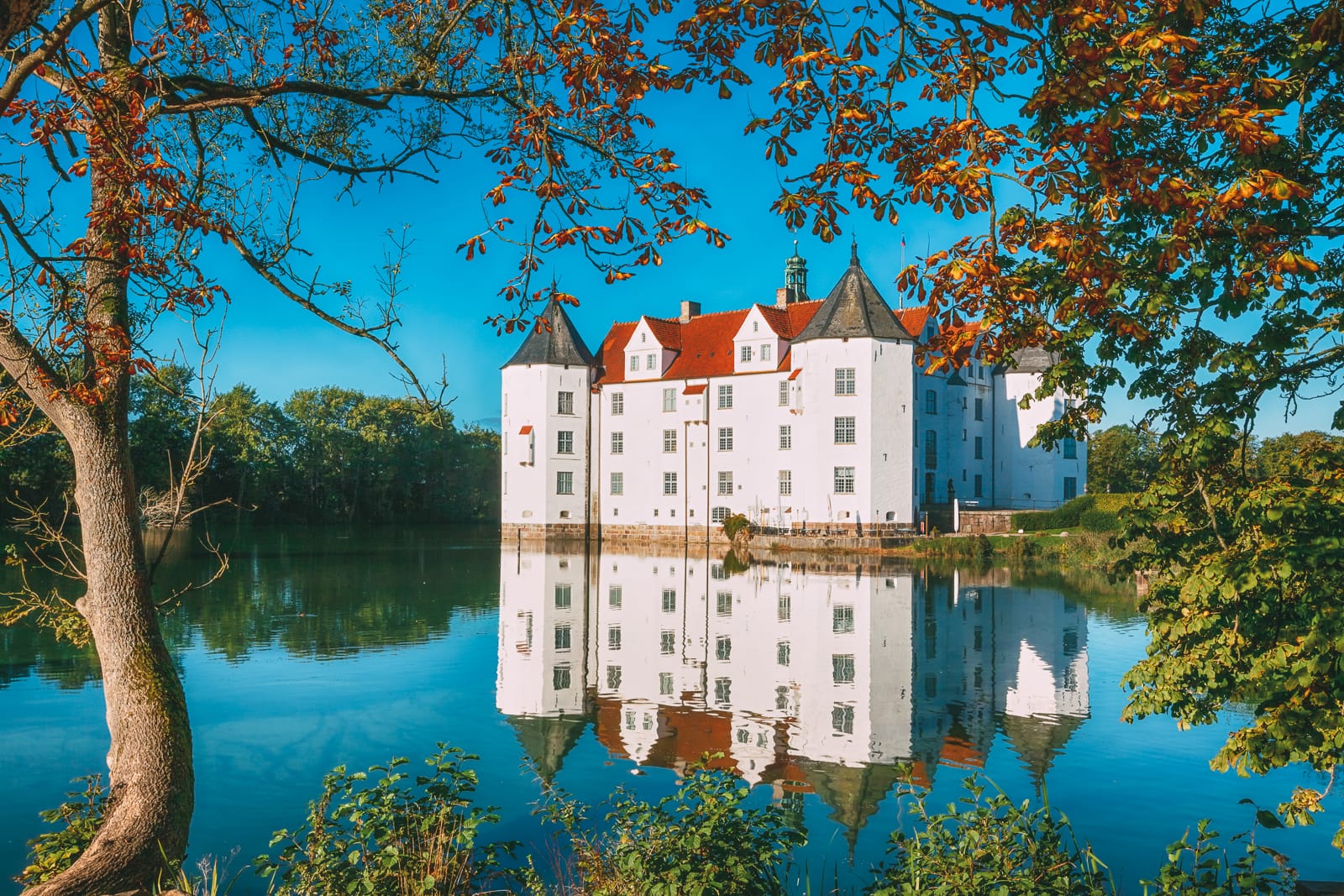 Glücksburg Castle (*that name Glücksburg just reminds me of "Good Food" for some reason…🤔 ) is perhaps one of the lesser known castles in Germany and a stellar example of Renaissance castles in Europe.
The history of the castle goes back and forth between the Danish and the German (which makes sense as it's pretty much on the border Denmark and Germany – you're literally less than a 30 minute drive to Denmark from here) and is a great place to visit if you're looking to explore, more alternative castle architecture in Germany.
By the way, the best view of the castle is from across the fjord and especially so around sunset. 😁
11.) Mespelbrunn Castle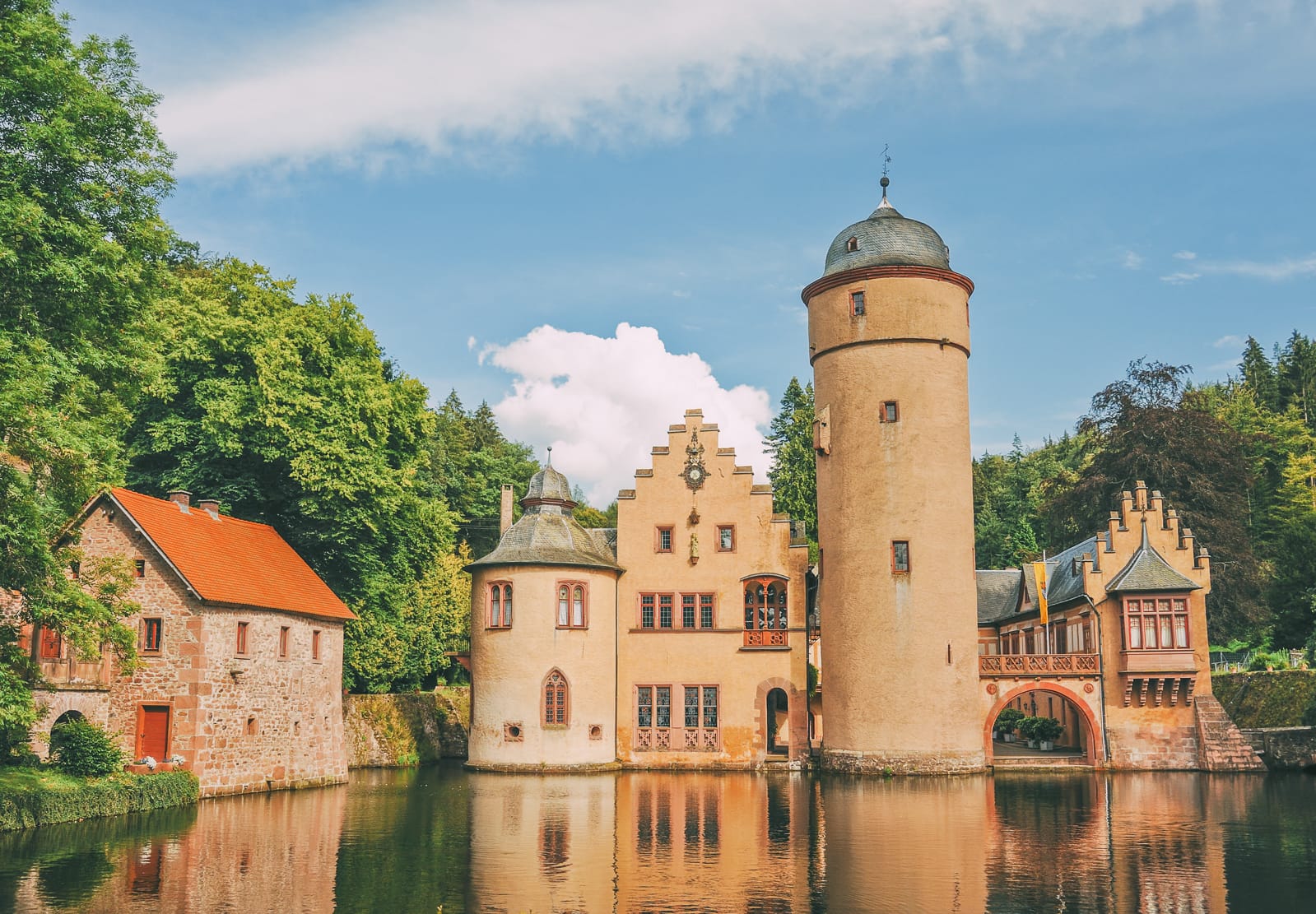 Even architecturally this castle stradles two genre – Medieval and Renaissance so it comes as no surprise that Mespelbrunn is one of the more distinct/different castles to visit in Germany.
The castle is actually still owned by the Ingelheim family but has been opened to the public for decades now to easy the financial pressure on the family of owning such a stately home. (* This happened a lot in the UK and I guess Europe as a whole where wealthy families found the upkeep of these old stately home less and less affordable to the point where the homes ended up in ruins. Smarter families like the Ingelheim, found a way to make money from their stately home allowing them to keep it in the family).
The best view of the castle is from across the water, where the reflection makes for the most spectacular sight.
12.) Wernigerode Castle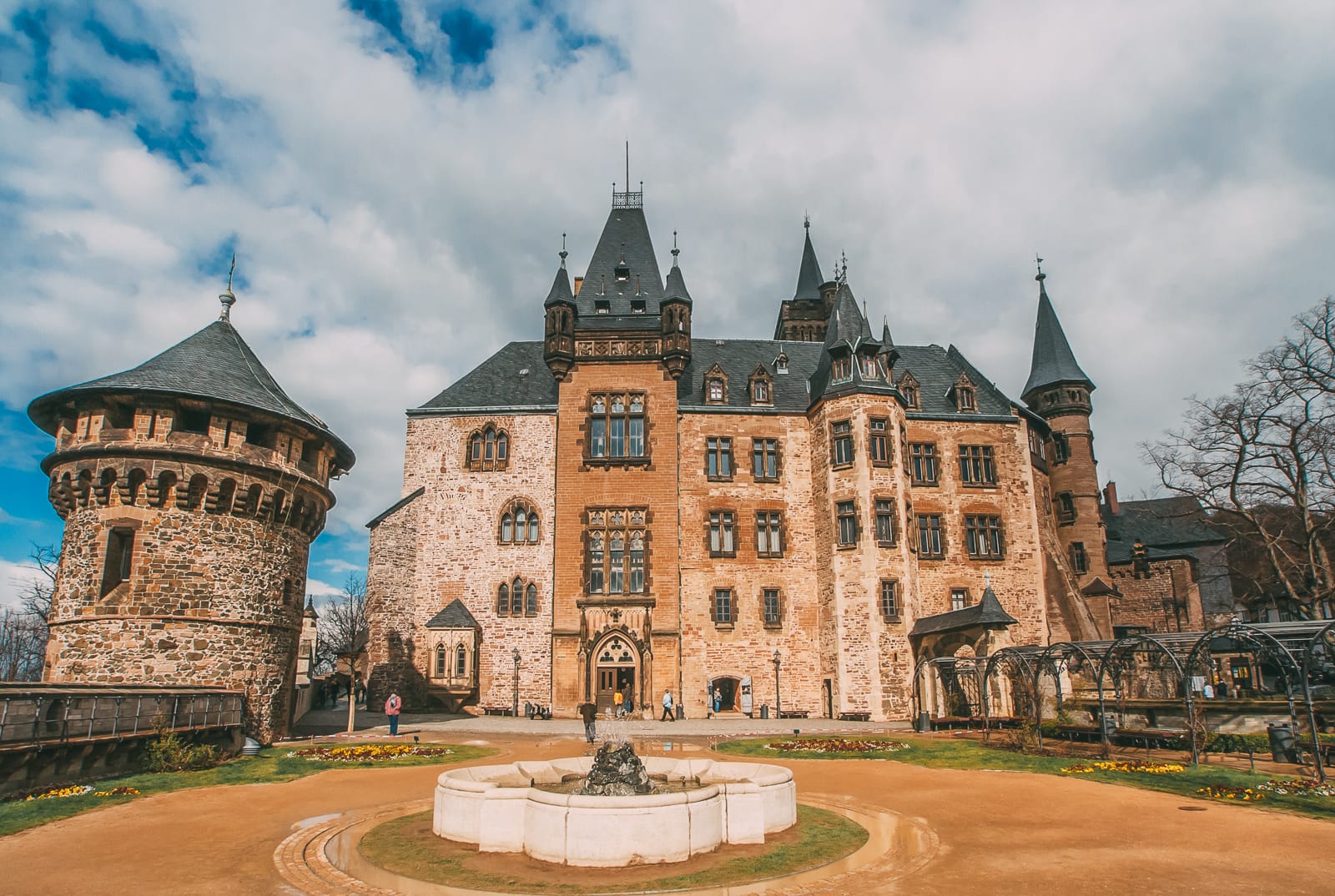 When you find yourself in Hanover or indeed in Leipzig, Wernigerode Castle is one of those places worth making the extra time to visit.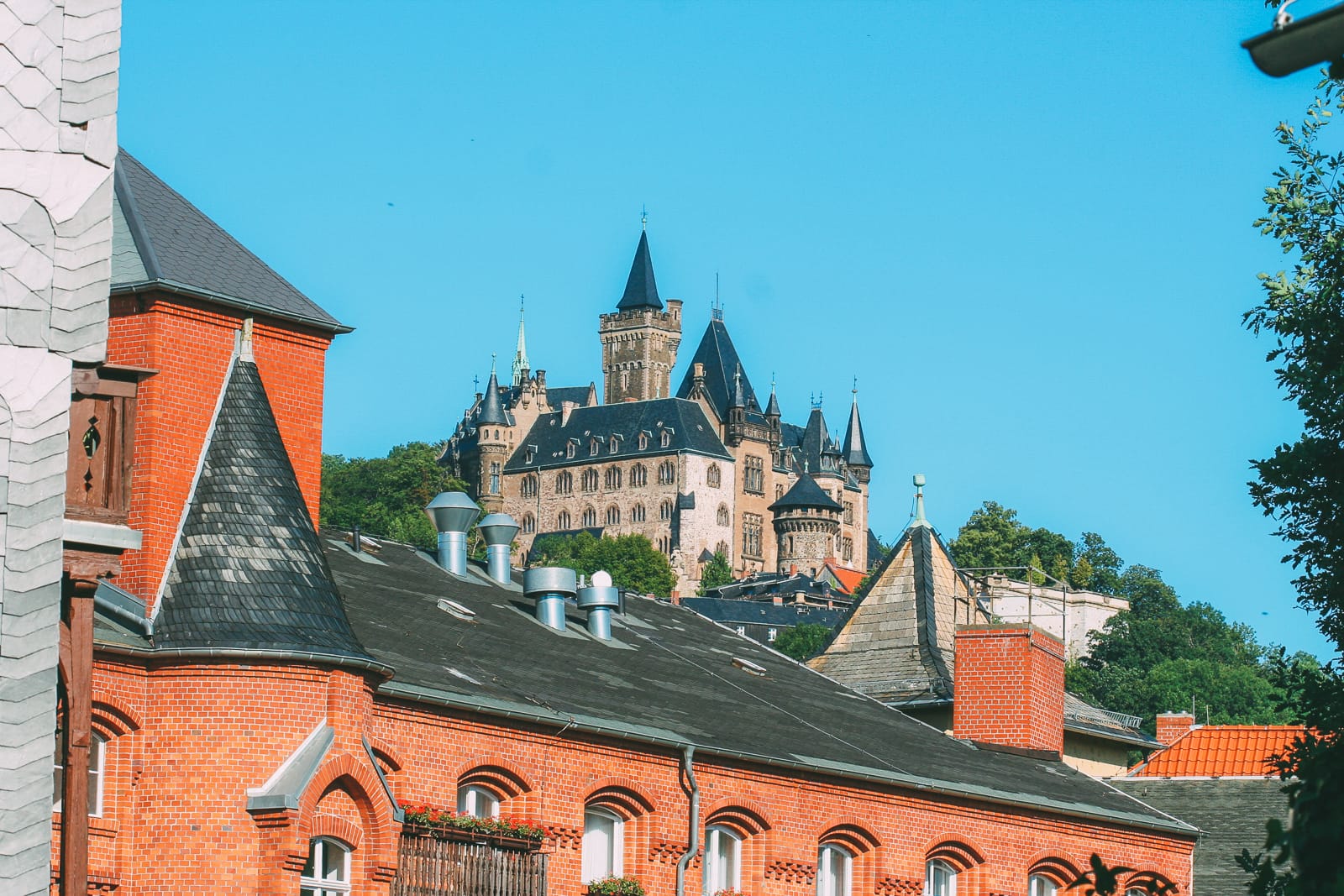 Built in similar style to Neuschwanstein Castle, this hill-top Castle is absolutely beautiful and is one that is so steeped in fantastic ancient German history that it's worth visiting for not just the pretty sights alone but for even more of a fascinating insight into German culture (and history).
13.) Sababurg Castle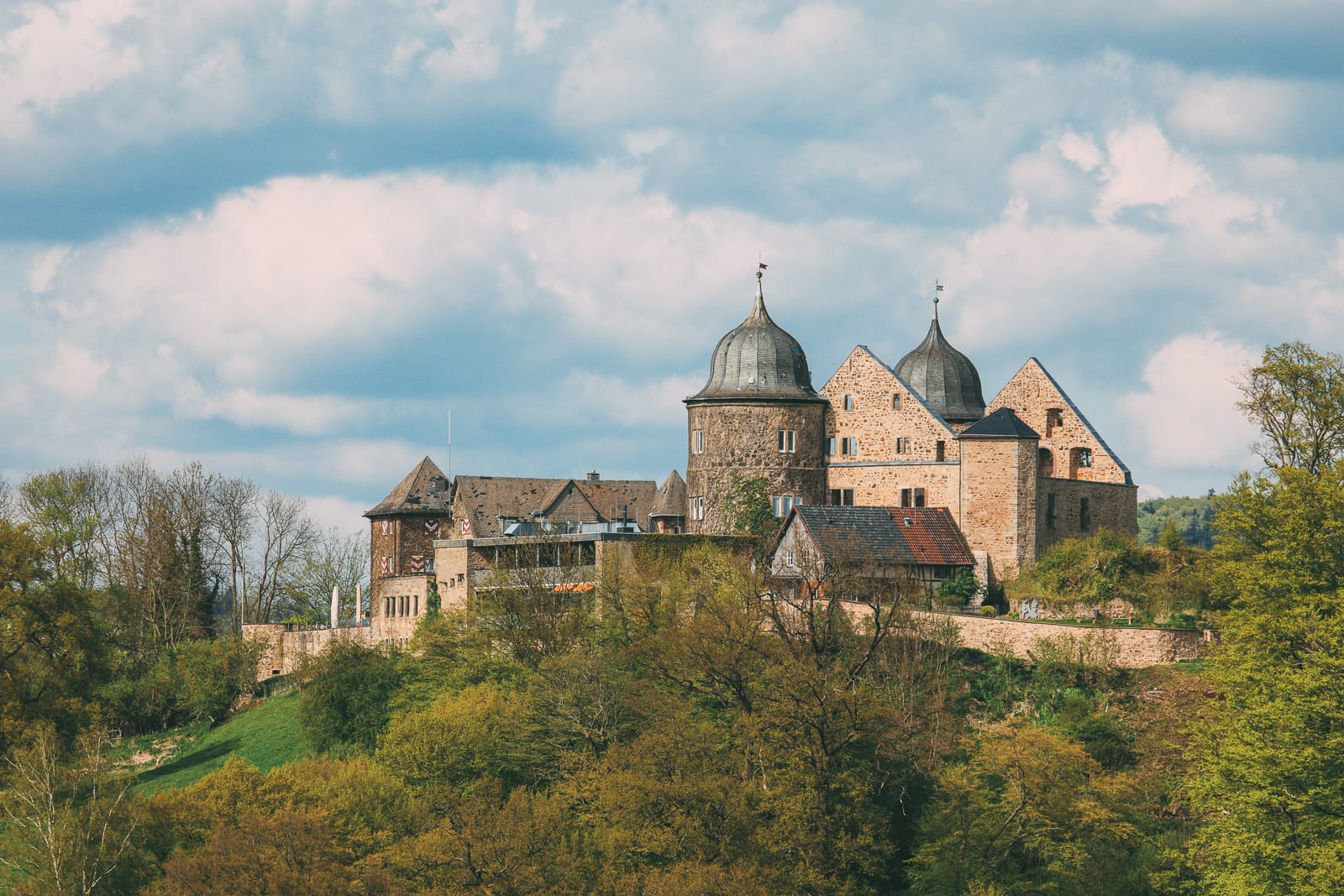 This stunning castle, nicknamed the Sleeping Beauty castle is the perfect example of a German fairytale castle. Its not necessarily the biggest castle but it's ivy covered walls, make you realise as soon as you get here why the Grimm Brothers chose this as the home of Sleeping Beauty… well, that and the amazing Reinhardswald forest surrounding the castle! It's absolutely beautiful, (borderline) magical and definitely worth setting aside some extra once you're done with the castle.
14.) Schloss Berg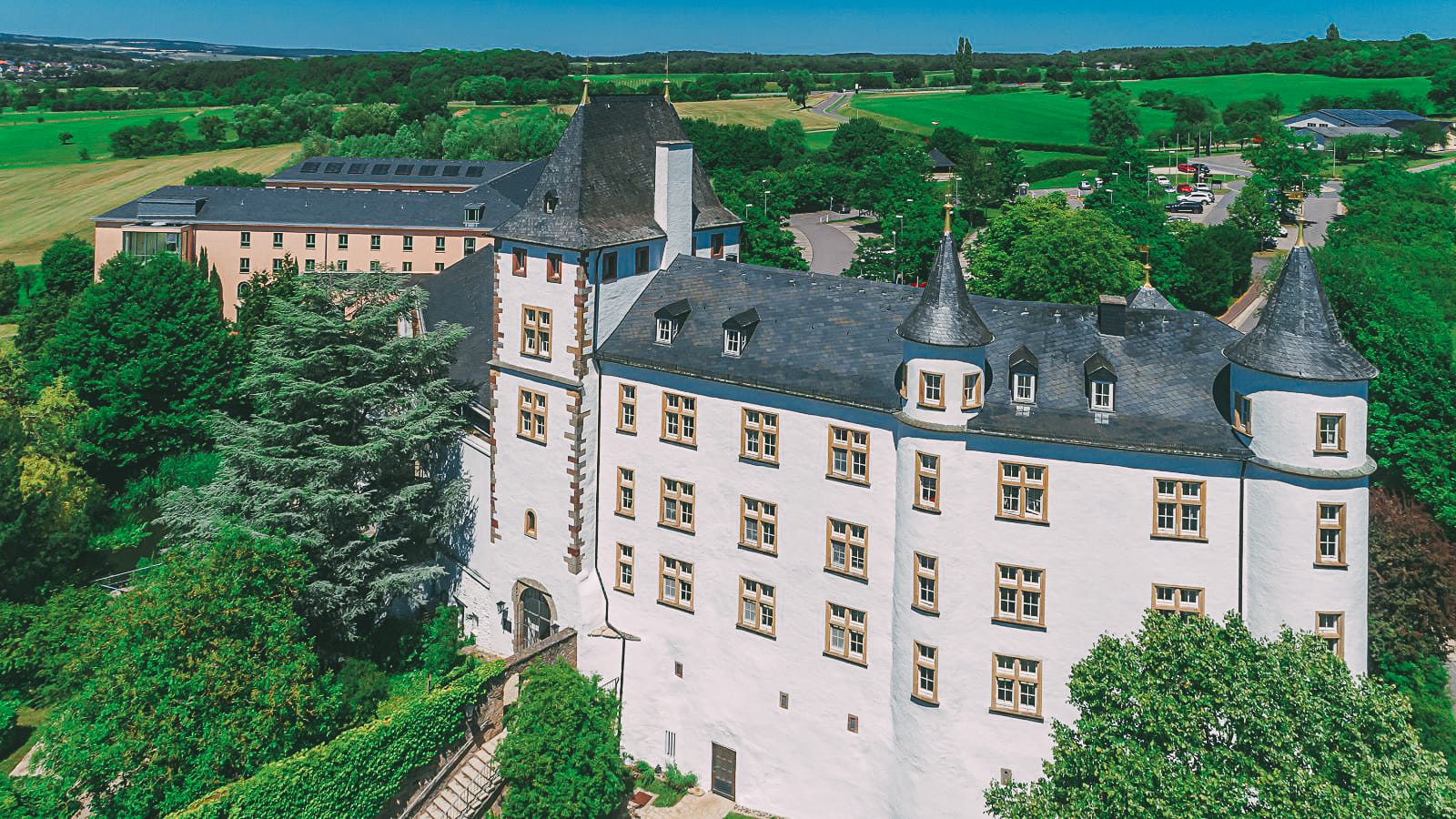 This smaller but still impressive castles is one that's now technically private property and for some, perhaps best worth appreciating from the outside. See, the castle is now a hotel, a restaurant and a casino so of course, you can actually visit properly and perhaps even call it "your home" for a few nights (check the prices out here) but alas, it's not one of those places you can just go running around in. 🙂
15.) Nordkirchen Castle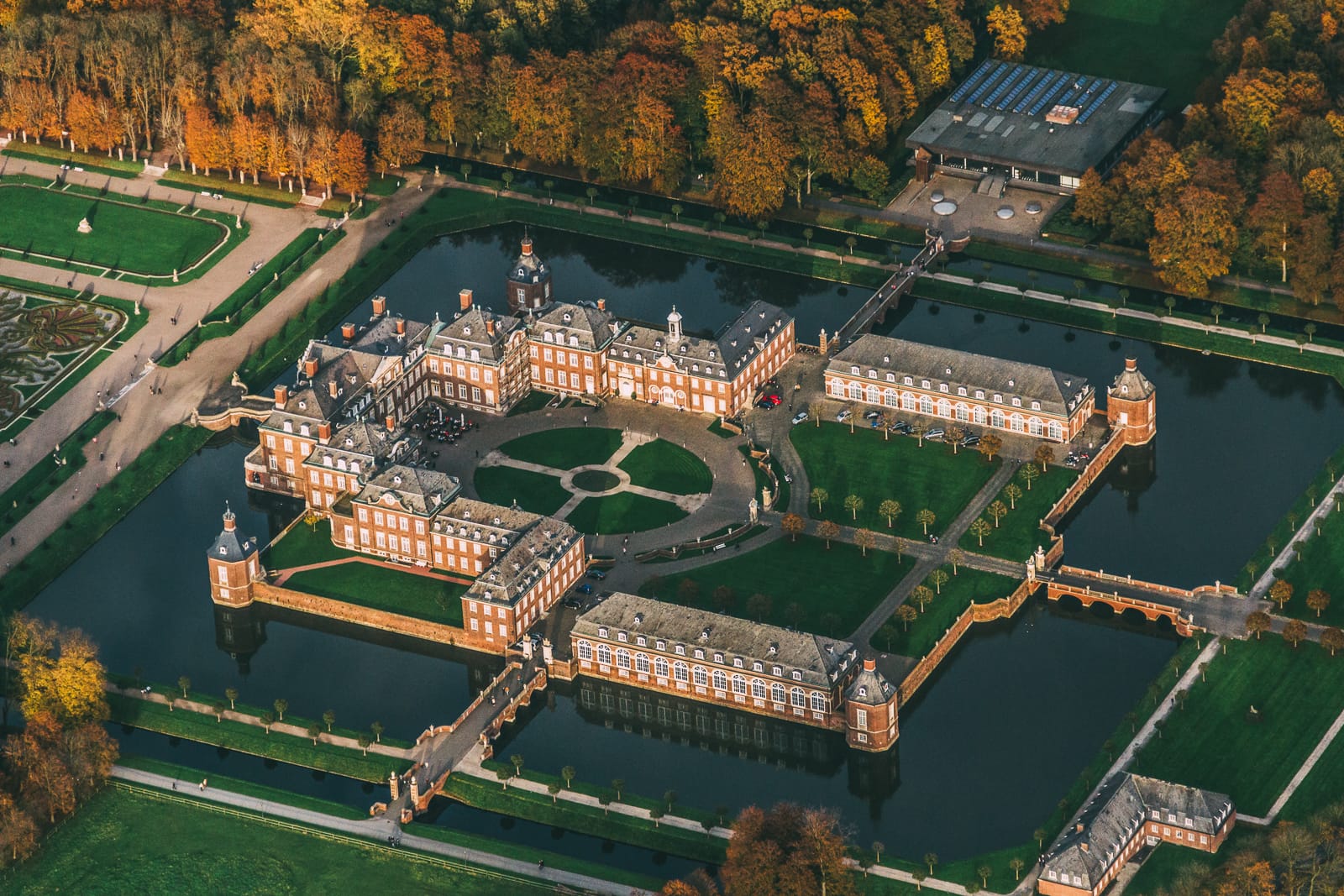 This is one of those palace-castle places that technically straddles bother genres and quite frankly, just had to included because of how amazing it is (*Sidebar – some places are still referred to as "castles" till date not because they architecturally are castles but because they've been rebuilt or revamps on a place where ancient castles existed.)
This rather expansive German castle is a beautiful example of Baroque architecture and is surround by a moat on all sides. It's about 300 years old and has been liked to Versailles, thanks to its impressive architecture.
Locations-wise, Nordkirchen Castle is about 30 minutes away from Munster and 40 minutes away from Dortmund so if you're in either cities, it's absolutely worth popping by the castle.
16.) Burghausen Castle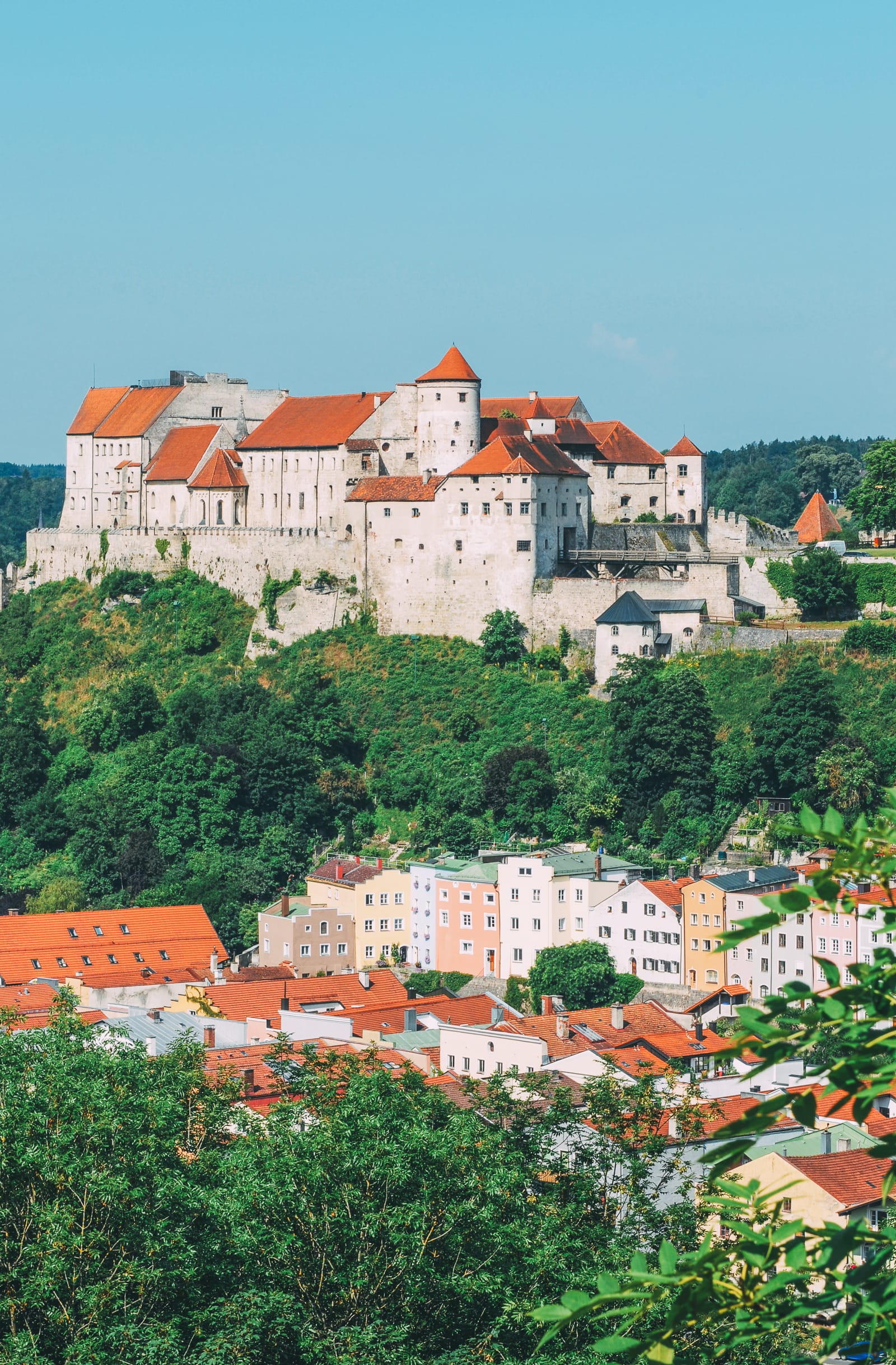 Fun fact – Burghausen Castle is the longest castle complex in the world (a fact I only recently found out thanks to wikipedia). This castle actually sits on the border of Germany to Austria and you can actually see Austria from right up here in the castle.
In fact, in a roundabout way, you'll probably find that arriving to the castle from Salzburg in Austria is probably the most convenient way of getting here from most other European cities (Salzburg being a major city and all).
This gothic castle is definitely one of the most impressive in Germany and definitely one worth prioritising if you're short on time.
17.) Hohenschwangau Castle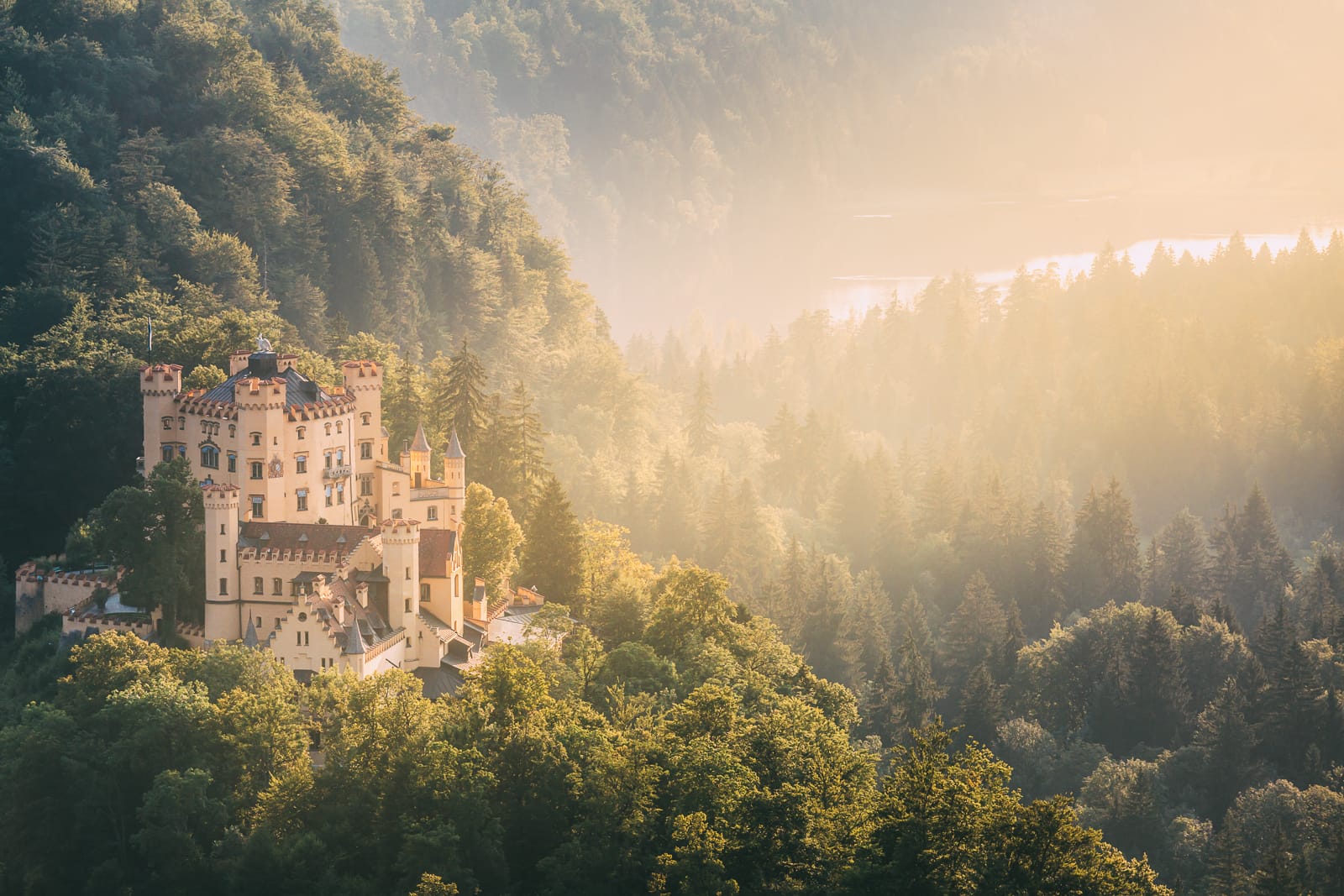 When you visit Neuschwanstein Castle, you absolutely have to visit Hohenschwangau Castle. For starters, not only is this just down the road from Neuschwanstein, you can actually see Hohenschwangau from Neuschwanstein Castle – it's that close meaning, after (or perhaps even before) you visit Neuschwanstein – pop into this castle.
With the recent structure being built more as a palatial home that a defensive castle, the interior of Hohenschwangau Castle is rather impressive and definitely a huge part of why you need to visit this castle.
18.) Drachenburg Palace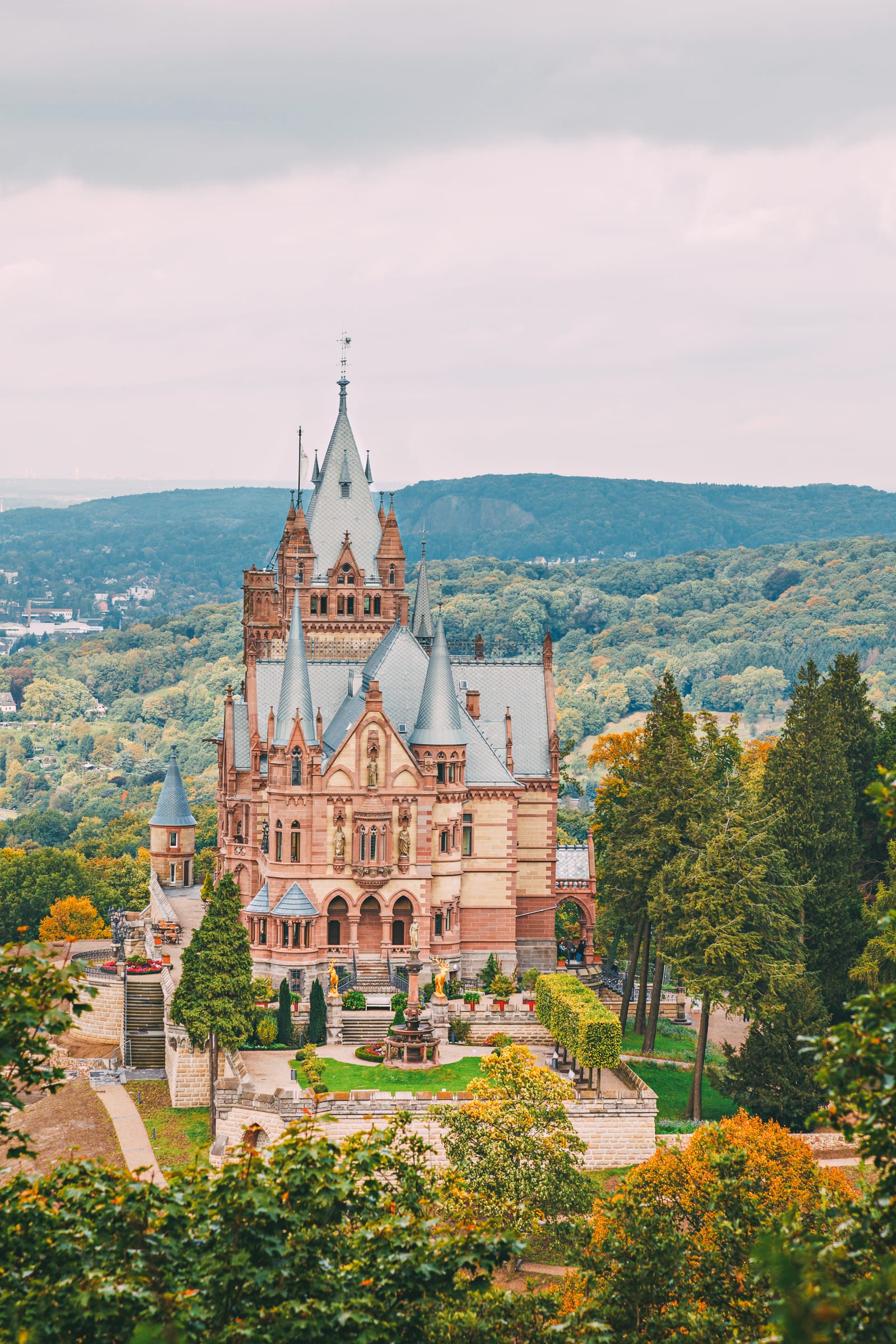 Another castle-cum-palace, Drachenburg Palace sits at the top of – get this – Dragon Rock! Throw in the fact that this castle actually looks like it was plucked right out of the pages of a fairytale, this fairly young (under 200 years old) palace is one place worth visiting when you're in Cologne (it's about 30 minutes away) or when you're in the city of Bonn (which is just 15 minutes away).
19.) Dresden Castle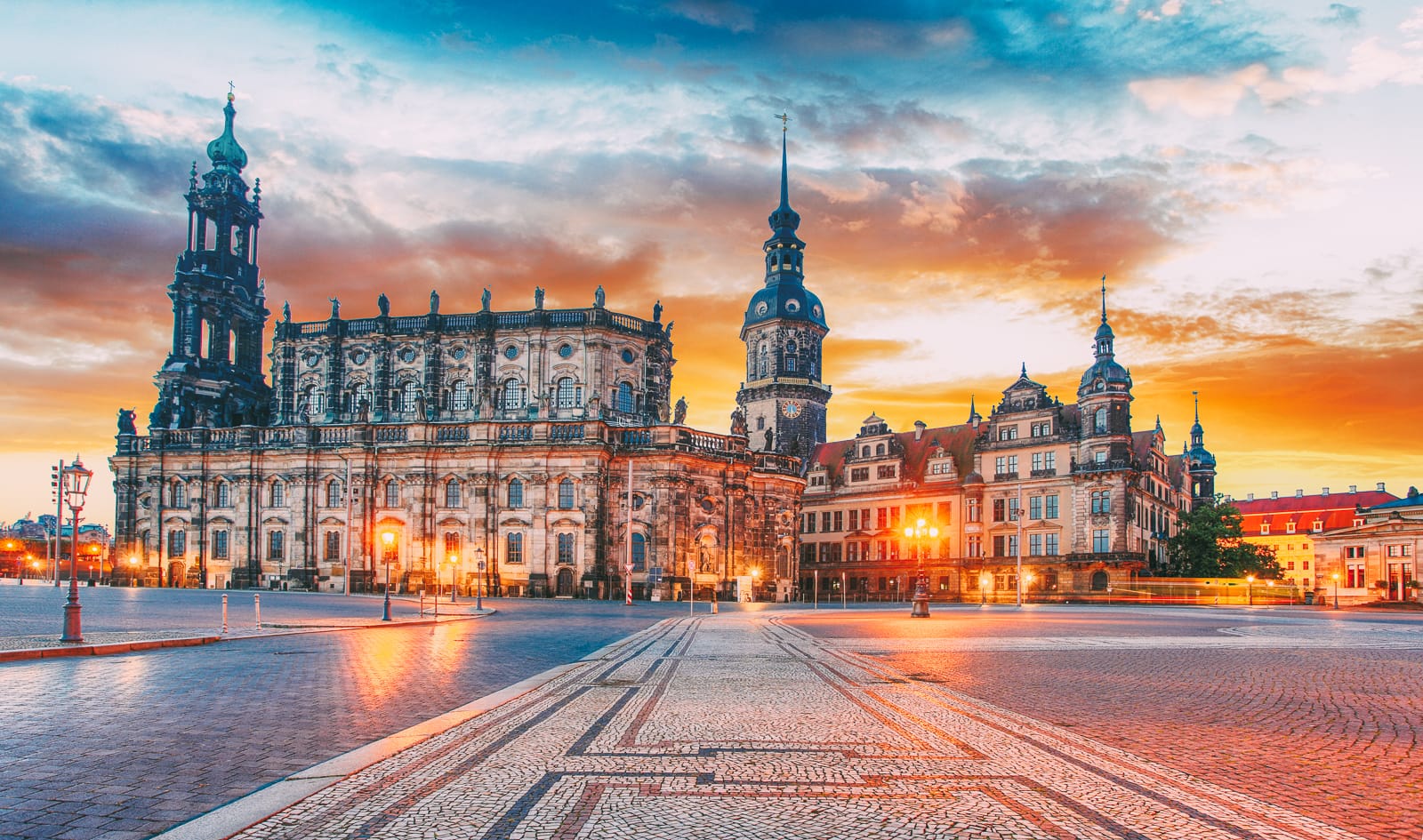 This castle was once upon a time the ancient home of the Kings and Queens of Saxony and is now home to an Art Museum which means you'll want to visit, not just for the castle alone but for the stunning art collection inside (which is home work from Rembrandt right through to Picasso).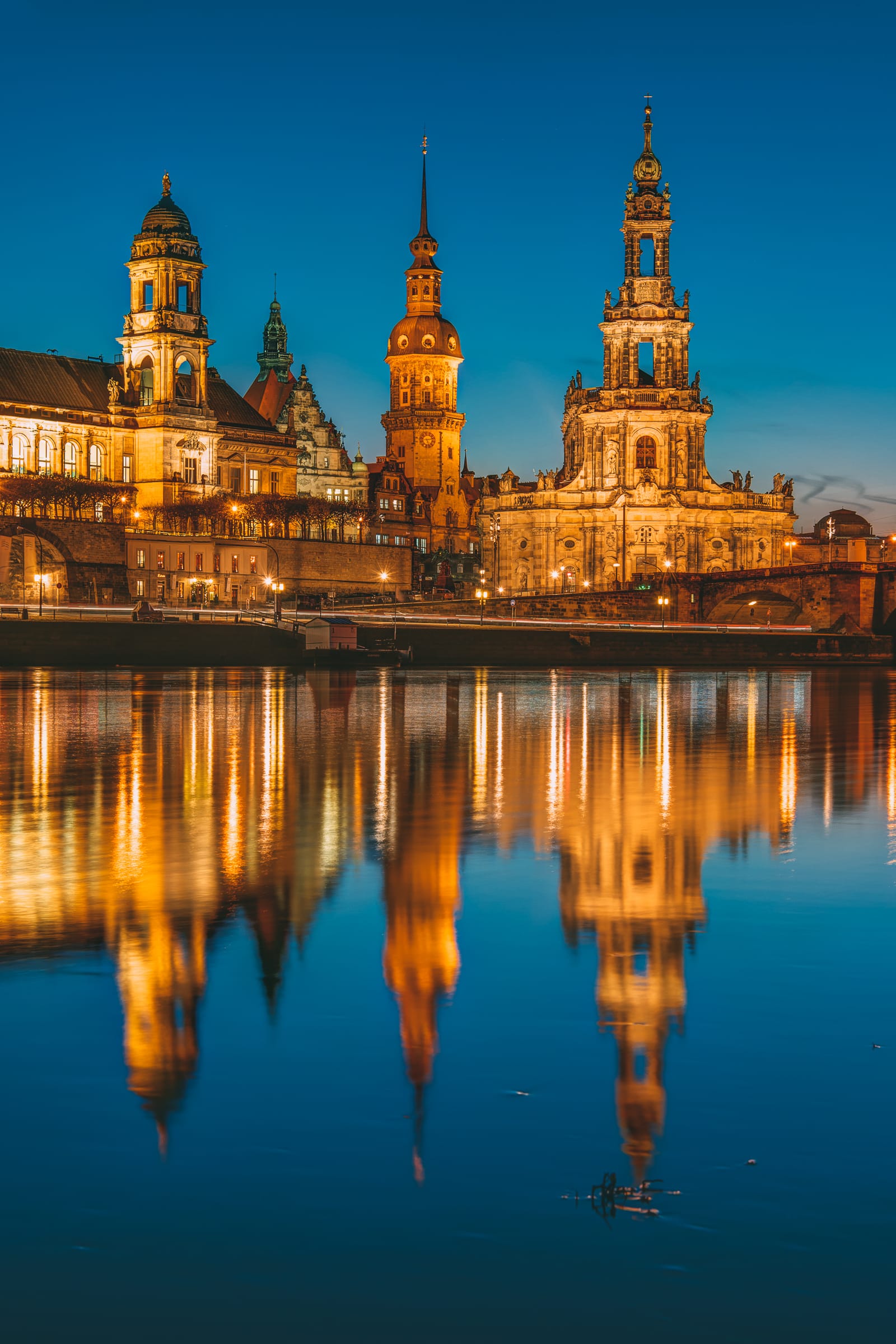 ---
---