Regardless of where you're from in the world, Bali is one of those places that just conjures up images of tropical paradise. It's a pretty popular destination and anyone who's familiar with this Indonesian island will be quick to point out that there's no way you can see all of the sights in a short space of time (short space of time being the average holiday from work most of us get, which can be anything from a few days to 2 weeks *Remember, I said 'average'.).
Of course, the plus side of this is that there are so many reasons for you to return to this island however, the flip side of that is not knowing how to best spend your time and which sights you should prioritise seeing on your holiday.
With that in mind, we've rounded up 11 things you need to see and do when you're in Bali whether its your first or fourteenth time. 🙂 Essentially, if you haven't been to these places below, you need to arrange a visit esta pronto! 😉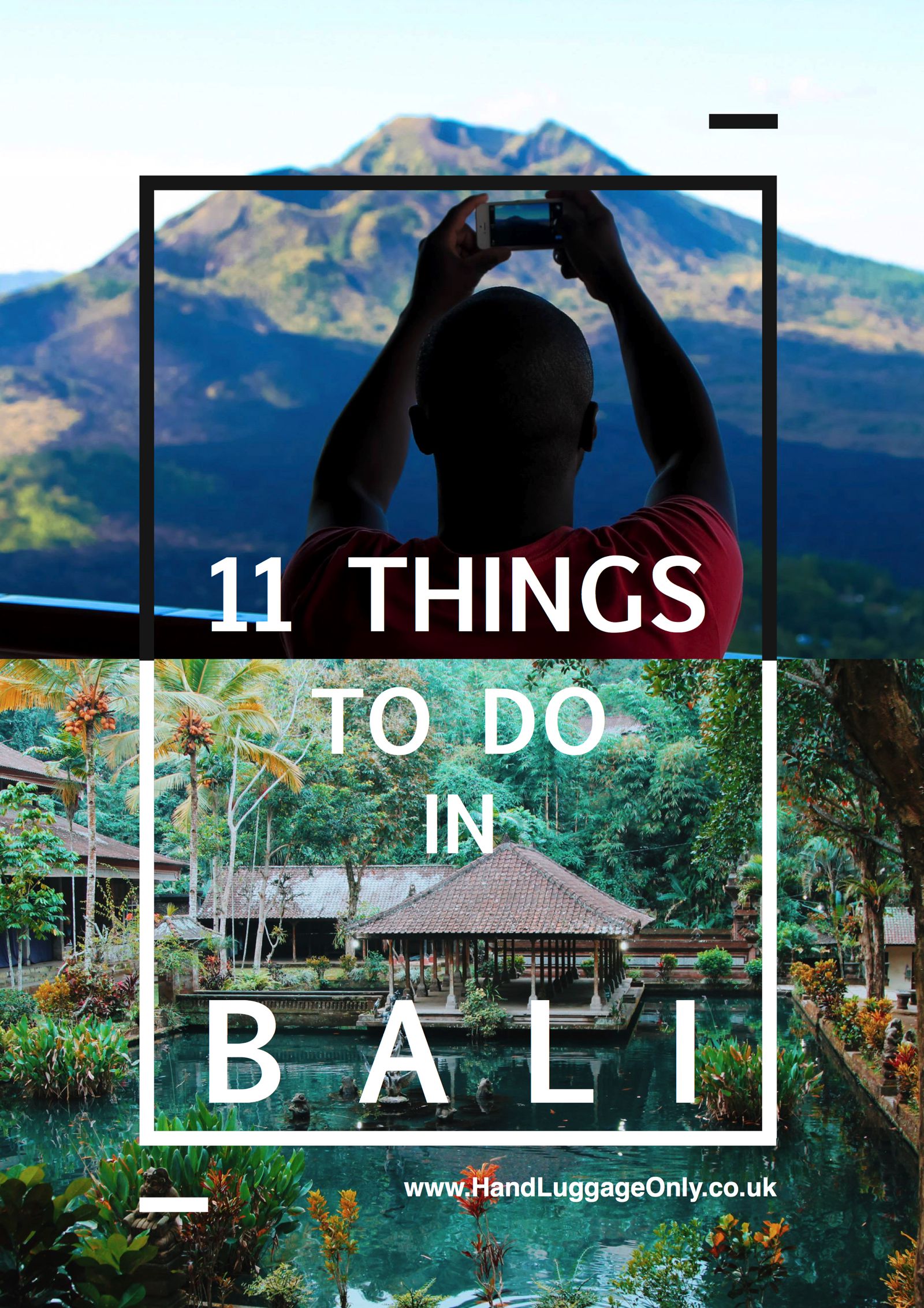 1.) Ujung Water Palace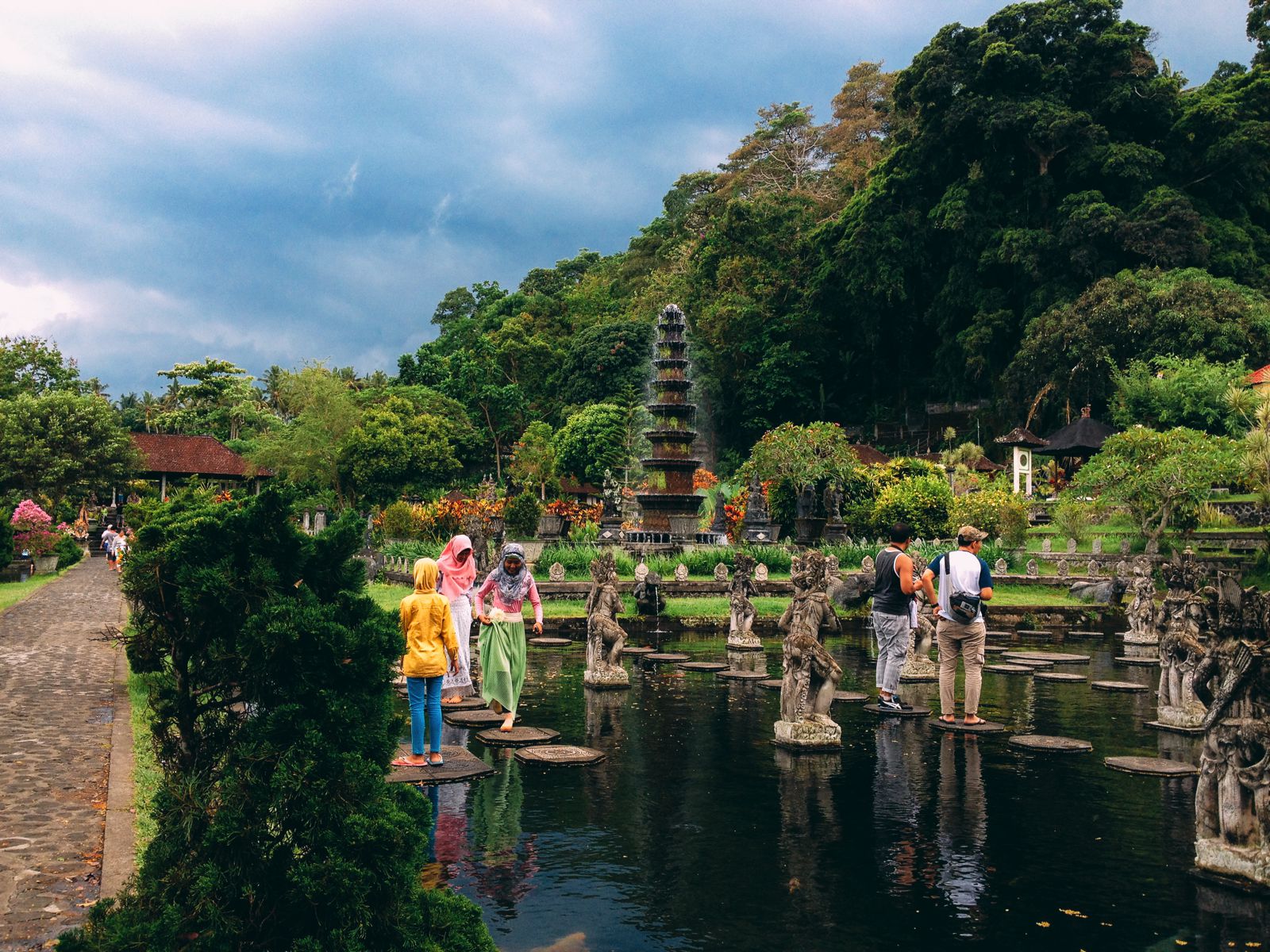 Located in eastern Bali, this water palace is a beautiful complex of pools, fountains, delightful wildlife (plant and animals), and a lot of Balinese buildings and structures that's bound to impress even the most unimpressionable of travellers.
Built in 1909 (well started then anyway, it was completed in 1921), the water palace is still in excellent state today – to the delight of locals and visitors alike who are more than welcome to explore the palace to.  Suffice it to say, if you're looking to throw in a bit of culture and history into your tropical island holiday, Ujung Water Palace is definitely a great place to start.
2.) Pura Tirta Empul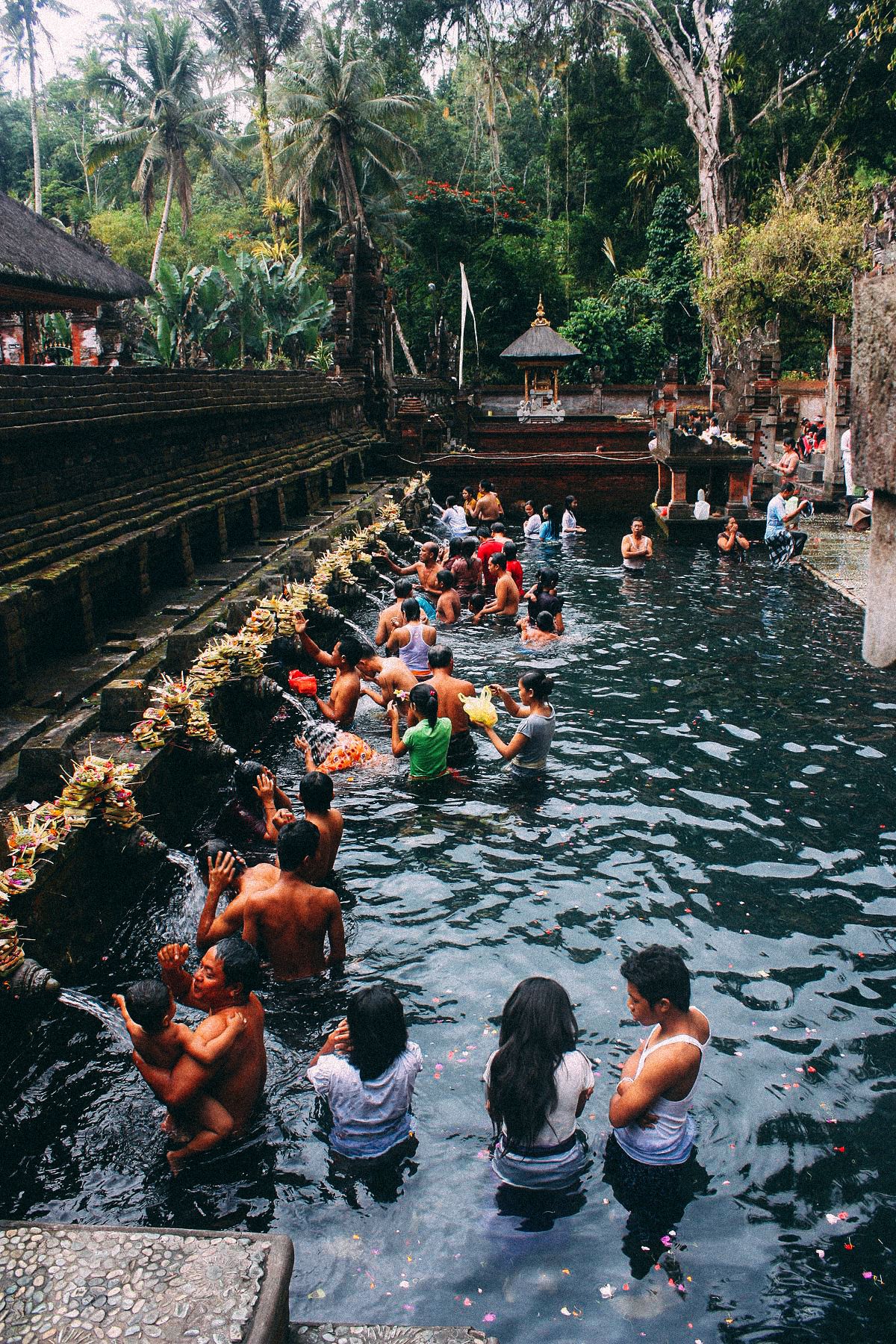 Due to a sacred spring running through this temple, Pura Tirta Empul is and important Hindu Balinese temple and is a place locals and visitors can come to for a spiritual cleansing experience. Indoor fountains divert water from the spring into a long rectangular pool which is the site of the cleansing.
Remember, as with most (if not all) temples in Bali, you need a sarong to visit (though you can get one at the entrance if you arrive without one). On religious holidays, Balinese locals flock the temple so the queues to use the baths can be quite long – definitely worth bearing in mind if you've got limited time to see as much of the island as possible.
If you're short on time, check out our 1 day itinerary for Bali here.
3.) Pura Tanah Lot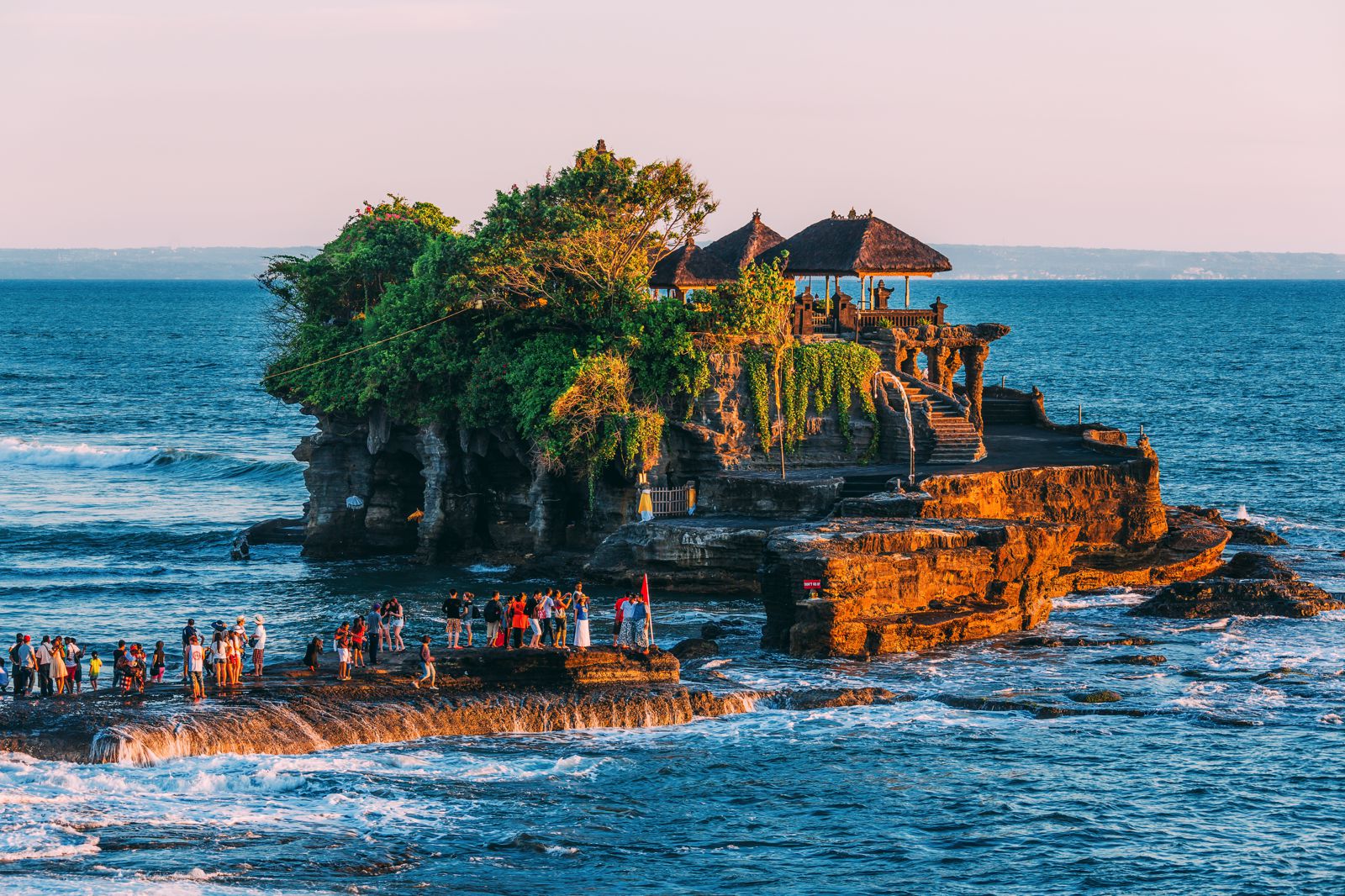 Seton an island-like rock formation, Pura Tanah Lot is one of Bali's most important (and most popular temples), with throngs of travellers visiting every day – not the place for you if you wanna avoid crowds but don't let that stop you, it's still worth visiting, even if you have to brave the crowds to do so.
Allegedly built by fishermen in the 16th century as a place to worship the 16th-century Dang Hyang Nirartha, this temple is one of 7 sea temples that are gotten across the Balinese coast. If you're into fantastic sunsets (who isn't?) then you should head over here in the evening as Pura Tanah Lot is a perfect location to get an epic view of the sun setting over the horizon.
4.) Tegalalang Rice Fields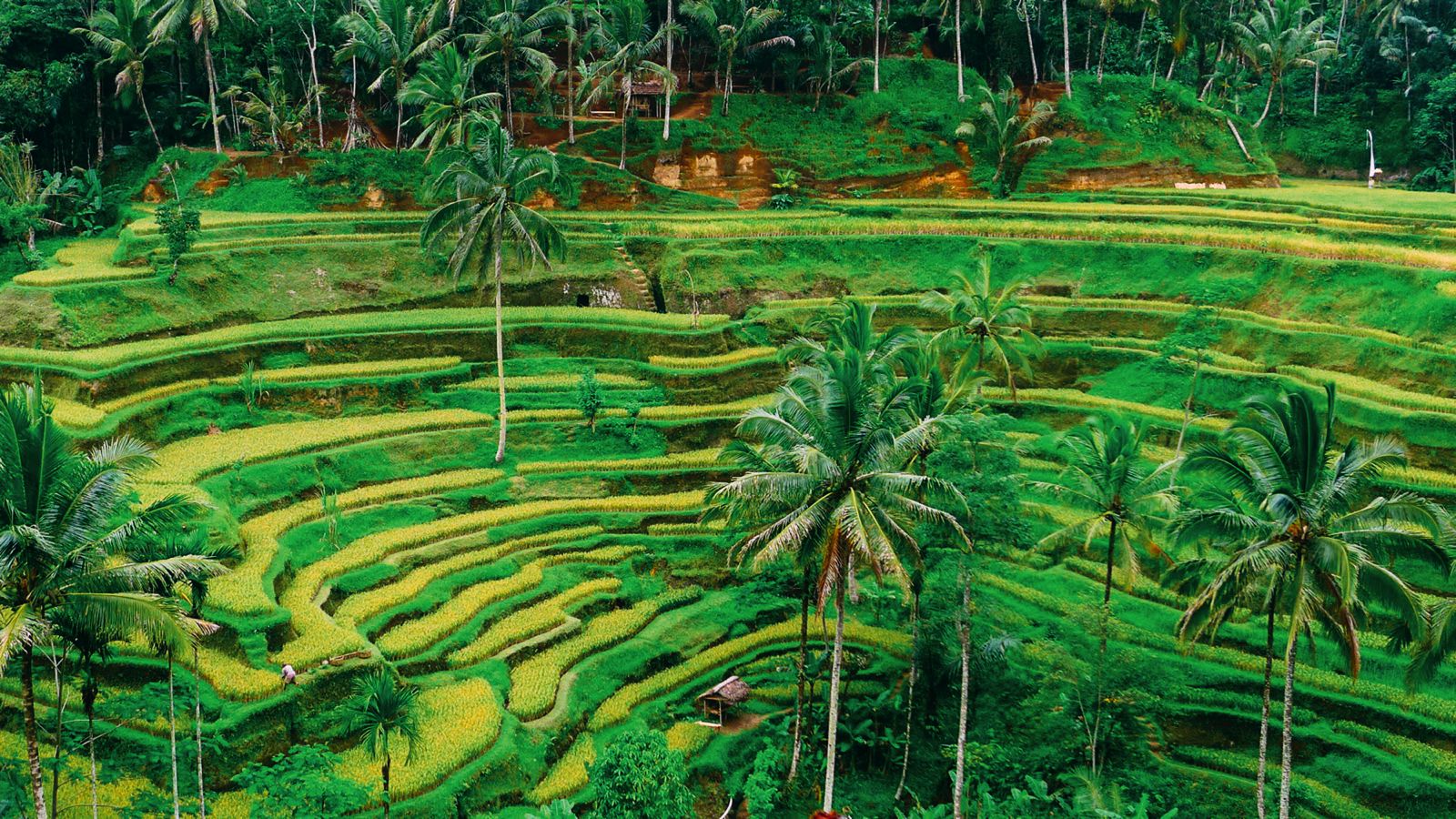 Take some time to relax and admire the greenery as you sit on a terrace with a hot cup of tea and a plate full of Balinese treat (if you don't have the tea and treat, you just ain't doing it right… 😉 hehe!). Lots of travellers visit these rice paddies, so be sure to go early in the day if you wanna escape the crowds.
The restaurants at the top of the fields offer fantastic views down at the fields though a word of caution here – select your restaurants carefully – restaurants with popular views in Bali usually rely on that (not the excellent food quality) to draw in customers and the food can leave a lot to be desired so do try to make sure you look out for one with great food to go with that great view.
5.) Mount Batur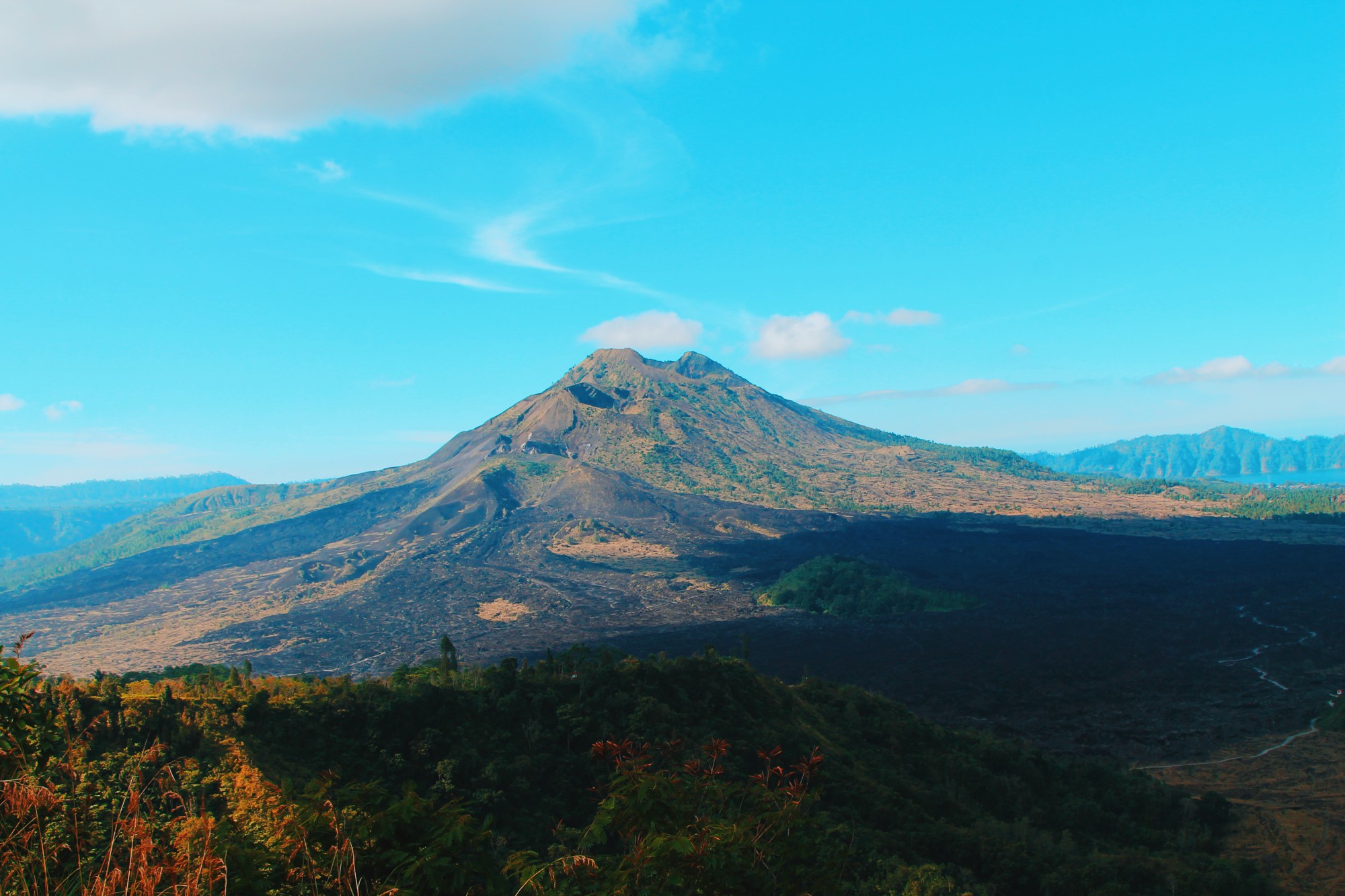 When planning a visit to Indonesia's most active volcano, there is no better time to go than at sunrise or sunset. Many tour companies offer day-trip excursions that last between 6 and 10 hours for a guided hike up to the volcano's summit, taking in the volcanic activity as you go along and then back down for a meal at the base of your towering trek.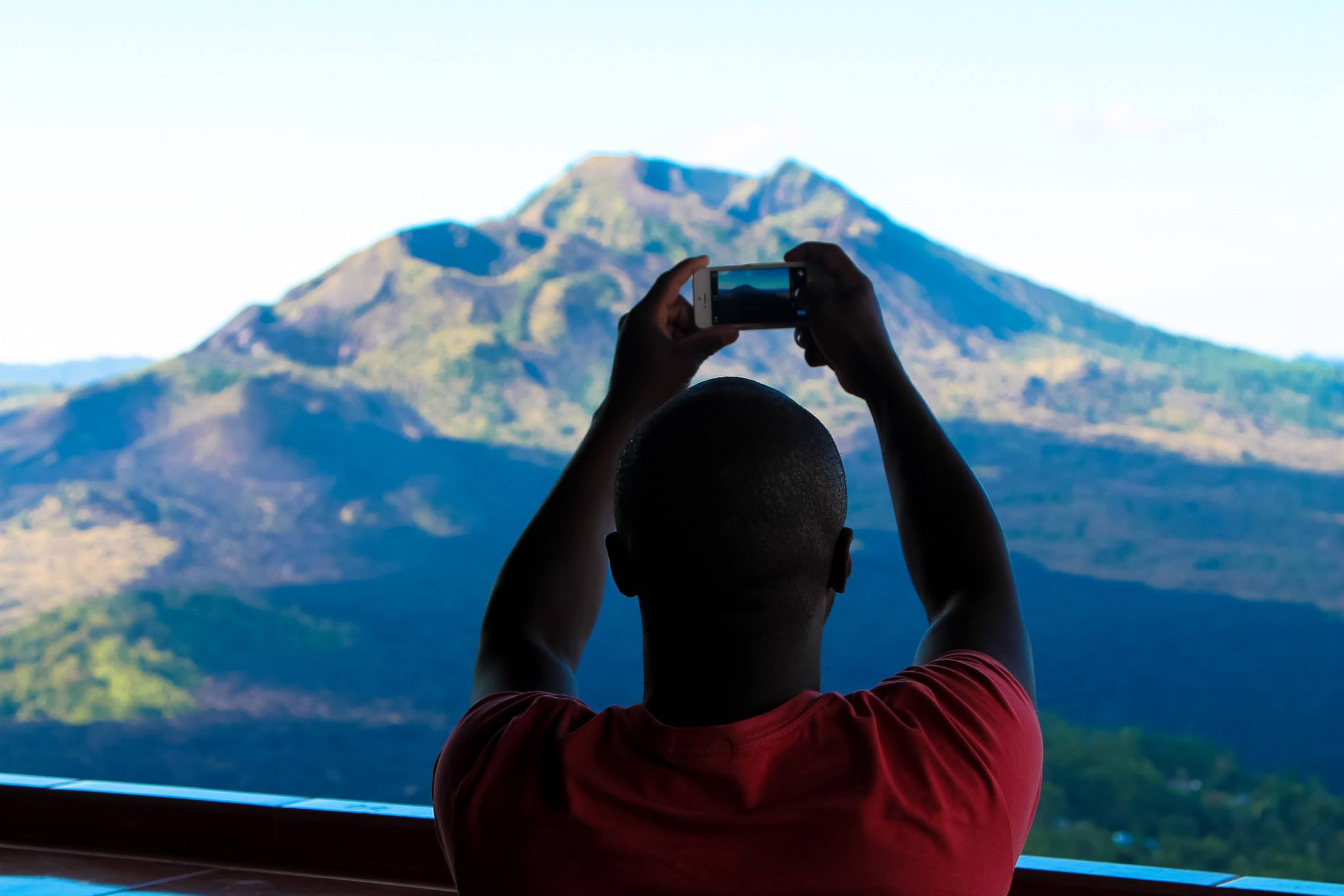 The best views though are from the restaurants in the nearby village of Kintamani so you don't have to hike it if you don't want to (though remember the restaurant rule from above and keep an eye out for a good restaurant with a great view).
See more on getting the best view of Mount Batur here.
6.) Sekumpul Waterfalls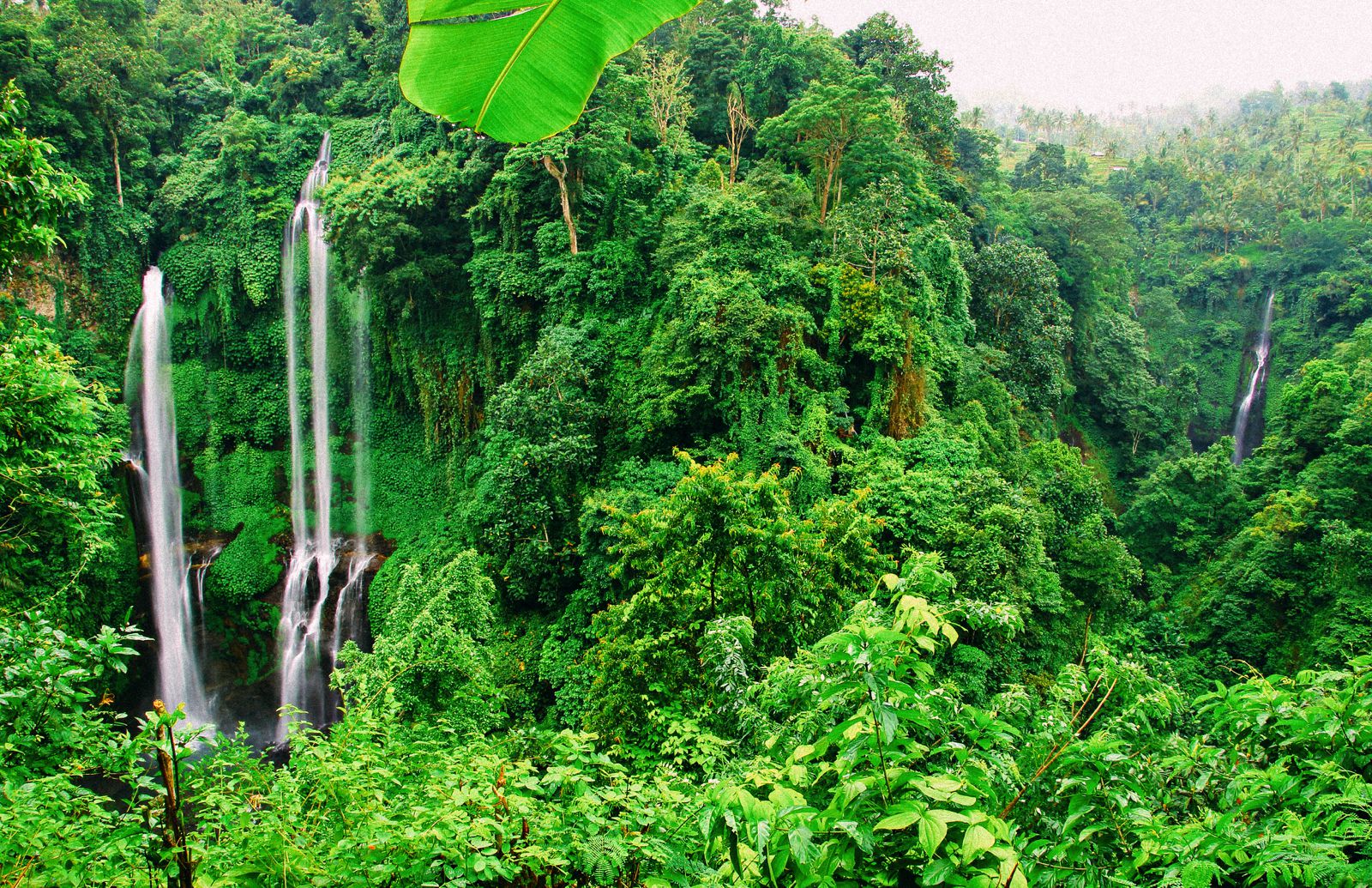 This is one of those places where it just feels like the pictures alone give you enough reason why you should visit. Informally known as the most beautiful waterfalls in Bali, this is a must-see for pretty much everyone visiting the island. You need to trek to the waterfalls  but fret not, it's not a particularly strenuous trek.
You are bound to come across friendly monkeys, great views of rice terraces, locals going about their daily business, temples and a fair few plantations as you make your way to (and from) the waterfalls.
7.) Balangan Beach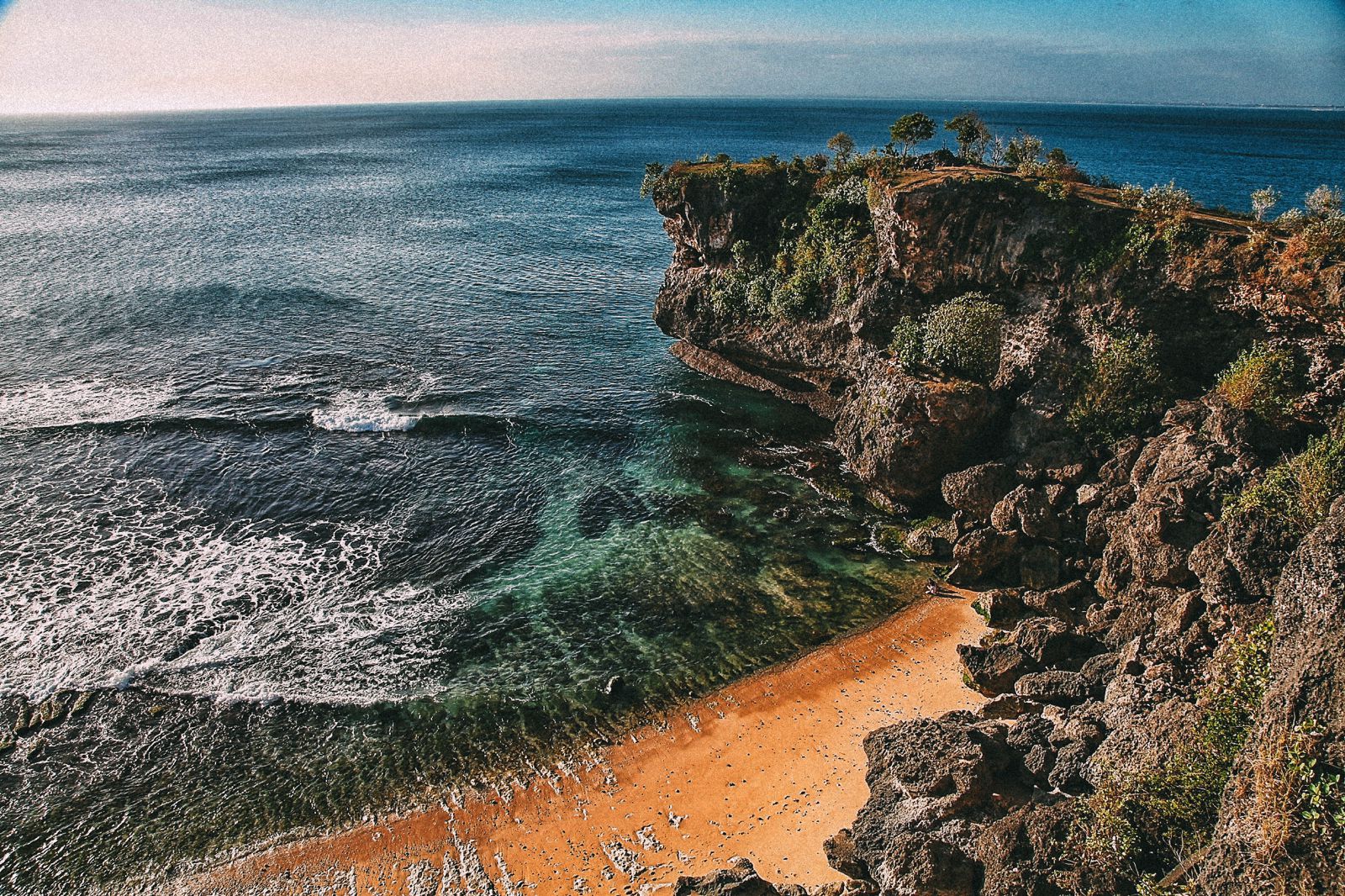 While the waters are typically too rough for swimming (it probably more suited to surfers), this beach is still worth checking out, especially at sunset and makes for epic photos with the jagged cliffs surrounding the beach.
8.) Ubud Monkey Forest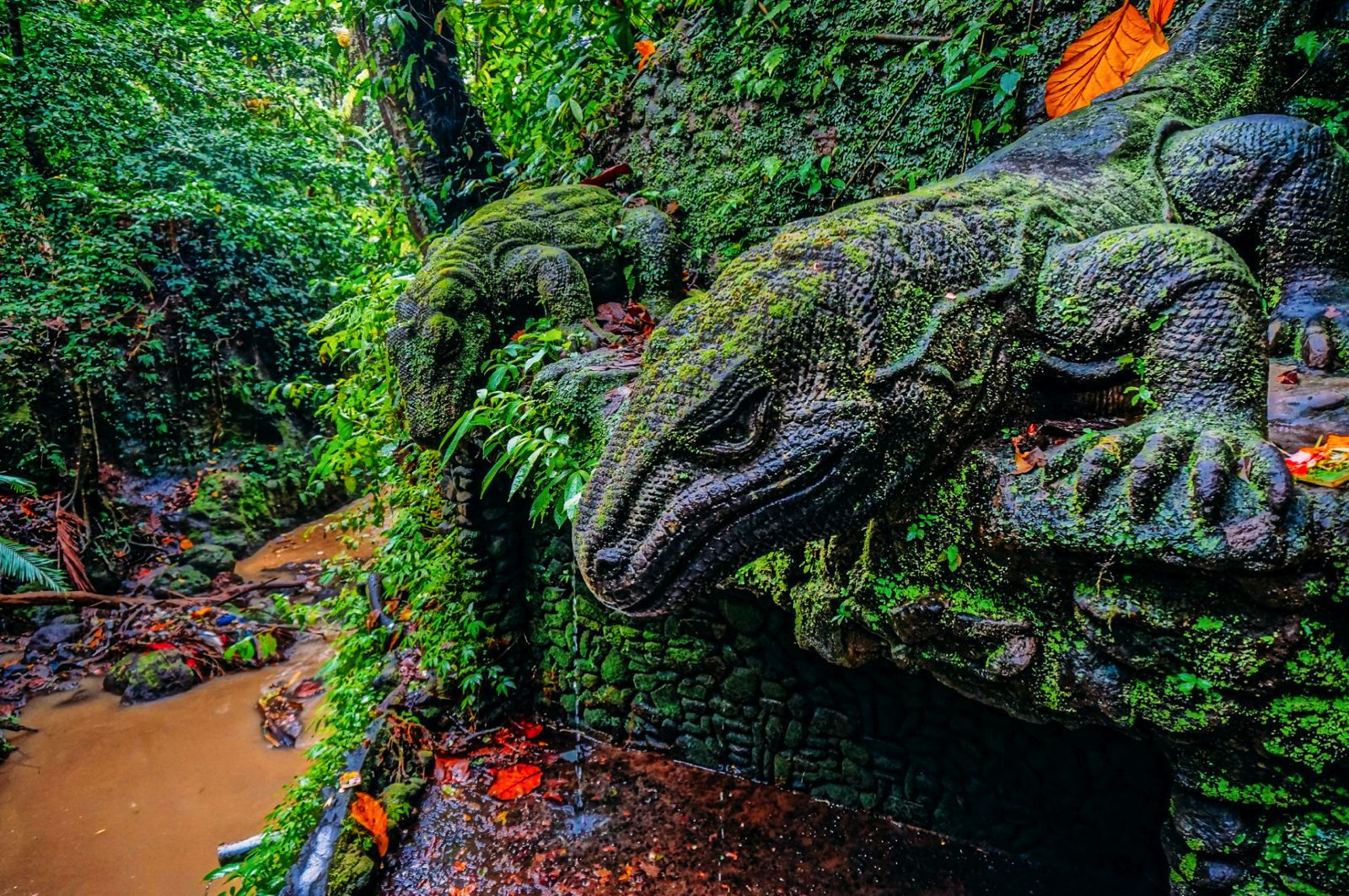 At the end of a short walk through an easily navigable forest (in the village of Patdangtegal) lies the Ubud Monkey Forest. This monkey forest (full name being Padangtegal Mandala Wisata Wanara Wana Sacred Monkey Forest Sanctuary) is a centre for wildlife conservation and is particularly important to the village.
If you're looking for your fill of 'monkeying around' (terrible pun, totally intended) then this is the place you need to be! In addition to your access to almost 700 monkeys, your entrance fee allows you to explore three temples and the lush forest.
9.) Uluwatu Temple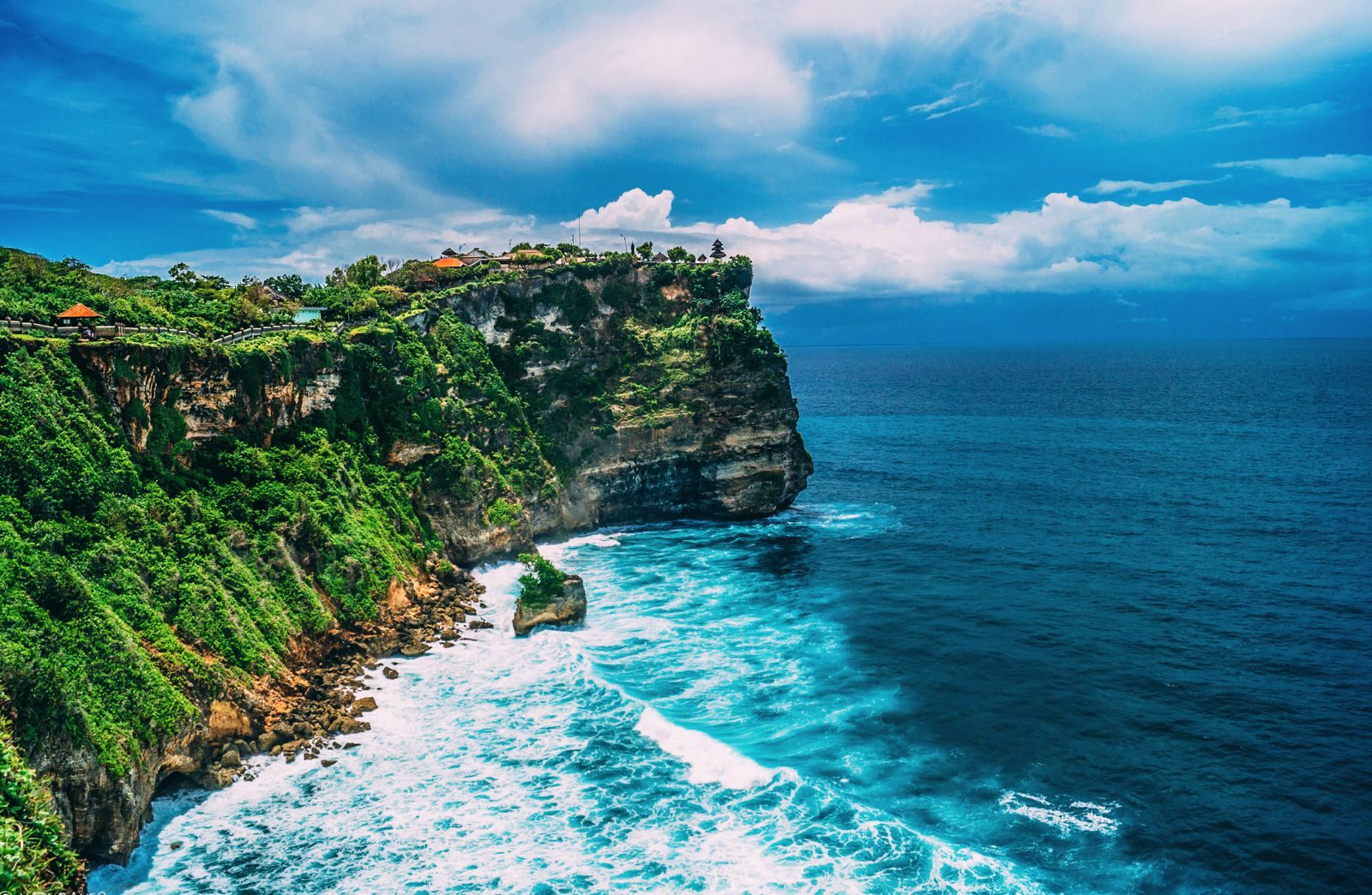 Perched atop a seaside cliff, this Hindu temple is a fascinating work of architecture. The views from this temple are unbeatable, so consider arriving at sunrise or sunset for a picturesque look at Bali. Each evening, you also get to watch a performance of the traditional Kecak dancing (complete with singing/chanting) so be sure to be here around 6pm if you wanna catch the dancing.
10.) Goa Gajah – Elephant Cave
Not too far from the town of Despensar, lies Goa Gajah, also known as Elephant Cave Temple, one of the most important Buddhist sights to see in Bali. I have to admit, the first time I heard the name, it was sans the word 'temple' so for a little while I thought we would be visiting a cave filled with wild elephants (which sounded remotely like something I'd thought I'd read as a kid).
Sidebar: I had to stop to google the whole elephant cave thing and it turns out, I was right – there is (at least) one though it appears this might be more of a phenomenon in Africa. See BBC video here. 
The temple boasts some stunning Balinese architecture, intricate carvings and very detailed statues, as well as some well-preserved relics. Set some time to explore this amazing site properly and immerse yourself in Balinese history and culture. Also, be sure to stop for a a well-earned fresh coconut water here.
*Totally optional but absolutely welcome in the Balinese heat. 😉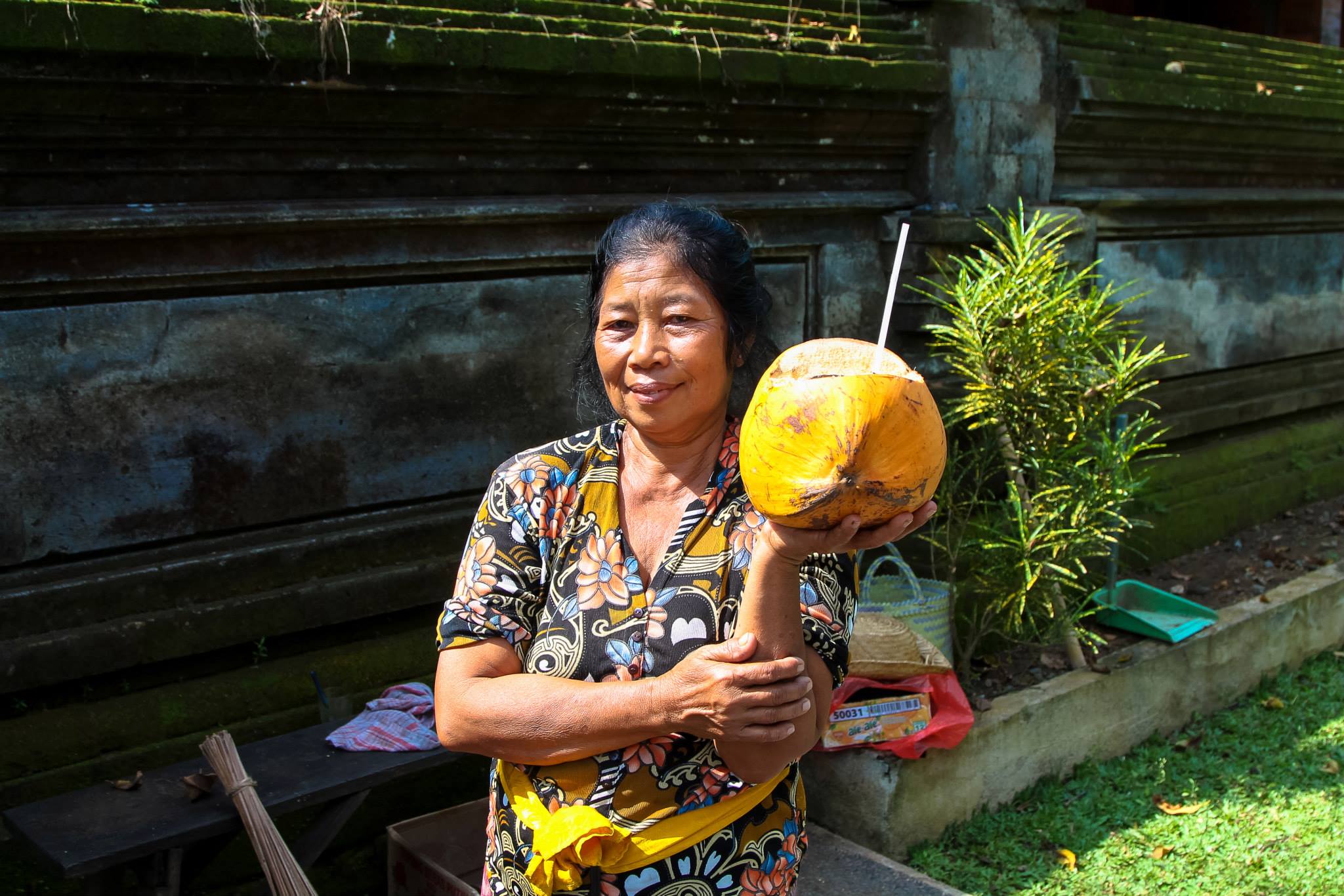 See photos from our time in Bali here
11.) Seminyak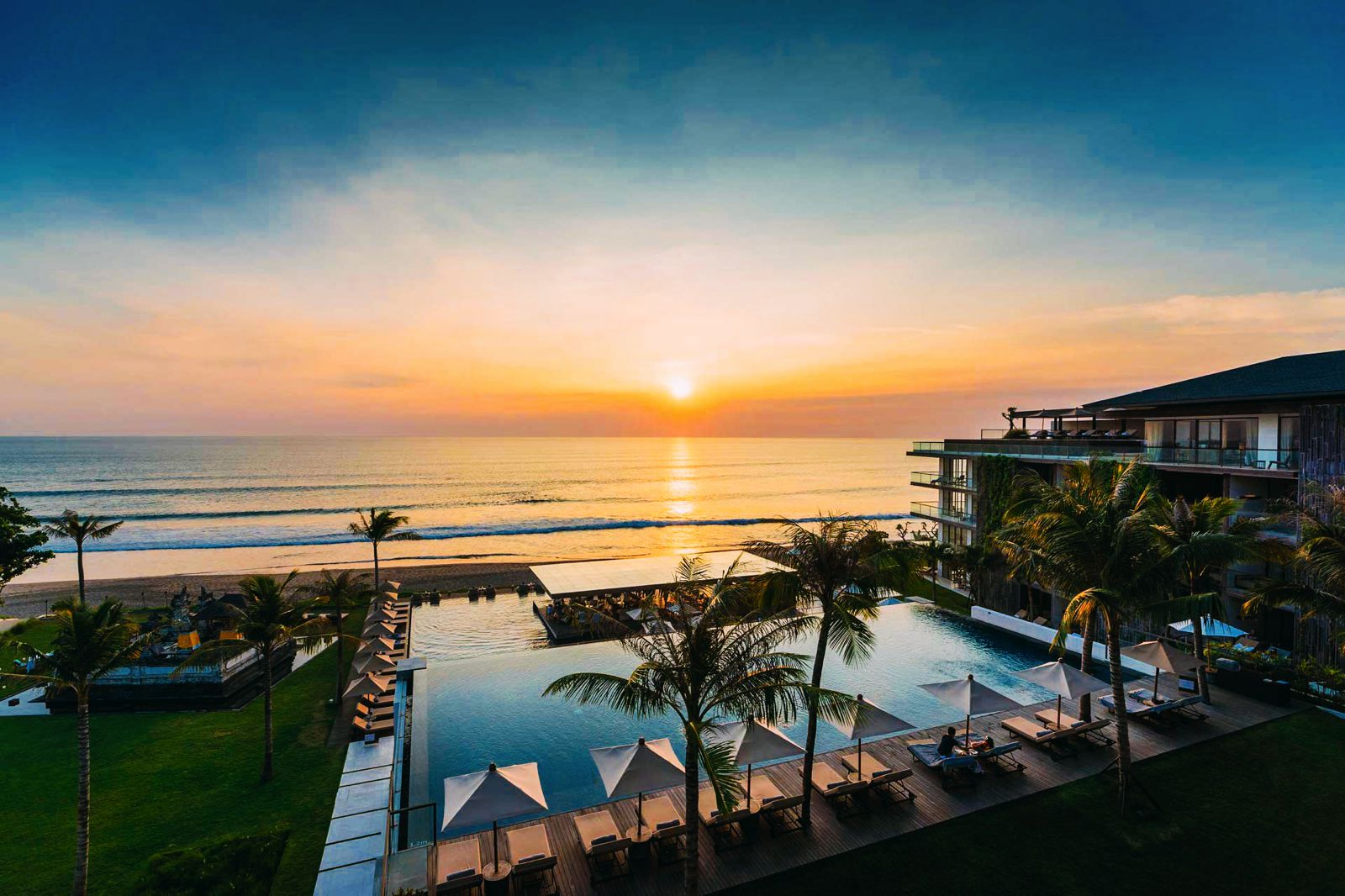 The city of Seminyak is a must-see when in Bali. With legendarily gorgeous sunsets over pristine waters and sandy beaches, the atmosphere of this beachfront city is enough to satisfy the beach-lover in anyone. Even if you're not much of a 'crowd-seeker', Seminyak still deserves a little pop in, even if just for a complete Balinese travel experience of watching the locals and travellers mingle. (In other words – go there for the people watching if for nothing else).
Heads up though – this is a popular area with visitors (like I mentioned before) and the higher than average prices here reflect that so come prepared. 🙂
---
---